Shortly before Depeche Mode took the stage to close out a frustratingly first damp day of Lollapalooza on Friday, the rain stopped. Too bad, because if any band could've benefited from a dark and stormy night, it was these longtime British merchants of seductive gloom, who put on a solid 17 song set that, while played with passion and heavy on crowd-pleasers, was just short of magical.
Not through lack of effort, though. Taking the stage in a black lounge jacket and tight black pants, lead singer Dave Gahan exuded a darkly sexy androgynous allure. On ominous opening song, "In Chains," from this year's Sounds of the Universe, he slowly rocked his hips back and forth in time to the ominous drum beat. He also revealed an impressively taut belly beneath his black vest whenever he spread his arms in a Jesus Christ pose — which was a lot.
Oddball guitarist Martin Gore, whose alternately grinding and sinuous single-note lines provided the hooks for many of the night's best songs (especially a nicely tense, "I Feel You"), exuded a more demure charisma. Dressed in a sparkling silver suit, his black eye shadow and nail polish off-setting his unruly mop of blond curls, Gore enthralled via his ineffable oddness and strangely soulful backing vocals. His solo vocal turn on the bluesy ballad "Home" was perhaps the night's most emotional moment.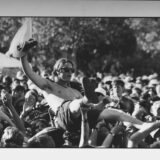 It didn't have much competition. Instead, the band — which also included original member Andy Fletcher on keyboards, as well as a drummer and an additional keyboardist — worked diligently through their hits. "Policy of Truth" and a terse "Never Let Me Down Again" were perfect showcases for Gahan's voice, which has lost nothing 28 years into his career. Gothic rockabilly number "Personal Jesus" showed Gore's knack for a left-field guitar hook.
But the show never got past merely good. For one, the tempos were too similar. There were no musical peaks or valleys.Amidst all the tense mechanical rhythms, the frivolous bounce of "Just Can't Get Enough" would've hit like a sharp swat to the bum of a pleading masochist. It didn't happen.
Similarly, the emotional mood rarely strayed beyond regretful menace.
The crowd seemed pleased, but subdued. Gahan initiated several sing-alongs, which never quite gained momentum.
The fact is, Lollapalooza is just another stop on the band's current tour, which winds up September 5 in Sunrise, Florida. Accordingly, the set had a workmanlike feel. Job well-done, nothing more, nothing less.
That's why I wished it had rained. Watching Depeche Mode in a sky-opening downpour would've been something.