Just one week after Michael Jackson' untimely death, video footage of King of Pop rehearsing at Los Angeles' Staple Center in preparation for his 50-date concert run in London has been exclusively released to CNN. And after just one watch, rampant speculation claiming that the singer wasn't physically prepared for the concerts is given less cred as he briskly leads a team of backup dancers in an complex choreographed routine– and even taunts the guitarist as she shreds through the solo on 1995's HIStory single "They Don't Care About Us."
It appears even at 50 years old, with a prescription drug habit and an emaciated, 112-pound figure, Jackson still had his smooth touch.
The footage was released by AEG, the promoter behind the concerts in London. And according to reports, there's loads more footage, which could be edited into a proper DVD release.
According to AEG Live CEO Randy Phillips, Jackson's This Is It! Concert production — which was set to begin at O2 Arena July 8 — may be transformed into a tribute concert. "I imagine if we could do it, it would be done as a tribute, with the family — with the brothers performing and some of the sisters — but also the stars who loved Michael and were influenced by him," Phillips told Sky News. "The world needs to see this production, and it's done, we have it in a vault… it would have been one of the most amazing arena shows ever."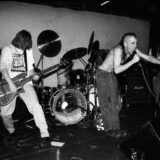 Jackson's funeral is scheduled for Tuesday, July 7, at Los Angeles' Staples Center.
Watch video of Jackson performing below. He's spot on, right? Tell us what you think in the comments section.
WATCH: Michael Jackson dance rehearsal at the Staples Center on June 23