For those who have been wondering about the practical translation of the dress code mentioned in Animal Collective's "Summertime Clothes" ever since the Merriweather Post Pavilion tune first surfaced last winter, your answer is finally here: plastic bubble suits.
The new music video was directed by frequent Animal Collective collaborator Danny Perez [via stereogum.com], and it's a pretty direct visual translation of the mind-expanding hit-from the rave-perfect rainbow lights to the spacey moves of Brooklyn dance crew FLEX to the trippy melting ice sculptures.
The band will release a new single for the tune on July 7, complete with three remixes including features three remixes courtesy of atmospheric beatmaker Zomby, LA's boogie-friendly Dam-Funk, and South London breakbeat and dubstep producer, L.D. [via Domino Records).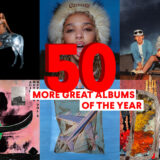 Click here to watch.