Judging by their geeky fashion sense alone, Weezer frontman Rivers Cuomo and The Office star Rainn Wilson go together like pocket protectors and…. pockets. Which is why their musical collaboration, captured on video below, is pretty phenomenal.
The duo recorded a cover of "One of Us," a '90s radio hit by pop-blues singer Joan Osborne. Their take on the deity-questioning tune is relatively straightforward — but Wilson's turn on percussion is a funny surprise. "I'm a pretty mean bongoist," Wilson explains, and we definitely agree.
Watch video of the duo recording and goofing off in the studio below. Or if you want to go straight to the song, fast-forward to the 4:42 mark.
In related news, Cuomo is guest-hosting a show on Sirius Radio's Alt Nation at 8 p.m. tonight with actor (and pal) Jason Schwartzman. The show reairs Saturday at 3 P.M., 9 P.M., and Sunday at 9 A.M. and 6 P.M. All times are Eastern Standard.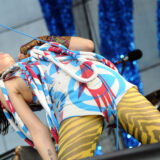 Watch: Rivers Cuomo, Rainn Wilson, and Joe LoPiccolo, "One of Us" (Joan Osborne cover)