With a killer self-titled debut album and a seal of approval from SPIN, up-and-coming indie-pop band the Love Language has earned the right to make like Wayne's World and "Party on!"
Which is exactly what the six-piece do in this video for their new track "Sparxxx." As hipsters chug from liquor bottles concealed in paper bags and chow down on cake, the band — performing in the middle of the dance floor — get feet movin' with their melodic electric guitars and charmingly ramshackle beats. Frontman Stuart McLamb might howl emotional lines like, "Left my heart in ruins / All my thoughts just ran apart like a pack of restless children," but there's lots of love in the air among the partiers in the clip.
Check out the clip below. Then party like it's 2009 in the comments section.
The Love Language, "Sparxxx"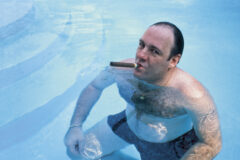 More The Love Language on SPIN.com:
>> Hot New Band: the Love Language