As Jenny Lewis probably learned from selling Girl Scout cookies in her role in Troop Beverly Hills, sometimes you need to hit the pavement and push your product. And though she won't be selling Thin Mints nationwide this summer, child actress-turned-glamorous rocker Lewis will be treating fans to an assortment of treats from her latest solo album, Acid Tongue, on a just-announced U.S. tour.
Following a handful of shows in her native California in April, including a stop into Coachella, the Rilo Kiley frontwoman will kick off her 31-date outing proper-like May 27 in Santa Cruz, CA.
Over the next two months, Lewis and her band — drummer Barbara Gruska, bassist Jonathan Wilson, multi-instrumentalist Farmer Dave Scher, and guitarist Johnathan Rice, who is also Lewis' boyfriend — will hit major cities nationwide, and drop into Tennessee's Bonnaroo festival. Ticket presale for Lewis' tour begins April 1, while general sales start April 3. Visit jennylewis.com for more info.
But that's not all on Lewis' plate: The songstress has also unveiled Welcome to Van Nuys, a documentary film about the making of Acid Tongue. It features live recordings of tunes from the album, plus behind-the-scenes footage from the band's Sound City studio in — shocker! — Van Nuys, CA. A release date has yet to be announced.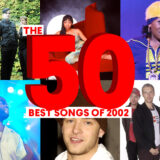 Jenny Lewis tour dates:
4/10, Honolulu, HI (Pipeline Café)
4/13, Pomona, CA (Glass House)
4/14, Solana Beach, CA (Belly Up)
4/15, Sacramento, CA (Empire)
4/18, Indio, CA (Coachella Music & Arts Festival)
5/27, Santa Cruz, CA (Rio Theatre) !
5/28, San Francisco, CA (The Fillmore) !
5/29, San Francisco, CA(The Fillmore) !
5/30, Portland, OR (Roseland) !
5/31, Seattle, WA (Showbox @ Market) !
6/3, Minneapolis, MN (First Avenue) !
6/4, Madison, WI (Barrymore Theatre !
6/5, Chicago, IL (Park West)
6/6, Columbus, OH (Wexner Center for the Arts)
6/8, Philadelphia, PA (Trocadero) *
6/9, Brooklyn, NY (Music Hall of Williamsburg) *
6/10, Boston, MA (House of Blues) *
6/11, Washington, DC(9:30 Club) *
6/12, Carrboro, NC (Cat's Cradle) *
6/13, Manchester, TN (Bonnaroo Music & Arts Festival)
6/14, St. Louis, MO (The Pageant) *
6/15, Lawrence, KS (Granada) *
6/17, Omaha, NE (Slowdown) *
6/19, Telluride, CO (Telluride Bluegrass Festival)
6/20, Sante Fe, NM (Sante Fe Brewing Co.) $
6/22, Austin, TX (Stubb's) $
6/23, Dallas, TX (Granada) $
6/24, Houston, TX (Warehouse Live) $
6/26, New Orleans, LA (House of Blues) $
6/29, Orlando, FL (Plaza Theatre) $
7/1, Athens, GA (TBA) $
7/3, Richmond, VA (The National) $
7/5, Pittsburgh, PA (Mr. Smalls) $
7/6, Louisville, KY (Headliners Music Hall) $
7/7, Fayetteville, AR (George's Majestic) $
7/9, Salt Lake City, UT (Twilight Concert Series) #
(! w/ the Sadies)
(* w/ Deer Tick)
($ w/ Heartless Bastards)
(# w/ Bon Iver)