What brings "Chick Magnet" trio MxPx and the Ramones together? A love for wicked punk tunes and a mutual disdain for former President Ronald Reagan!
The Ramones' 1985 single "My Brain Is Hanging Upside Down (Bonzo Goes To Bitburg)" was written in reaction to Reagan's widely-criticized visit to a West Germany military cemetery, where the directors of the Nazi extermination camps were buried.
With MxPx's rendition — off their upcoming covers album, On the Cover II (out March 24) — the trio add glossy pop-punk guitars and bassist/singer Michael Herrera's precise holler in place of the original's unvarnished grit.
Listen below. Then leave your thoughts in the comment section.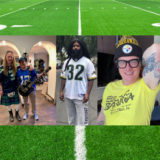 LISTEN: MxPx, "My Brain Is Hanging Upside Down (Bonzo Goes To Bitburg)"

More MxPx on SPIN.com:
>> MxPx Launch 'Secret Weapon'
>> "Breathe Deep " Music Video
>> Johnny Rotten High on Journey, Not Crazy About the Ramones