There isn't really a blueprint for what to do on a 11th studio album, which is why MxPx simply did what it does best on Find a Way Home. The new album (released by the band and recorded at their studio in Bremerton, Wa.) features everything that longtime fans of the band expect five years after its self-titled previous release.
As staples of the skate punk scene, there's no shortage of upbeat bangers perfect for rocking out in a mosh pit, while pop-punk fans will be elated to hear some of the more singalong anthem tracks.
To help you decide which songs are right for you, here's a track-by-track breakdown of MxPx's Find a Way Home.
"Not Today" — Find a Way Home opens with the kind of relentlessly energetic song MxPx has perfected over the decades as a way to set the tone for the entire rest of the album. While 24-year-old Mike Herrera might've been asking "Responsibility? What's that?," the wiser current version of the MxPx vocalist is looking at how he felt in the past compared to the more understanding and accepting way he views life today.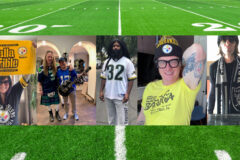 "This is What You Told Me" — Staying in Herrera's self-reflective mindset, Find a Way Home's second track is a look at how the tough times shaped him into who he (and the band) is today. Complete with a palm-muted bridge, this one feels straight out of Warped Tour.
"What I Tell Myself" — With a fun guitar riff and a bouncy rhythm, "What I Tell Myself" is one of the more dance-friendly songs on Find a Way Home. If anyone was going to write a summer classic about anxiety, it would be MxPx, and this track would be just as at home on a 2000s teen movie soundtrack as it is today.
"Cautious Optimistic" — If the first two songs on the album are Herrera reflecting back on how he got to where he is, the next two tracks are focused on his anxiety. "Cautious Optimistic" is also one of the more melodic songs on Find a Way Home for those who are a bigger fan of the more singalong pop-punk side of MxPx (although that's not to say it's quiet or slow by any means).
"Excuse My French" — Is the world ready for bilingual MxPx? That's probably a question most people weren't expecting to ask on Find a Way Home. "Excuse My French" only involves slightly more French than Lady Gaga's "Bad Romance" did, but the blistering punk song about a partner's commitment splices the two languages together pretty perfectly without feeling forced or contrived.
"Stay Up All Night" — The first and only single released before Find a Way Home dropped is a bit of a slow jam (on MxPx standards). If you're not familiar with it, "Stay Up All Night" is a well-crafted borderline-emo pop-punk love song, and it hits all the right notes for the many fans who originally discovered the band through tracks like "Everything Sucks (When You're Gone)."
"Ready to Rage" — What's the heaviest/fastest song on Find a Way Home you ask? Well, "Ready to Rage" is probably exactly what you're looking for. It's a track that will remind people that MxPx could tour with Pennywise just as easily as they could with poppier acts, and it's all centered around the relatable storytelling and crunchy guitar riffs that have opened up mosh pits for years.
"Undone" — Distinctly not "The Sweater Song," MxPx's "Undone" is a punk rock love song as only they can do. It's simultaneously upbeat, romantic, and also involves a line about a dead bird ("When the morning dove burst on your window and its lover took its body to its final resting place"). But just because it's romantic doesn't mean it's slow, as this could definitely be a track that gets people moving (with or without their loved ones) live.
"Call Me" — As one of the most distinctly "classic MxPx" songs on Find a Way Home, "Call Me" is the kind of bounce-along song that the band has been perfecting for over three decades. With lyrics of longing to reconnect with a loved one after a potential falling out, it evokes that moment in time when you're not quite sure what the future holds with someone, but you're hoping to give it one last shot anyway.
"Mountains to Climb" — To break away from the last couple of songs about romance, "Mountains to Climb" takes Find a Way Home back to the motivational anthems and slick guitar riffs that have shown up on all 11 of their albums to date. That said, it might also be the first one to potentially reference Metallica with the chorus line of "When you see lightning you ride."
"Sunrise" — An 81-second musical interlude with a lead guitar part that could star in any rock track from MxPx's entire discography? Yes, please. Enough said.
"When We Broke Through" — One of the most lyrically complex songs on Find a Way Home, "When We Broke Through" kicks off the album's final chapter with one of the most thoughtful tracks. For an album that starts off with discussions of failures and anxiety, "When We Broke Through" is a distinctly victorious track about rolling the dice and finding success — something that's honestly not covered all that often in the oft-unhappy punk scene.
"Mistakes Will Be Made" — For Find a Way Home's closer, "Mistakes Will Be Made" opens with palm mutes and reverbs before Herrera jumps in with lyrics about making mistakes in the past, present and future. It's an appropriate conclusion to the album's journey, as it simultaneously shows the band's more mature views on the mishaps of their younger years while also effectively pointing out that it's a part of life that happens, and that shouldn't be an issue.