Going once, going twice, sold! Bidding began Dec. 3 in the Guitar Center Music Foundation's auction, which features an interesting array of historic rock'n'roll pieces from both the past and the present.
Fans can now bid on a host of coveted items, including a Jimi Hendrix Flying V Guitar, a Squier Bullet Guitar signed by members of Velvet Revolver, a John Mayer-signed Sunburst Signature Fender Stratocaster, or meet-and-greets with rock legends like Yes drummer Alan White, Chicago drummer Danny Seraphine, and former Eagles guitarist Don Felder.
Guitar Center Music Foundation is also offering an exclusive chance of a lifetime, a true "Rockstar Experience." The lucky winner of this package will be featured on an 80-square-foot "Poster of Fame" photographed by Robert Knight. This billboard will be displayed prominently at the entrance of Guitar Center's Sunset Boulevard location alongside famous artists such as Slash and John Mayer. Also included in the package is 10 hours of studio time in a top LA recording studio with access to top notch engineers, producers, and equipment. Finally, to complete this "Rockstar Experience", the winning bidder will get publicity in several magazines, including SPIN!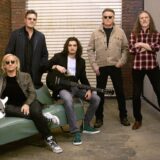 Click here to bid!. The auction ends this Sunday, January 11 at 10 P.M.