808's and Heartbreak, Kanye West's fourth solo record was released yesterday, after months of hype and debate, and weeks of leaked tracks, all of which feature the stricken producer/MC singing and half-rapping about lost love (primarily his broken engagement to designer Alexis Phifer) via the audio processor infamously known as Auto-Tune.
The full album is a dislocating listen, which was clearly West's intention; he's asserted loudly that he expects extra kudos for pushing creative boundaries. Though the content — our hero purging his heart, a la Marvin Gaye's Here, My Dear — ordinarily would be the focus of discussion for a platinum rapper, the musical structure overshadows his attempts at introspection.
Virtually all the songs establish a simple thematic flourish that repeats statically, with West intoning variations on pro forma romantic sentiments. (While his cadences and flows as an MC have improved measurably, his singing calls to mind a rudimentary, indie-rock naïf following the melody around blindly). Auto-Tune's vocoder function phases his strained croon so that it wobbles vulnerably, emphasizing his role as the wounded courtier, but he admits little or no blame for his romance's decline; in "Pinocchio Story," he says Pinocchio was punished for telling a lie, but he, Kanye, is punished for telling the truth. At his best, West once showed vulnerability, and as a result, drew you in; here, he signifies his narcissistic despair with Auto-tune's kooky wail, while remaining the distant, misunderstood pasha roaming his palace.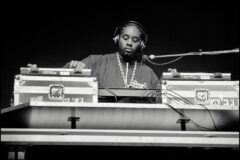 Most of the songs have hooks or rhythmic twists that other artists would bid Sotheby's prices for, and even a few ("Heartless," "Love Lockdown," and "Amazing" featuring the welcome bluster of sodium-deficient thug-you-can-hug Young Jeezy) may end up on a greatest-hits comp one day and be accepted as Kanyeezy standards.
"Say You Will" at least has a couple of memorable lines — "My friend shows me pictures of his kids/ And all I could show him was pictures of my cribs" and "He said his daughter got a brand-new report card/ And all I got was a brand-new sports car" — but even these come off as self-serving. West won't take it to the next step; he won't concede that his obsession with possessions is part of the trouble (or even entertain the possibility with a joke or punch line); he just sounds like he's whining that he can't have it all. Or that women just don't get it; or worse, that they're out to get him.
Often (like on "Bad News" or "Paranoid"), you're left anxiously conflicted, with the weird sensation that you've somehow stumbled onto a boys-only Kanye karaoke party, where he's trashed on Baileys and inexplicably crooning the Ne-Yo songbook. You're titillated for sure, but can't decide if you're lucky or embarrassed to be there. Then when Lil Wayne drops by for the disjointed oddity "See You in My Knightmares," rapping inanely (through Auto-Tune, of course), "You think your ish don't stink / You're Mrs. P.U." as chintzy synth-strings sweep by…well, it's time to scan for an exit.
Musically, 808's is the opposite of Guns N' Roses' Saturnalian tableau Chinese Democracy. With the exception of "Robocop" –the only track that tries to move beyond a verse/chorus to a bridge (unfortunately, the result is a trainwreck of the string-festooned "Estella's Theme" from Great Expectations, thudding drums, and West's clumsy interlude about not being a robot) — the album feels strangely rushed and unfinished. Though it's hard to imagine his vocals improving markedly, West clearly could've benefited from more adjusting/editing (or at least a few more takes); again and again, phrases are repeated to decreasing effect, and the lyrics in general lack his usual craft and wit. The songs build and build, then recede. "Coldest Winter," which is dedicated to West's late mother Donda, almost works as a haunting refrain, with its bursts of static and chilly '80s synths, but not really as a song. The album is a long processional that starts and restarts and never reaches the ceremony.
No musician studies pop culture with more curiosity or has more of a competitive drive to recombine ideas than West, and he's recounted the usual barrage of influences for 808's, from sadistic, label-whore American Psycho protagonist Patrick Bateman to Juice Crew house crooner T.J. Swan, '80s hip-hop's dopest singer. But West, seemingly both rushed and navel-gazing, misses what is most compelling about his references. Bateman, for instance, isn't just a consumerist in despair; he's a self-hating MBA cipher who is having a nervous breakdown that no one around him will acknowledge. And T.J. Swan (who sang on Biz Markie and MC Shan tracks) isn't just the Nate Dogg of his day; he has a lighthearted, winking warmth to his sung hooks that tweak the overemoting seriousness of '80s R&B.
Of course, this is insane nitpicking, but part of what has made West's rap records so peerless is the detail and humor and pleasure and self-awareness packed into his tracks. 808's deletes most of that, and leaves us with unresolved melodies, self-pity, audition-level warbling, and the nagging realization that there really is no escape from T-Pain.
It's not easy to write hip-hop love songs, but it's certainly been done countless times before, from all points of view. The best I've heard recently, "True Feelings,"is coincidentally from a mixtape by a good friend of West's, the producer/rapper 88-Keys. In less than two minutes, Keys creates a goofy, slightly disoriented sway and hiccup that captures love's flush and confusion and stress. It's not especially insightful or innovative, but it has a humanity and openness that makes you smile and reflect and relate. It's cool without posturing, hinting at complications without bemoaning them. Unfortunately, Keys' official album, The Death of Adam (executive-produced by West), suffers from too many tired sex spoofs and an overweening concept about a guy who can't get laid; by the end, you wish Kanye would just step aside, and let the "True Feelings" kid come back and find his own dates.
At least he might not blame everybody else for his screw-ups.