After 25 years, it's finally happened: There's essentially no relation between actual music videos and MTV's annual VMA extravaganza.
Who's even seen the video for 2008 Best New Artist winner and German emo-glam quartet Tokio Hotel? Wait… who? Exactly.
Regular music video play has long been absent from MTV proper's formatting, and with the network's specialty channels, from rock to rap, it's tough to get everyone on the same page. And the 2008 awards ceremony seemed to be the apex of a year's worth of confusion. So what exactly are the VMAs about these days? It seems no one knows. Whatever, look! There's Heidi Montag!
As usual, MTV went the celebrity route, opening the show with Britney Spears and Superbad's Jonah Hill. And it was hard to turn without spotting Lauren Conrad (LC!) or other shiny stars from The Hills. Thankfully, there were a few saving graces — notably Britain's Russell Brand and his Cockney gutter-mouth.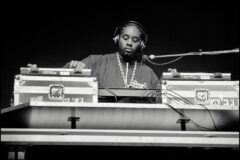 Oh! And as expected Kanye played a fresh song — the excellent "Love Lockdown." And, off screen, indie rock earned its place in the fine print: "I Will Possess Your Heart" by Death Cab For Cutie won for best editing, while "Conquest" by White Stripes took the prize for best cinematography.
MTV seems to know it's backed into a corner, and appears to have a backup plan: Mix drama with music. Just have a look at Pink, the Jonas Brothers, and TI's appearances. Each song's performance, drawn out on a movie set replete with inner-city scenes, flaunted theatric, plot-like qualities. What's next, VMA the musical as hosted by Chris Brown? Actually, hopefully it's Best Hip-Hop Video winner and universally nonplussed Lil Wayne instead. Onstage collaborator Kid Rock could make an appearance, too. And if that fails, well, at least there's that Verizon advertising partnership.
Essentially, the VMAs are like a wake for the art of the music video. And 2008's installment is the last drunkard's slurred, superfluous anecdote that trails off into numbing chatter. It was a good ride while it lasted. Proposal: Revive Headbangers Ball with regular MTV play featuring Russell Brand as host.
Have a look at the, ahem, highlights below:
MTV rock bottom: The Jonas Brothers
https://www.youtube.com/embed/pW4A79WHKyU
Kid Rock featuring Lil Wayne
https://www.youtube.com/embed/TOWt1O32JIc
Russell Brand's VMA intro
https://www.youtube.com/embed/wcODskV7Bms
Kanye West's show-closing performance
https://www.youtube.com/embed/xJ9jUY_SEWk