At most festivals, a noon set time usually begets only a smattering of fans gathered around a stage, but at Bonnaroo, where patrons are up practicing yoga at 9 A.M., a midday slot isn't bad at all. For up-and-coming buzz band Postelles playing the Troo Music Lounge at noon on Friday even involved a dance party to the New York foursome's rollicking song "Stella" near the end of their set.
The group, who recently recorded the catchy "123 Stop" with Strokes' axeman Albert Hammond Jr. (click to watch them play it for us backstage) , was clearly excited to be here, pouring energy into songs like "Hey Little Sister" and stomper "White Night," while the audience clapped along. The band members' "Obama '08" buttons were highly visible on their shirts, prompting one fan to shout "Obama-roo" after one song to roar of cheers.
The pros of playing Bonnaroo also became apparent when guitarist/vocalist David Dargahi broke his guitar strap and string and one of the band's roadies bought him new ones at a vendor next to the stage. It's not every show you can buy new gear during your performance without even a glitch.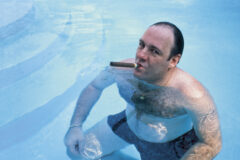 We caught up with the band's drummer, Billy Cadden, and some of their fans after the set to see what they thought: