Kevin Devine won't be a major-label casualty. The singer/songwriter released his superb 2006 effort, Put Your Ghost to Rest, via Capitol, but as the major label went through all-too-familiar restructuring last year, Devine found himself without a label home. No matter, though: Devine has his album, and is reissuing it through Procrastinate! Music Traitors, a new imprint formed by Kevin's pals in Brand New.
A rather prolific writer — he put out four full-length albums between 2002 and 2006 — Devine already has new material in the works, and after playing Your Ghost gem "Brooklyn Boy," he unveiled two new songs — the insightful, endearing "All of Everything Erased," and the deadpan, grave anti-war ditty "Another Bag of Bones."
Check out footage of the three songs, and snatch up the re-release of Put Your Ghost to Rest when it arrives April 20. As for the two fresh tunes — they could end up on Devine's forthcoming album, tentatively out later this year.
Now Watch This: "Brooklyn Boy"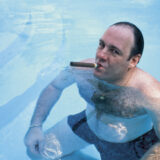 "Another Bag of Bones"
"All of Everything Erased"