Placing the wham-bam punk gems of their respective bands on hold, the Arctic Monkeys' Alex Turner and the Rascals' Miles Kane — as you may have heard — have joined forces for new studio-centric project the Last Shadow Puppets. And with the music video for first single "The Age of the Understatement," the size of the duo's departure comes into full scope.
Clearly influenced by studio wonder Scott Walker, the tune recalls many a James Bond film, and the mysterious and elegant yet powerful soundtracks full of crescendos and forward movement. Adding to the Bond factor, the video takes on a heavy Russian feel, pairing footage of military personnel with the tune's wartime chants, as well illustrating late night escapades in Eastern Block cities, and wartime tanks rolling through snow-covered fields. Sealing the deal: undertones of seduction and tragedy.
Watch out Shirley Bassey!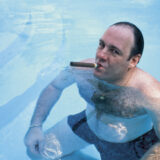 Now Watch This: "The Age of the Understatement"https://www.youtube.com/embed/XGV8xCkpXjE