First it was the Postal Service, frontman Ben Gibbard's departure into techno-esque emoting and glitchy, Atari-like beats, then, more recently, Death Cab for Cutie's "really weird" and "way more lunar" direction with forthcoming album Narrow Stairs. But with latest project Just Jazzin', the bespectacled rocker has truly dove off the deep end.
In a hilarious April Fool's Day YouTube video, Gibbard deadpans about Just Jazzin', jams on the vibes, and divulges the motivation behind his newfound sonic course: "There's this side of me and my music that desires a lack of structure, and Just Jazzin' does that for me because I am allowed to just play whatever note comes into my head."
Keep streaming to watch Ben talk about Jason McGerr, Death Cab for Cutie's drummer, and his seven unsuccessful auditions for Just Jazzin'. And for a taste of Death Cab's real, forthcoming album, click here.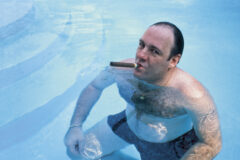 Now Watch This:https://www.youtube.com/embed/oyuoIs62IPc