Nothing can stand in the way of six-piece indie rock collectiveAnnuals — not even a torrential downpour. So was the case this pastApril, when the band — frontman Adam Baker, guitarist Kenny Florence,multi-instrumentalist Zack Oden, bassist Nick Radford, drummer MikeRobinson, and pianist/keyboardist Anna Spence — descended on thealleyway behind director Peter Sand's Brooklyn studio to film theirconceptual new video for Be He Me's"Carry Around," on what happened to be the rainiest day in New YorkCity in over 100 years. After watching the video, a catchy snippet ofthe southerners engaging in a maze-like game of croquet within anintricate and intimate secret garden of sorts, we here at SPIN.comscratched our heads with a few questions, and luckily, the lovely AnnaSpence came to our rescue.
"It was made especially for us!"Spence enthusiastically told SPIN.com, referring to the elaborate,imaginative garden playing field and all it's bells and whistles."Since the big city loves to screw with us, it poured the entire timewe were shooting it and the wonderful ingenious people making the setworked in the freezing cold rain for days so that it would be ready forus." "The tiny details they included were amazing," Spence continued."There are so many cool little things that you can't even particularlysee too well in the video. We felt like such rock stars just rolling upand having all of this creativity and hard work done up just right…just for us!"
The result: a cinematic slice of a Victorian eragarden tea party and accompanying croquet game, replete with apt garb,plays out while the band's spacey, synth tune fluxes under Baker'squick-tongued verses, and driving unaffected piano bounces on thesing-along chorus. But how did the band and crew behind such a creativeundertaking stay dry in the record-breaking storm? Well, according toSpence, a few crewmembers fell victim to unhinged tarps, but thepianist confirms she "walked around with an umbrella at all timespossible."
Now Watch This:
Annuals – "Carry Around"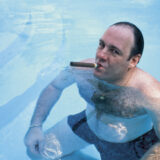 On the Web:
Annuals at MySpace
annualsmusic.com
Talk: Annuals: seasoned or amateur croquet players?
Get a Free Digital Sampler from SPIN.com and Insound!
When you spend $25 at Insound.com, you can download a free samplerfeaturing tracks from Bright Eyes, Dungen, Dinosaur Jr., and many more!FIND OUT HOW >>