INXS took a stab in the '80s, but no one has really touched the creativity of Bob Dylan's film clip for "Subterranean Homesick Blues," where he flips through words of the song on stacks of posterboard. Until now, that is.
A few weeks ago, Shawn Harris from the Matches stopped by the Spin offices to chat about the SPIN.com Book Club and to show us his band's video for "Salty Eyes," the first track on last year's Decomposer. We were stunned. In the clip, the band displays words and phrases from the song on more than 50 pairs of old TVs and VCRs, allowing each pair to crash to the ground once the lyric has been sung. Even more amazing: The band executed this feat with elaborate choreography that would make Marty Scorsese's eyebrows bow in appreciation.
So watch the video below (co-directed by friend-o'-Spin Michael Coleman), then scroll down a bit further to see Shawn's diagram of the shoot. Then visit the band's MySpace page and listen to "Salty Eyes Video Cues" to hear the sped-up track to which the band acted out that choreography.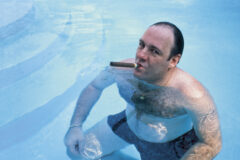 Choreography diagram for "Salty Eyes":
On the Web:
Shawn's MySpace post about the video
The Matches on MySpace