Tonight (May 4), robust punk rock deity and performing cultural critic Henry Rollins resumes the second season of his weekly late night residency on IFC with the fourth episode of The Henry Rollins Show. And guess who decided to drop by? Grunge and alt-rock touchstone Chris Cornell.
Beginning at 11 P.M. EST/8 P.M. PST on IFC, Rollins will serve up a diverse and compelling smorgasbord of discerning interviews and musical performances, satisfied by comical brothers Luke and Owen Wilson and dapper musician Chris Cornell, respectively. Shedding his former bandmates, Cornell teams with a new squad of rockers and navigates through a characteristic rendition of "No Such Thing," pulled from his latest effort Carry On and arriving replete with the frontman's falsetto howls and urgent alt-rock delivery.
Check out a snippet of Cornell's performance pulled from tonight's episode and don't forget to tune in. With an eclectic group of guests, each representing a varied form of performance art and media, viewers could be in for an enthralling and informative episode.
Now Watch This: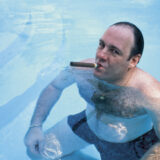 On the Web:
The Henry Rollins Show on IFCTV.com
Talk: Will you tune tonight to witness Cornell Carry On his musical career?