Raise the Black Flag: the jacked-up Jack of All Trades, Henry Rollins, resumes his weekly late night residency on IFC tonight for the second season of The Henry Rollins Show. Offering an alternative to the stale stand-up routines of other shows in its time slot, The Henry Rollins Show focuses on eclectic music performances and insightful interviews from one of the patriarchs of hardcore punk.
The second season starts off with a juicy performance by the electronic provocateur Peaches, in her television debut. Performing the raunchy "Hit It Hard," Peaches puts on a panty-dropping spectacle that's definitely too hot for prime-time.
The Henry Rollins Show airs at 11:00pm EST / 8:00pm PST, but if you just can't get enough of the renaissance man, tune in at 9:30 EST for his 90-minute special, "Henry Rollins: Uncut From Israel".
Now Watch This:
A preview of the new season of The Henry Rollins Show on IFC
On the Web:
The Henry Rollins Show on IFCTV.com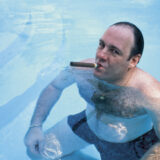 Talk: Did Rollins and Peaches hit it hard enough for you?