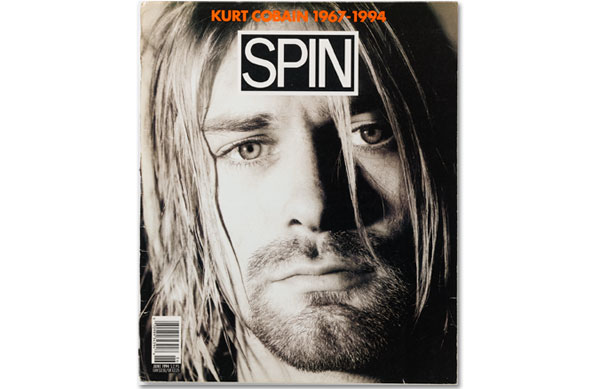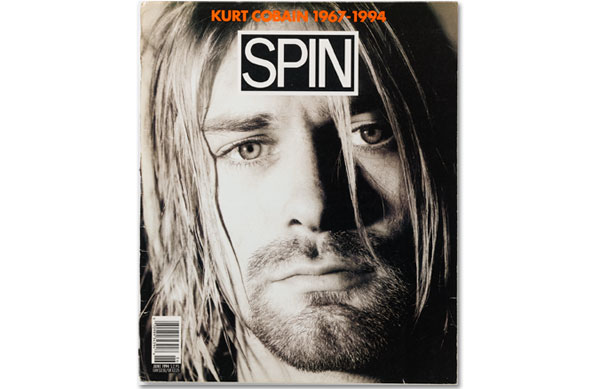 APRIL 5, 1994
Not since the death of John Lennon has a musician's passing had such a profound effect on pop culture. In too few short years, the shy kid from dead-end logging town Aberdeen, WA, kick-started a musical revolution, propelling his punk ethos to the top of the charts and giving a generation of disillusioned youths their unofficial spokesperson: He was an anti-rock star rock star who suffered the same pains and torments they did.
Then, in a greenhouse above the garage of his Seattle, WA, home, Cobain ended his own life -- a violent finale to all he created, which left fans to wonder what could have been. As with other momentous pop events, people remember when and where they first got news of Cobain's death at age 27. It was the gunshot heard around the world -- and it hasn't stop reverberating yet.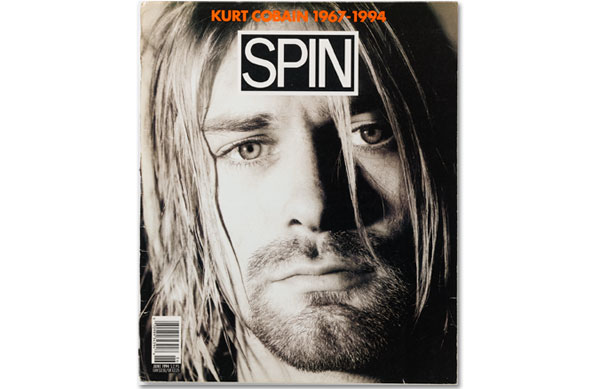 APRIL 5, 1994
Not since the death of John Lennon has a musician's passing had such a profound effect on pop culture. In too few short years, the shy kid from dead-end logging town Aberdeen, WA, kick-started a musical revolution, propelling his punk ethos to the top of the charts and giving a generation of disillusioned youths their unofficial spokesperson: He was an anti-rock star rock star who suffered the same pains and torments they did.
Then, in a greenhouse above the garage of his Seattle, WA, home, Cobain ended his own life -- a violent finale to all he created, which left fans to wonder what could have been. As with other momentous pop events, people remember when and where they first got news of Cobain's death at age 27. It was the gunshot heard around the world -- and it hasn't stop reverberating yet.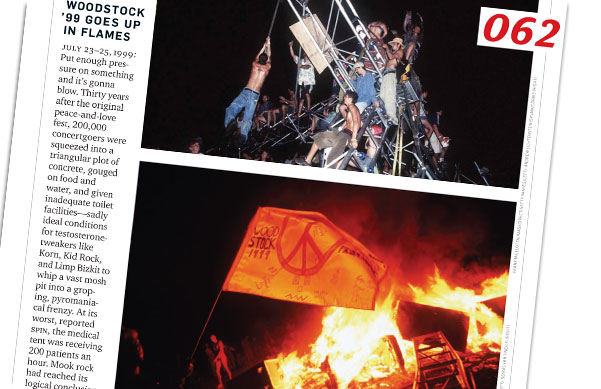 JULY 23–25, 1999
Put enough pressure on something and it's gonna blow. Thirty years after the original peace-and-love fest, 200,000 concertgoers were squeezed into a triangular plot of concrete, gouged on food and water, and given inadequate toilet facilities -- sadly ideal conditions for testosterone-tweakers like Korn, Kid Rock, and Limp Bizkit to whip a vast mosh pit into a groping, pyromaniacal frenzy. At its worst, reported SPIN, the medical tent was receiving 200 patients an hour. Mook rock had reached its logical conclusion.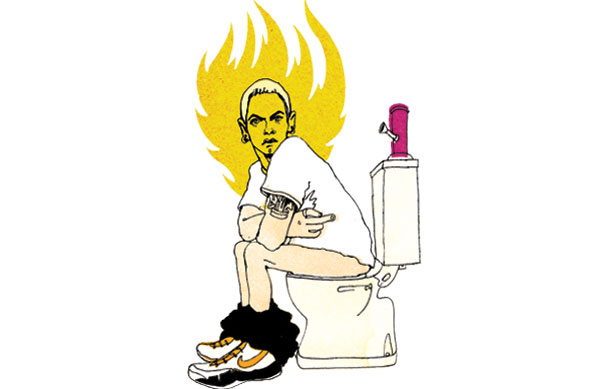 SUMMER 1997
It's fitting that Eminem devised his career-defining Slim Shady alter ego in the same position Elvis expired -- on the toilet. "I was taking a shit, swear to God, and the name hit me," Em has said of the persona he developed after joining Detroit shock-rap crew D12. "I started thinking of all these words I could rhyme with it. So I wiped my ass…and wrote The Slim Shady EP in two weeks."
RADIOHEAD RELEASE OK COMPUTER
5/26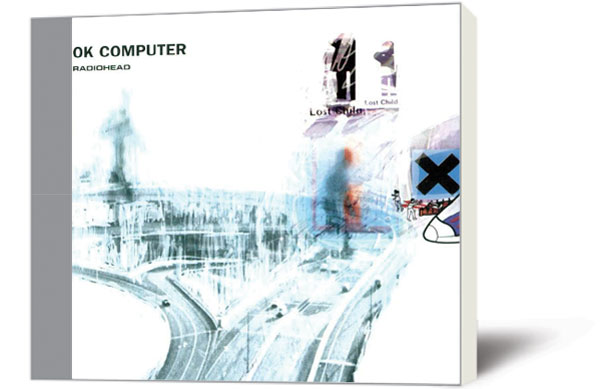 JULY 1, 1997
Radiohead's third album was a brilliantly buzzing contradiction, absorbing technology's bits and bytes while bemoaning the human alienation created by just such a deep immersion in machinery. Its impact was vast: (1) watered-down neo-Radioheads flourished (Muse, Coldplay, Travis, Snow Patrol, Keane, et al.); and (2) countless rockers suddenly felt empowered to not rock (see most bands now residing in Brooklyn).
LOLLAPALOOZA LAUNCHES
6/26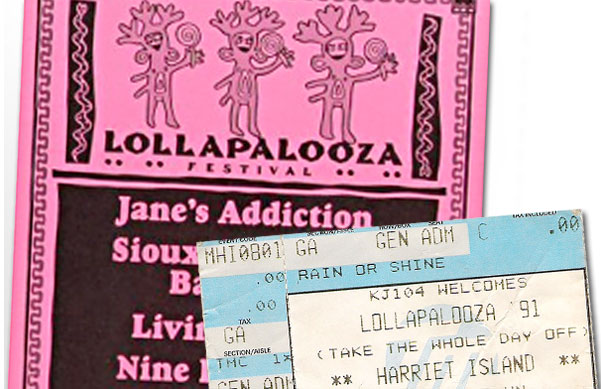 JULY 18, 1991
Used to be, summer was tough for rock fans. (Black T-shirts + 95 degrees = not cool.) But then came Perry Farrell's traveling "all-day sucker," headlined by his own Jane's Addiction, Siouxsie and the Banshees, and Nine Inch Nails, which jump-started the dormant U.S. festival market and formed an umbrella of sorts over an increasingly large and diverse collection of bands. Or, as spin called it that year, adorably, "A neat cross-section of what is today called 'alternative music.'"
BIGGIE AND TUPAC: MURDERED
7/26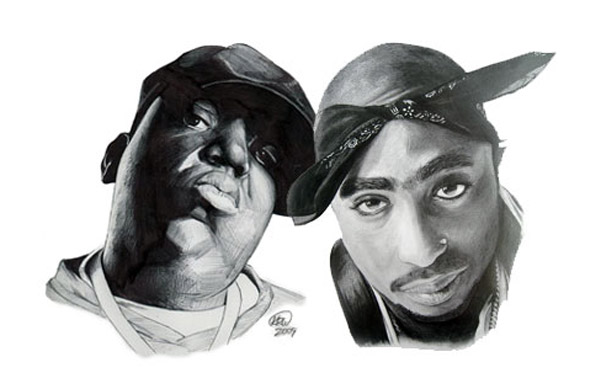 MARCH 9, 1997 / SEPTEMBER 13, 1996
When hip-hop's major protagonists -- self-styled, gun-fetishizing badasses Tupac Shakur and the Notorious B.I.G. -- were shot dead in the space of six months, it felt like the end of an era. Yet amid the orgy of tears and tributes, cynicism reigned, as lesser artists tried to profile in 'Pac and Biggie's reflected authenticity. Soon, getting shot would simply become another marketing tool (see: 50 Cent).
ROBERT SMITH FALLS IN LOVE
8/26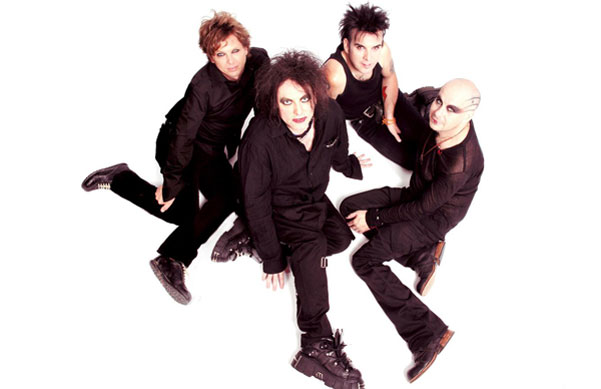 MAY 5, 1987
For many kids with fingernails painted as black as their souls, it was the day the music died. They tore open the shrink-wrap on their hero's new album, Kiss Me, Kiss Me, Kiss Me, and learned the unbearable truth: Robert Smith had fallen in love. Until then, the Cure frontman had been goth's grimmest reaper, decked out in vampire drag, infamous for lyrics like "It doesn't matter if we all die." But that was before anyone heard "Just Like Heaven," a giddy ode to girlfriend Mary Poole that found him confessing, "I kissed her face and kissed her head / And dreamed of all the different ways I had / To make her glow."
He might as well have been singing about ticklish babies or yawning puppies. No shock then that "Just Like Heaven" became the Cure's breakthrough hit, cracking the Top 40 in America. You could hear a million cold hearts breaking: Was goth getting cute? -- MELISSA MAERZ
METALLICA DEBUT THEIR "ONE" VIDEO
9/26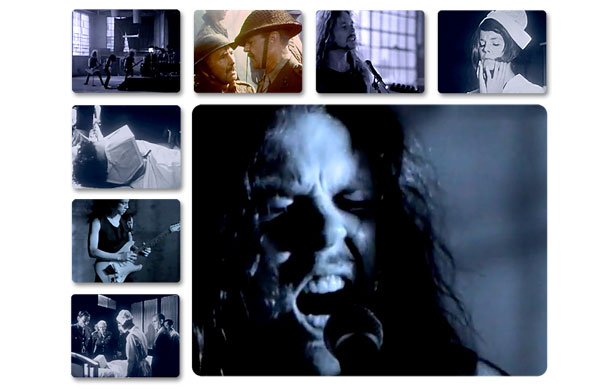 JANUARY 20, 1989
Metallica approached the '90s having taken their panzerschreck sound far beyond its thrash beginnings, if not its leather-and-denim niche. So when the band decided to make their first video, for the antiwar single "One," fans wondered if the guys would start pulling punches.
Fat fucking chance. Spurred by MTV's airplay of the disturbing clip (which featured footage from the 1971 movie Johnny Got His Gun), the undeniably monolithic (and melodic) song went Top 40, priming the public for the mega-sales breakthrough of 1991's "black" album.
MADONNA GIVES BIRTH TO SPIN
10/26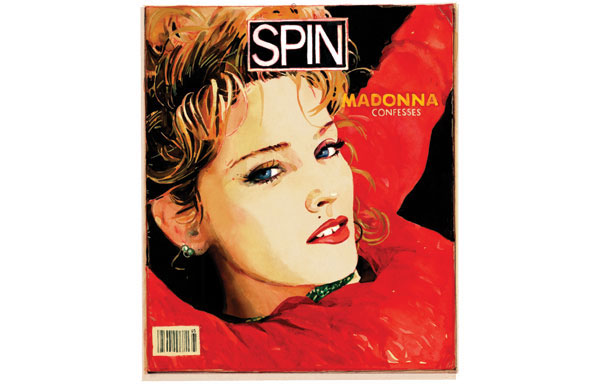 MAY 1985
It was Madonna's first superstar year, from her No. 1 single "Like a Virgin," a hit mainstream movie, Desperately Seeking Susan, an American tour with the Beastie Boys, to her marriage to Sean Penn on her 27th birthday.
A new kind of feminist icon who embraced sexuality as well as undisguised ambition, Madonna was also utterly polarizing in 1985: On one side were the "wannabes" -- fans and even other singers who wore her trademark midriff-bearing T-shirts, lacy miniskirts, "Boy Toy" belt buckles, and black rubber bracelets -- plus a new school of pop-culture scholars drawn to MTV, John Hughes, and early hip-hop. On the other was the old guard, who hated what they saw as disco's rebirth. SPIN's decision to put her on the cover signaled it would embrace pop and the present.
"She didn't have handlers, she wasn't protected from the outside world," director Susan Seidelman recalls of Susan's Manhattan shoot. "She lived two blocks away. She could walk over to my apartment and no one would turn their head. That puts you in touch with the street, because you're actually walking on it." -- BARRY WALTERS
SPIN INTRODUCES RUN-DMC TO AEROSMITH
11/26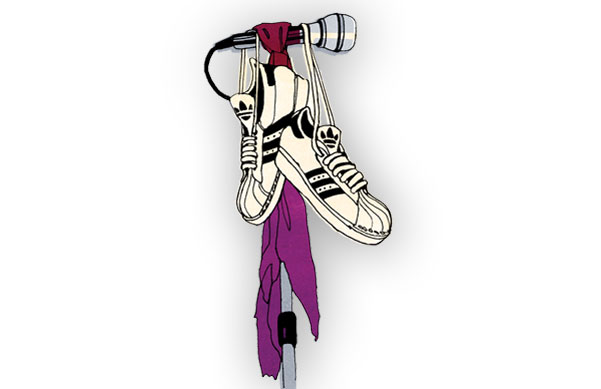 APRIL 1986
Back at my desk, I faced the dismal prospect of churning out yet another bland one-page profile of an emerging artist -- Run-DMC. But as I played back the interview cassette, I heard Run beatboxing the guitar riff from Aerosmith's "Walk This Way" into my tape recorder. I realized that the only time Run and Darryl loosened up was when they talked about the records they loved to sample -- hard rock like this and Billy Squier's "The Big Beat."
I wondered what a bunch of aging classic rockers would make of this recognition by a new generation. Aerosmith were just out of rehab and their last album, Done With Mirrors, was flagging. Maybe an association with a young group in a hot new genre would freshen their image.
Soon I had arranged an interview. I'd planned on a phoner, but Bob Guccione Jr. told me to go to Boston and sit down with the band. That year, the story of Aerosmith's descent into addiction had been done to death. And I was too big of a fan to write their obituary. Still, in order to justify a long interview, something needed to happen. What if Aerosmith and Run-DMC were to meet up? Maybe they could work together. What better way to bag a scoop, I thought, than to stage one myself.
I called Rick Rubin. "Can you give me a tape of Run-DMC? I'm going to Boston to meet Aerosmith." "That would be incredible!" he replied.
When I met up with the band, I proposed the collaboration. Aerosmith had never heard of Run-DMC when I handed them that cassette, but they were willing to take the risk of working with a new artist.
Several weeks later, the two groups met up in a Manhattan studio, and I got to watch the session unfold. Run-DMC's album, Raising Hell, went on to launch Rick's career, revive Aerosmith's, and make hip-hop, as Russell Simmons predicted, mainstream. For my part, I had the rare privilege of arranging an event that wouldgo on to become a part of music history. Guess I got the scoop. -- SUE CUMMINGS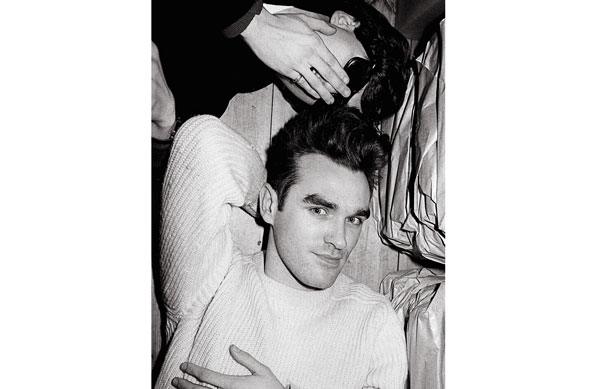 SEPTEMBER 1987
Sometimes the glory that was gets overshadowed by all that could have been. After four magnificent studio albums and a pair of compilations (that sad bastard armies all across the globe have adopted as a design for living ever since), the beloved Mancunian miserablists descended into myth, with Steven Patrick Morrissey becoming poetic pop's most durable antihero and partner Johnny Marr embarking on a mission to add shimmering guitar genius to every band that's ever toured or recorded since. More than two decades on, both have kept their hairstyles.
MTV DEBUTS BECK'S "LOSER"
13/26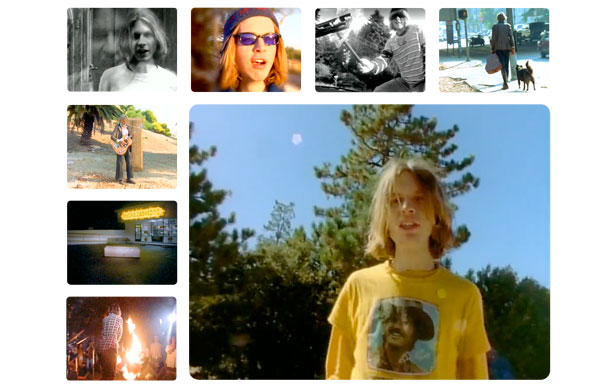 JANUARY 18, 1994
By Chuck Klosterman
Here's what really happened when MTV played Beck's "Loser" for the first time, in 1994: The culture inverted itself, weirdness was instantaneously mainstreamed, everyone stopped combing their hair, people slept more and purchased broken turntables at stoop sales, dirtbags began using the word art in casual conversation, Michael Cera entered kindergarten.
Read Chuck Klosterman's full essay here >>
TEENAGE FANCLUB TOPS NIRVANA
14/26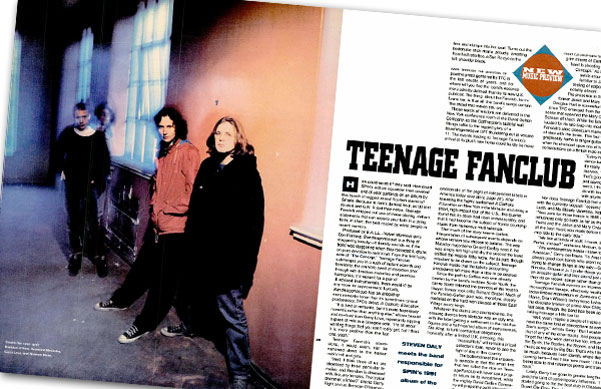 DECEMBER 1991
SPIN editors choose Bandwagonesque as album of the year, over Nevermind -- and several other worthy candidates.
With two decades of hindsight, the architects of this still-infamous snub of Nirvana, R.E.M.'s Out of Time, and My Bloody Valentine's Loveless remain refreshingly unapologetic. "It's a cool record," says Mark Blackwell, who wrote the blurb. "That wasn't a terrible decision."
Jim Greer, who edited the list, admits: "We didn't think anyone was reading, so we did a lot of things in a perversely contrarian spirit. Bandwagonesque wasn't any more original, but I had a strong aversion to Nirvana on strictly aesthetic grounds. They're wildly overrated."
SLEATER-KINNEY PLAY THEIR FIRST SHOW
15/26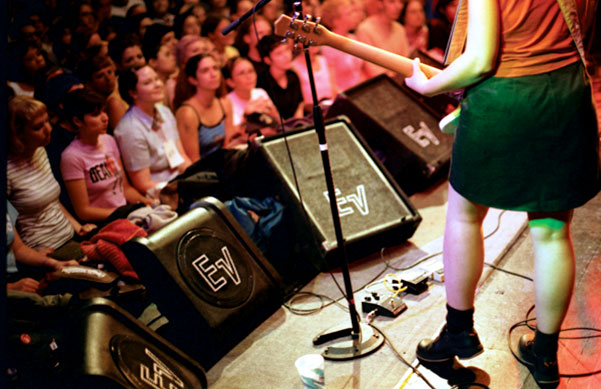 JUNE 1993
"The first show we played in the U.S. was at this cafe called Chez What in Portland, Oregon. There's actually a videotape and it's never leaked on YouTube because I'm the only one who has it. Everyone was there: Kathleen Hanna, Donna Dresch, Miranda July. Anyway, it wasn't a good show. I could barely project, and Corin [Tucker] could sing over a jet engine, so you can only hear her. It's funny, things always seem larger than life from the outside, but there was no sense of 'Well, you guys are going to go far.' It was more like, 'That's so nice that you guys formed a band. This isn't bad.'"-- CARRIE BROWNSTEIN (as told to Phoebe Reilly)
BILLY CORGAN WANTS TO BE A ROCK STAR
16/26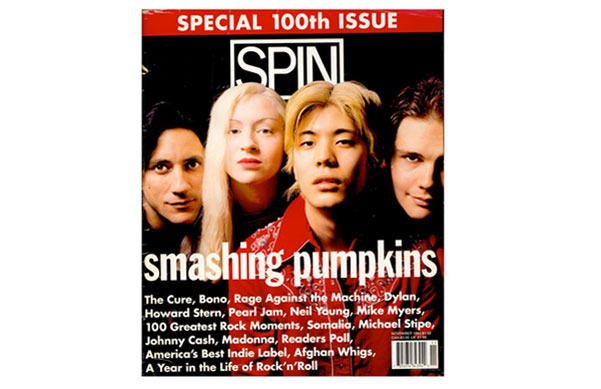 JULY 27, 1993
Even when alt became pop, the misfits who'd been made godheads weren't supposed to admit an appetite for stardom. So when singer-guitarist-mastermind Billy Corgan said things to SPIN like "I didn't get into a band to become an indie obscurity at the back of your record collection," it rankled the righteously indignant.
That he was able to back up those words with the massively popular art-rock opus Siamese Dream was held aloft as proof of both his overweening ambition and awe-inspiring talent by those on either side of the Pumpkins' fence.
SPIN READERS INSPIRE FIONA APPLE
17/26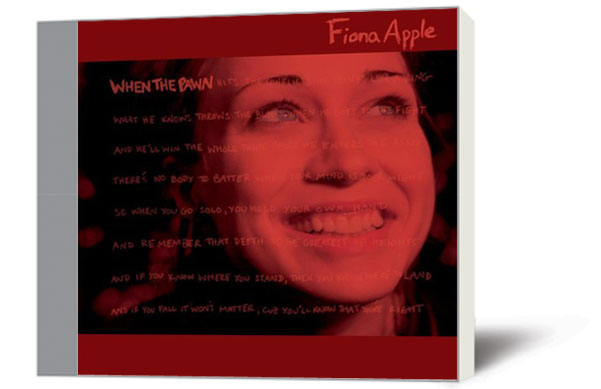 FEBRUARY 1998
For the young singer-songwriter, seeing the negative letters SPIN printed in response to her provocative November 1997 cover story ("a fraud," "an embarrassment") was a tough but ultimately productive experience. "I read that and was like, 'What's the use?'" she said later. "So I wrote a little pep talk to myself on the back of the magazine." That 90-word poem became the full title of her 1999 sophomore album (deep breath)…
When the Pawn Hits the Conflicts He Thinks Like a King What He Knows Throws the Blows When He Goes to the Fight and He'll Win the Whole Thing 'Fore He Enters the Ring There's No Body to Batter When Your Mind Is Your Might So When You Go Solo, You Hold Your Own Hand and Remember That Depth Is the Greatest of Heights and If You Know Where You Stand, Then You Know Where to Land and If You Fall It Won't Matter, Cuz You'll Know That You're Right.
DR. DRE'S CHRONIC ROCKS THE SUBURBS
18/26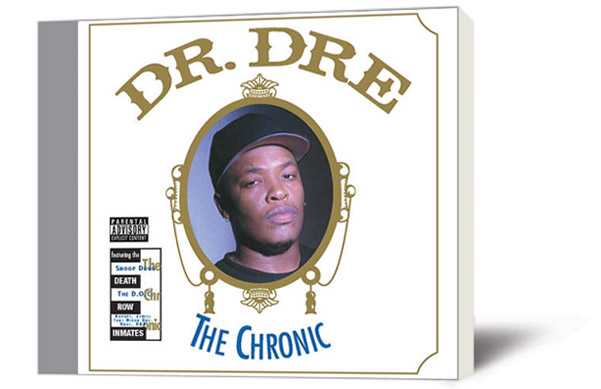 DECEMBER 15, 1992
The Chronic redefined an entire genre's sound and attitude but, more crucially, its tempo. This was slow, creeping music to ride out to: in your car, at a party, locked inside your bedroom. N.W.A alum Andre Young raided Parliament-Funkadelic's deep, springy bottom end, customizing it with live instrumentation and glimmering splashes of '70s soul. The combination became rap's first Wall of Sound, infiltrating mass culture in a way that seemed both impossible and inevitable. Soon, 13-year-olds in Skokie, Illinois, were instructing their teachers to "lick deez nuts."
Chalk it up to Snoop Doggy Dogg, a low-level Long Beach weed dealer with a lean build and insouciant tone, who appears on 12 of the album's 16 cuts, including the era-defining single "Nuthin' but a 'G' Thang." But ultimately, what stands out about The Chronic is its viciousness: the shots fired at Eazy-E, the misogynistic flair, the absurdly violent skits. It typified a new moment, when gangsta rap grabbed all the chips on the table and dragged them westward, consequences be damned. -- SEAN FENNESSY
SPIN INSPIRES "DON'T SPEAK" VIDEO
19/26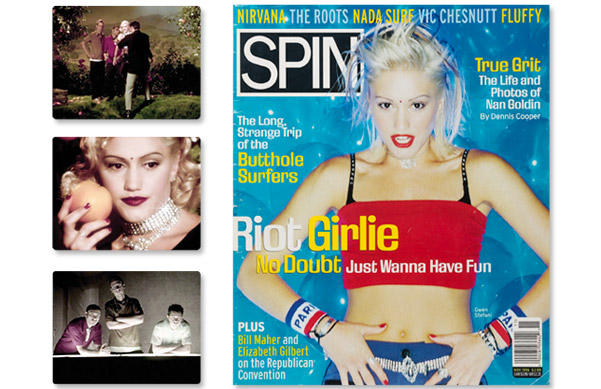 SEPTEMBER 25, 1996
The hit ballad from No Doubt's 1995 breakthrough Tragic Kingdom is famously about Gwen Stefani getting dumped by bassist Tony Kanal. But in its meta video, her bandmates are pushed aside so she can be shot solo for the cover of, er, Sungun. "Everyone just wants to focus on the girl," she said in the November 1996 SPIN -- which Stefani graces alone. "We're getting over it."
THE WARPED TOUR KICKS OFF
20/26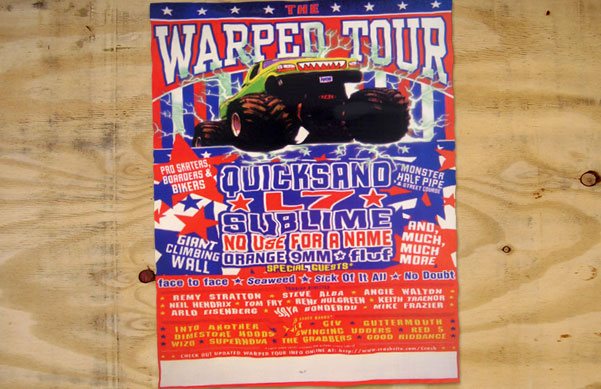 AUGUST 4, 1995
Sublime headlined the first edition of the traveling recess period that is the Warped Tour, topping a bill that on some dates included No Doubt, L7, and Deftones. But the bands that played were ultimately less important than the fans who came to see them.
"Pop-punk was still breaking back then," recalls Blink-182 bassist and four-time Warped vet Mark Hoppus. "Some of us had sold records already, but our fans were still going to shows in small clubs or underground venues that the mainstream didn't know existed. The Warped Tour let everyone know that there were huge numbers of kids out there who wanted to see our kind of music."
What started as a cultural confirmation quickly became a rite of passage, both for bands and their legions of boosters. "My mom definitely wasn't keen on it, but I remember going to Warped when I was 16 -- way before I went to any other festival," says Pete Wentz of Fall Out Boy, who played the tour in 2004 and 2005. "For a lot of people, the Warped Tour is their first big rock show... Then, as a musician, it's where you cut your teeth. Half the crowd is waiting for you to finish so the next band can come on and play. That forces you to learn how to win people over in a short period of time." -- DAVID MARCHESE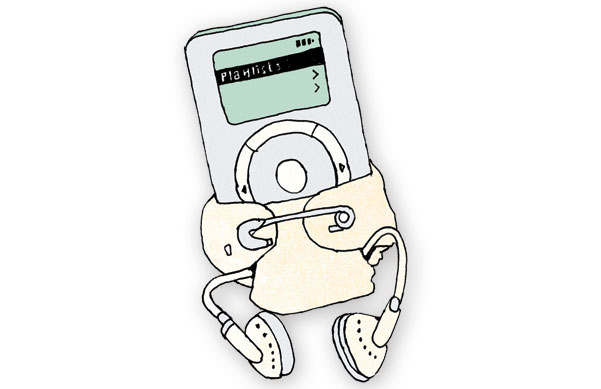 OCTOBER 23, 2001
It was a music lover's dream: a portable device able to hold thousands of songs. Little did we know that the iPod would double as a cigarette-pack-sized nail in the album's coffin. Reduced to ones and zeros, carefully curated music collections suddenly didn't matter so much. Singles? Every song is a single.
MP3 BLOGS BECOME THE NEW ZINES
22/26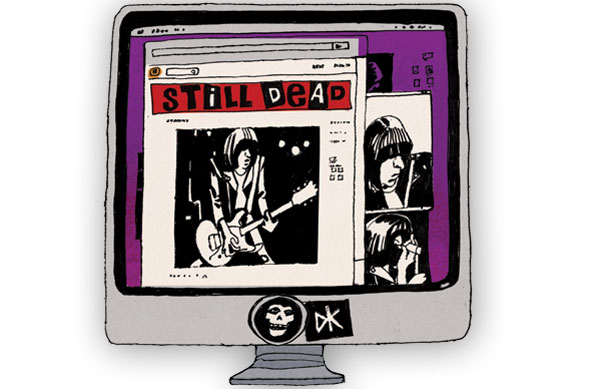 DECEMBER 21, 2002
Here's how it used to work, before the Internet: There was commercial, mainstream culture, and then there was everything else. Newspapers and glossy magazines were the voice of the mainstream; the voice of everything else was zines -- initially short for "fanzines," eventually shorthand for any scrappy pop-culture rag you'd never find at a proper newsstand. Zines were obsessive and adventurous about their subjects in a way that bigger publications couldn't possibly be. In other words, they were blogs. On paper. Kinda.
But the era of zines came to an end in December 2002, when Matthew Perpetua's Fluxblog added a new wrinkle. Initially devoted to his thoughts about pop culture in general, it then paired short essays about songs alongside MP3s of the songs themselves. (His first batch included tracks by Tricky, Minx, and Smiley Lewis.) Soon there were dozens like his, then thousands.
Yet this wasn't the product of a youth spent reading Flipside and Sweet Portable You. "I kinda missed that wave," Perpetua says. Zines, Perpetua notes, were hampered by "a lot of overhead. The Internet provided a better platform for writing about music and culture without someone else's permission. You can do a blog for free."
Where zines were firmly separated from pro magazines by economics and distribution, the formal difference between casual music blogs and full-on, pro music websites is of degree more than kind. A commercially driven site is precisely as easy for a reader to access as somebody's what-I've-been-listening-to-lately Tumblr. There are no outcasts within digital culture -- just smaller and greater cliques. -- DOUGLAS WOLK
OBAMA BRUSHES DIRT OFF HIS SHOULDER
23/26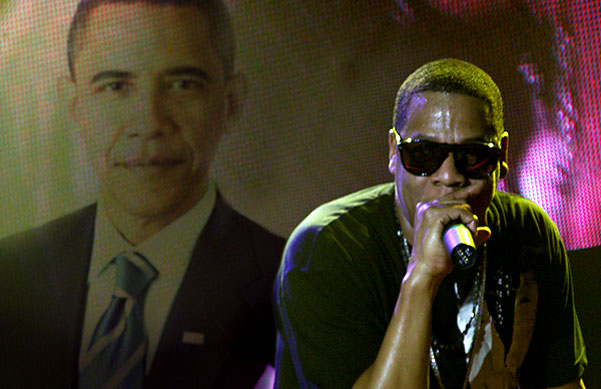 APRIL 17, 2008
The campaign for the Democratic nomination had devolved into a street fight, and after a particularly brutal debate with Hillary Clinton, Barack Obama took to the lectern the following day and shrugged off her attacks by brushing his shoulders.
The reference to Jay-Z's "Dirt Off Your Shoulder" may or may not have been conscious, but the fact that the soon-to-be leader of the free world was conversant enough with Mr. Carter's oeuvre to avoid looking like a politician pandering to a demographic was a heartening sign for those of us who live by Nick Hornby's High Fidelity maxim: "What really matters is what you like, not what you are like."
While his embrace of Jay-Z said as much about hip-hop's mainstream entrenchment as it did about Obama's hipster bona fides, it also seemed to symbolize an end to the hegemony of the 1960s that had engulfed the country for decades. And then everyone was happy and content, end of story.-- DAVID PEISNER
M.I.A. LETS IT ALL HANG OUT AT THE GRAMMYS
24/26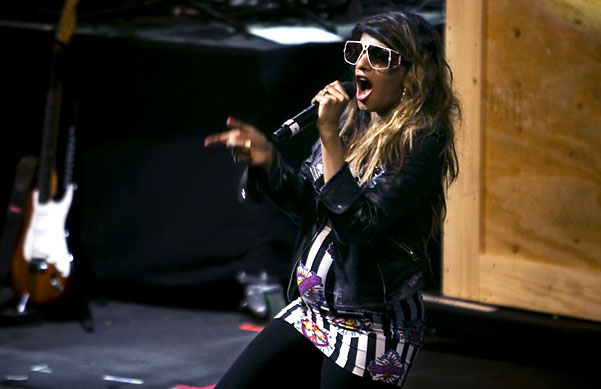 FEBRUARY 8, 2009
Watching a nine-months pregnant English-Tamil MC commandeer the American music industry's yearly back-pat to sing about sticking it to first-world fat cats -- i.e., the people in the crowd -- and turn "Swagga Like Us" co-performers Jay-Z, Lil Wayne, and T.I. into mere hypemen in the process was an extraordinary musical moment. M.I.A.'s looking like she was about to pop made it a thrillingly human one.
THE SHINS TAKE INDIE ROCK TO HOLLYWOOD
25/26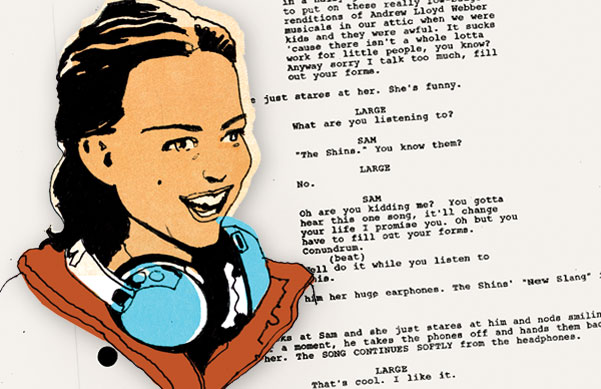 JULY 28, 2004
Large just stares at her. She's funny.
LARGE: What are you listening to?
SAM: The Shins. You know them?
LARGE: No.
SAM: Oh are you kidding me? You gotta hear this one song, it'll change your life I promise you. Oh but you have to fill out your forms. Conundrum.
(beat)
Well do it while you listen to this.
She hands him her huge earphones. The Shins' "New Slang" is playing.
He looks at Sam and she just stares at him and nods smiling. After a moment, he takes the phones off and hands them back to her. The SONG CONTINUES SOFTLY from the headphones.
LARGE: That's cool. I like it.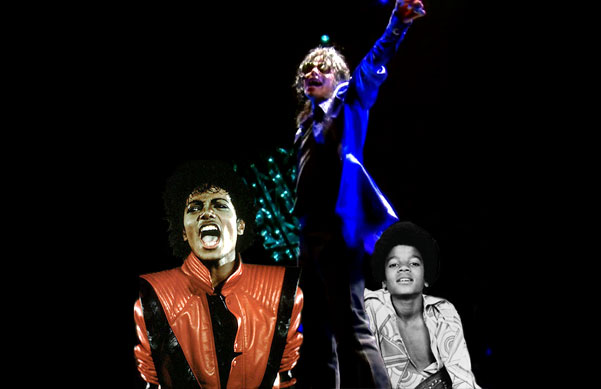 JUNE 25, 2009
During SPIN's Existence, Michael Jackson suffered a fairly steady swoon. Sure, there were heady flashes: singles "We Are the World"; dazzling singles "Man in the Mirror," "The Way You Make Me Feel," and "Remember the Time." But mostly, it was a gradual, sideshow landslide of Captain Eo, cosmetic surgery, Neverland oddities, and child sexual abuse charges. Jackson's tawdry death felt both fated and shocking, but ultimately, it compelled many of us to conjure up how much we'd once thrilled to the man and his music. Blasting "Rock With You" felt more appropriate than pondering the ramifications of the caricature he'd become.