It was the first time Van Halen – son of legendary guitarist Eddie Van Halen and actress Valerie Bertinelli – would perform Van Halen songs without his father, who died in October 2020.
Ever since 2006, when he replaced longtime bassist Michael Anthony at 15 years old, angry fans blamed him for Anthony's departure and attacked him on social media, with the teenage Van Halen seen as riding his father's coattails into the band. Despite his father's declarations otherwise, Wolfgang continued to be a target of endless vitriol.
"I feel like people mindlessly hate me just to hate me, and do not give me credit in any capacity," he tells me, at 5150, his Studio City-based recording studio in California, built by his father in the mid-'80s.
Photo Credit: Travis Shinn
He says he was honored but initially inclined to decline Dave Grohl's invitation. He'd only ever played Van Halen songs with his father, and had no intention of playing them ever again without him. The emotional weight was too much to bear.
But Wolfgang changed his mind after consulting with his manager, publicist and some family members (who he calls "trusted humans"), who saw it as a beautiful opportunity to pay tribute to his father, as well as Hawkins. Still, Van Halen was resolute that this would be a one-off performance.
To do proper justice to his legendary father's memory and music, Van Halen put immense pressure upon himself. "If I was going to do it, I was going to do it right," he says. "It wasn't going to be something I was going to do a bunch of times. It was just this once."
"As soon as he played the first note in the jam room run-through, I just thought, 'My God, this guy is amazing.' I was right."
Justin Hawkins
Though Van Halen felt "suicidal with nerves," his tribute show bandmates (Grohl, future Foo Fighters drummer Josh Freese, and The Darkness singer Justin Hawkins), were confident in his talent.
"Wolfgang has got the lot. I was blown away by his talent and composure," Justin says. "As soon as he played the first note in the jam room run-through, I just thought, 'My God, this guy is amazing.' I was right."
However, Van Halen thought "OK, I fooled them. They think it's good.' If they're fooled, maybe I can fool everybody else."
To his surprise, Wolfgang was greeted enthusiastically by the crowd after being introduced by Grohl. Thunderous applause followed the end of the first song, "On Fire." The ovation grew even louder for the second song, "Hot for Teacher." By the time the two-song, seven-minute set was over, he walked off the stage to a near-deafening standing ovation from the biggest crowd he'd ever performed in front of.
"It's cool to see him out there like carving out his own space that doesn't sound like Van Halen," Shiflett says. "And he can play like a motherfucker, that's for sure."
Chris Shiflett
Not only was it rewarding to pay tribute to his father's legacy, in and of itself, but it was especially impactful following an era during which attention to the band's music seemed to take a backseat to the notorious infighting between Van Halen band members. "I got to do my own thing without any of the bullshit Van Halen is so famous for," he says.
The universally lauded tribute was one of the most talked-about moments of the 51-song concert – and, for once, Van Halen's detractors were silent. "I am good enough, I can do it," he said to me.
Born on March 16, 1991 (his birthday inspired "316," an instrumental Van Halen song on For Unlawful Carnal Knowledge), Wolfgang Van Halen, known as "Wolfie" to those closest to him, grew up in the San Fernando Valley, California.
According to his mother, his passion for music began when he was in diapers, intrigued by the various instruments that were lying around the house. By 6 years old, he began fiddling around on guitar.
Notably, his father didn't steer him toward music. He wanted his young son to discover his own interests. When Wolfgang started showing an interest in drums at 9, however, his dad happily showed him the basics. At that point, the younger Van Halen began taking music seriously and practiced daily.
When he reached his teens, he made a point of learning the guitar on his own, instead of leaning on his father. "I know Dad taught himself and I wanted to follow the same way," he says. "It was important that I develop my own skills and my own sound. That's helped me or else you'd be listening to some shitty Van Halen cover band," he laughs.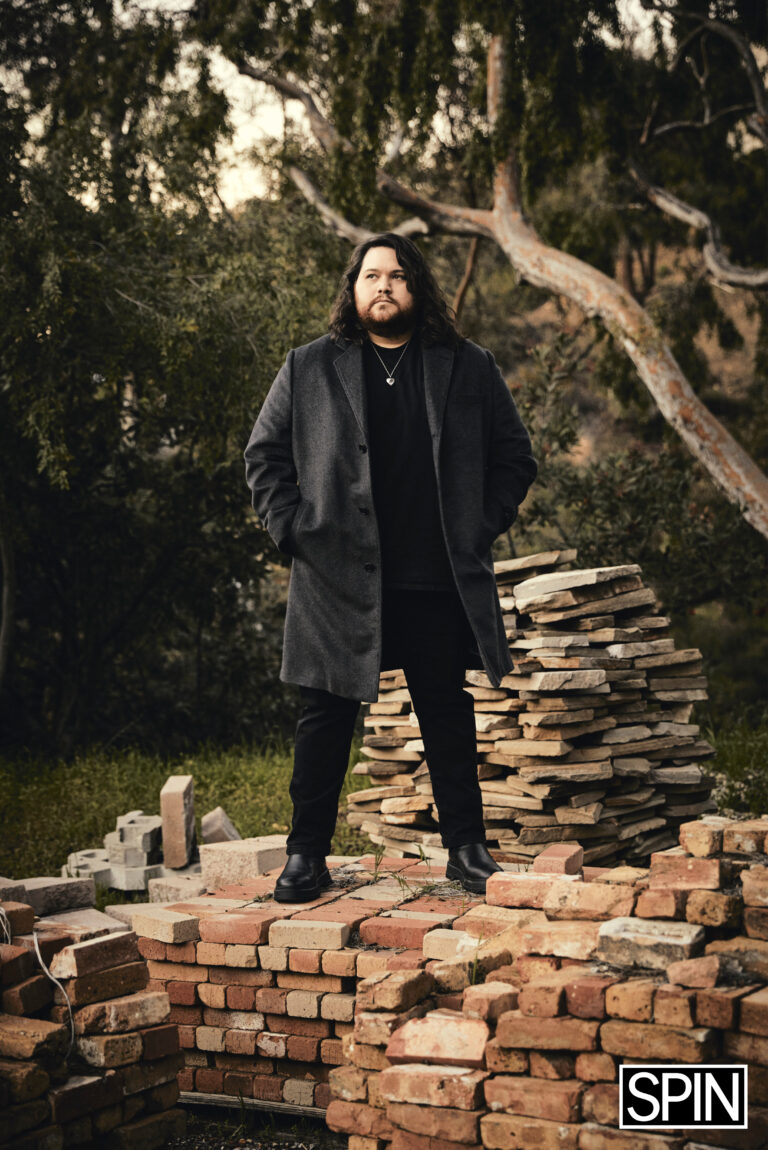 Photo Credit: Travis Shinn
Photo Credit: Travis Shinn
"Given the opportunity to succeed by playing [Van Halen's] 'Panama,' or to fail by playing my music, I would choose to fail."
Wolfgang Van Halen
What's more, his father was apparently better suited to playing lead guitar than leading a lesson. "Even when he wanted to help, he just didn't know how to teach… like, those who can do can't teach," he says.
When Wolfgang added bass to his repertoire, little did he know that he was about to change the course of rock 'n roll. At 15 years old, when he started jamming on a lark with his father and uncle, Alex Van Halen, something immediately clicked — so he suggested bringing back David Lee Roth, who had exited the band in 1985. Shortly after a phone call to his manager, Roth showed up at 5150, sparking a highly anticipated Van Halen reunion after two decades of failed attempts.
With the younger Van Halen on bass, the next eight years saw the band as active as it had been in decades. The band released studio and live albums in 2012 and 2015, and went on three extensive tours. After capping their 2015 tour with a show at the Hollywood Bowl, they went on what would become a permanent hiatus.
Wolfgang also played bass in Tremonti, a hard rock quartet led by singer/guitarist Mark Tremonti, where he developed a tight-knit chemistry with the band's drummer, Garrett Whitlock, who says playing with Van Halen, seven years his junior, elevated his skills. "Every day I drummed with him, I picked up something new. It was a lot of fun," says Whitlock, also Mammoth WVH's touring drummer.
Nearly a year after the Hawkins tribute, Van Halen is poised to release Mammoth II, his second album as Mammoth WVH.
His critically acclaimed self-titled first album, produced by Michael "Elvis" Baskette, at 5150, was released in 2021 on EX1 Records. Inspired by Dave Grohl, who played every instrument on the first Foo Fighters album, Van Halen followed suit.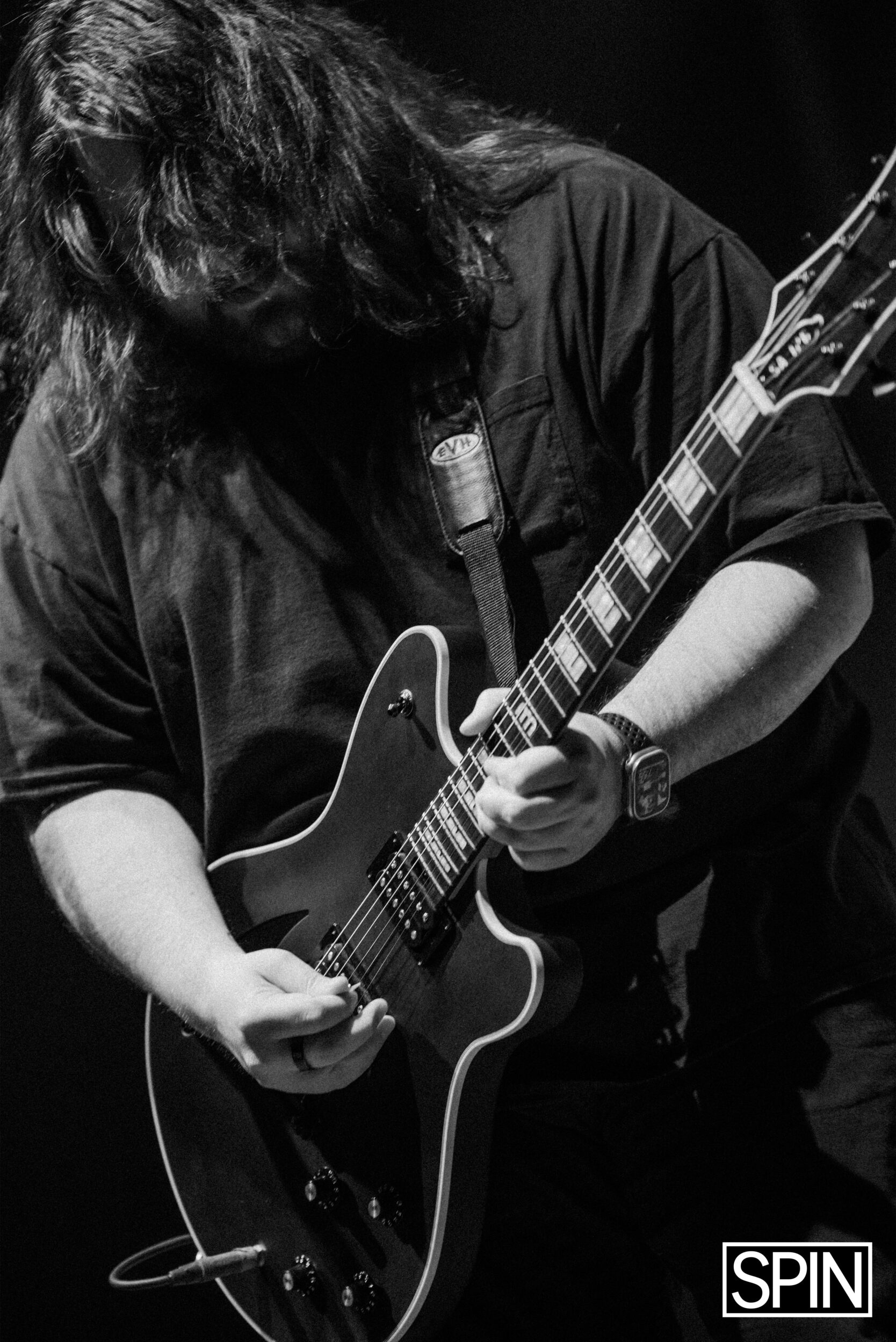 Photo Credit: Andraia Van Halen
"It was important that I develop my own skills and my own sound. That's helped me or else you'd be listening to some shitty Van Halen cover band."
Wolfgang Van Halen
"Distance," the album's first single, was accompanied by a music video comprised of home footage of Van Halen and his father during his childhood. It was nominated in the Best Rock Song category at the Grammys, and the album hit No. 1 on Billboard's Independent Albums, Top Hard Rock Albums and Top Rock Albums charts – and peaked at No. 12 on the Billboard 200.
Louder Sound called the album "poppy but forceful," while Consequence of Sound described the record as having the "sound of a young musician forging his own path," a sentiment echoed by Foo Fighters guitarist Chris Shiflett.
"It's cool to see him out there like carving out his own space that doesn't sound like Van Halen," Shiflett says. "And he can play like a motherfucker, that's for sure."
Before he embarked on his first tour in July 2021, some fans asked him if he planned on playing Van Halen songs. Determined to succeed on his own merits, his answer was "no."
"Given the opportunity to succeed by playing [Van Halen's] 'Panama,' or to fail by playing my music, I would choose to fail," he says.
Kicking off the tour with a pair of headlining club shows in Kansas and Illinois, Van Halen was not only excited that his songs seemed to resonate with the audience, but relieved that there were no requests for covers. His confidence grew when the band was well received as the opening act on Guns N' Roses' 2021 summer tour, where Van Halen noticed fans arriving early to catch Mammoth WVH's set.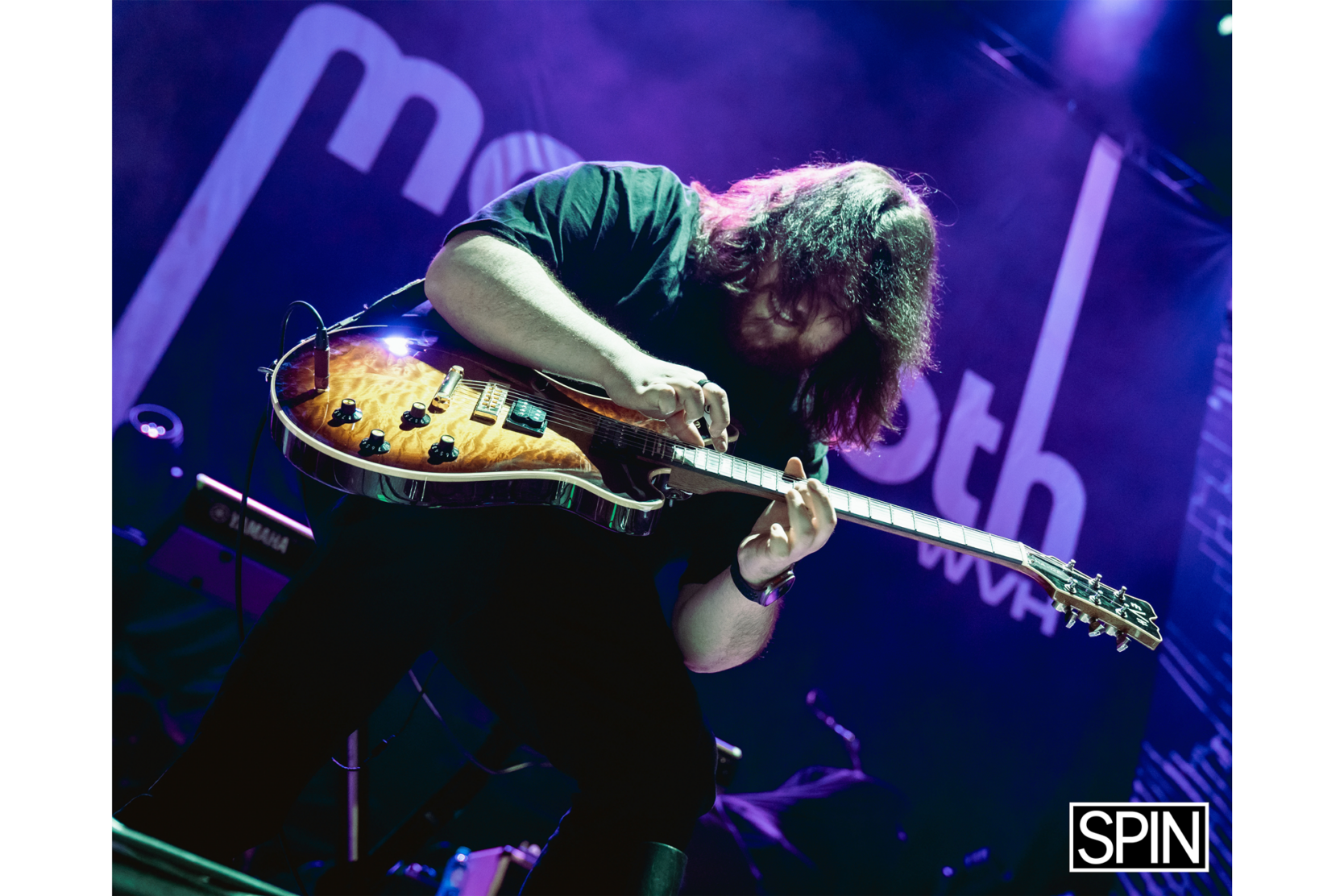 Photo Credit: Andraia Van Halen
"Since I've been singing for the last two years, I do things now that I don't think I could have pulled off on the first album."
Wolfgang Van Halen
None of this came as any surprise to his bandmates, however, who immediately recognized that despite Wolfgang's reticence, he was a natural frontman. Whitlock says. "He's such a natural at it. It makes me happy to see him in the role that I always thought he was destined to be in."
The following year, Mammoth WVH co-headlined the Young Guns tour with rising rockers Dirty Honey, before opening for Halestorm on their U.S. tour.
After the tour, Van Halen had several song ideas for his next album. "If I have enough of a song ready to mess with it, then I'll make a little Logic [Pro] demo," he explains. "From there, I show it to Elvis, and then we go back and forth with it. I show him where I think it should go, and he tells me, 'That's good' or 'It's not, but let's do that.' It helps me not doubt myself."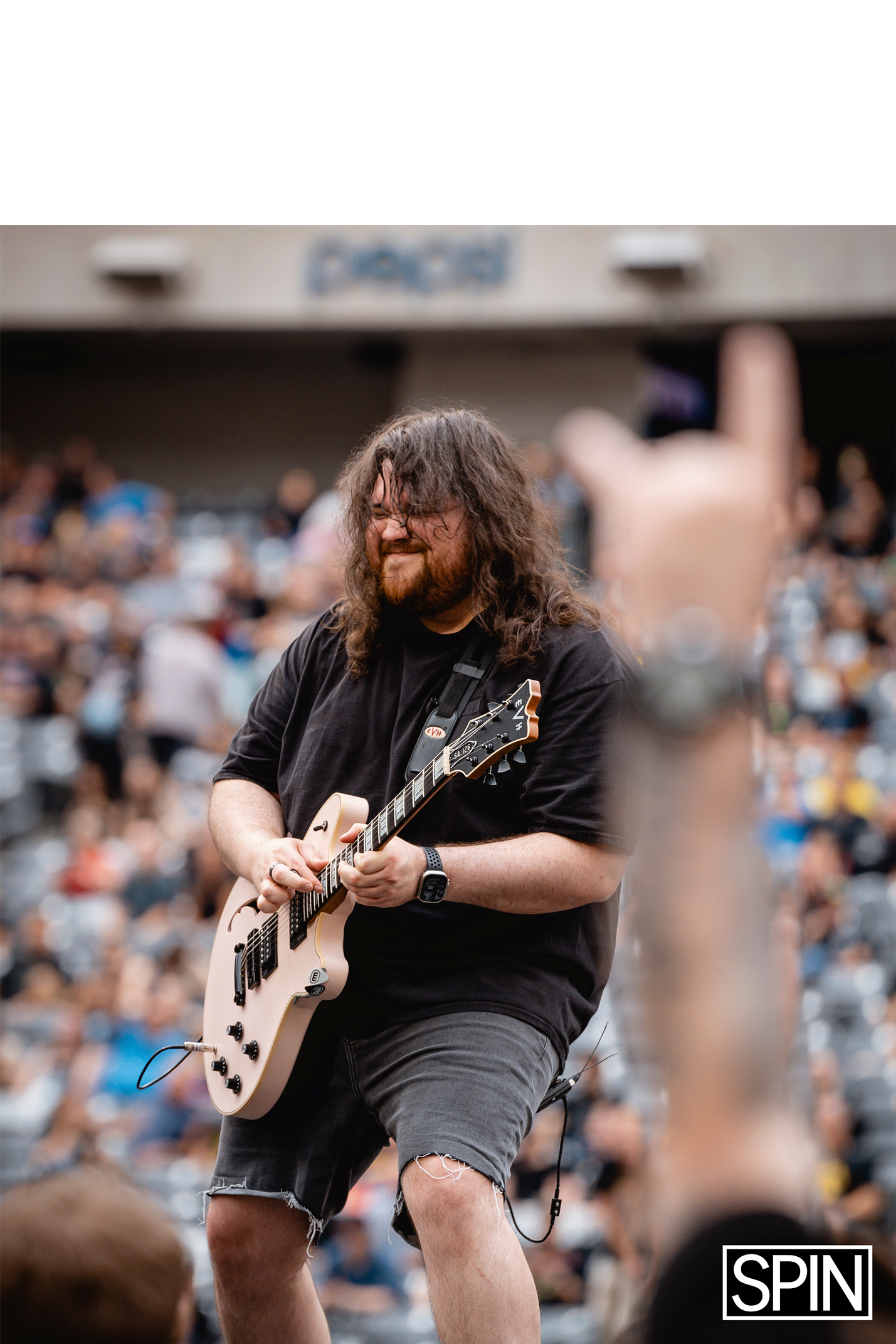 Photo Credit: Andraia Van Halen
Inspired by progressive metal bands like Tool and Meshuggah, Van Halen worked through 12 to 14 potential songs with Baskette to hone the record's overall sound. Just like his self-titled debut, Van Halen played every instrument on Mammoth II.
At times, the Mammoth II sessions were difficult. He had only three weeks to record the album before heading out on the road again. Stressed by the time constraint, Van Halen was prone to ruminating.
"Because he's such a perfectionist, he can get into his head about the music being right. He can be his own worst enemy," his uncle, Patrick Bertinelli, says. "During one of the days, he tried to feel his way through the fretboard and was getting frustrated. Despite what Elvis and I said, it wasn't enough for him and he said he was done for the day. When he went back in the next day to listen, he said 'Oh, that wasn't bad.'"
Van Halen has been similarly critical of his vocals but, upon finishing the record, he had an epiphany. "Before, I was singing. Now, I'm a singer," he says. "Since I've been singing for the last two years, I do things now that I don't think I could have pulled off on the first album."
The evolutionary progression is reflected still further by Mammoth II's duality. "If you want to just drive down the road fast and enjoy a good rock record with good melody, this rock record is that," he says. "Also, if you want to put headphones on and analyze the lyrics and get deep and invested in the meaning behind everything, there's that second layer."
He ponders multiple topics lyrically: personal growth, battles with online trolls, those who have "done me wrong," and grief after the loss of his father. "Another Celebration at the End of the World," Mammoth II's lead single, finds him navigating his way through difficult times. "Now we're all alone / Through blood and bone / You're all I want somehow / But now it's all our own / So don't lose hope / I think it's time we take the throne," he sings.
The video shows a self-deprecating humor — multiple Van Halens play in a band, a sendup of him playing every instrument, and he fires them when they fail to meet his standards. Ultimately, they are replaced by his current touring band.
On the AC/DC-inspired "I'm Alright," a four-and-a-half minute midtempo song featuring a driving guitar riff and power chords, Van Halen pushes against life beneath the relentless microscope, singing "They try to own ya and fill the quota/ Don't need your help, yeah, I'm quite alright."
As soon as Mammoth II was announced in March, the trolls reemerged. A user on what was still then Twitter posted that Van Halen was taking advantage of his last name to promote his new album. Immediately, Van Halen clapped back: "Van Halen is literally my fucking name you grape."
Typically, he shuts down insults instantaneously. But, this time, he didn't let it go quite as quickly. "You guys understand Van Halen is literally a name," he continued. "Like way before it was a band. Right? That good ol' American rock and roll you love so much was written by a Dutch immigrant named Edward Lodewijk Van Halen, not some dude changing his name to sound cool and 'rock n roll' and shit?"
He can't help but chuckle amusedly about the interaction which went viral (the user has since deleted his account), and was picked up by the media.
"I've called people 'grapes' before. I don't know what it was about that one that blew up," he says with a laugh.
Later that week, he made light of the incident by making Mammoth II available for pre-order in his webstore on limited-edition grape-colored vinyl. It sold out in a few hours.
For the better part of 2023, Mammoth WVH have been road warriors. In January, they played with Alter Bridge, and over the summer, opened Metallica's European and North American stadium shows.
"It's exciting," Wolfgang says. "I enjoy that sort of audition process, especially for fanbases like Metallica's."
But when he posted photos of his band's performances to social media, sure enough, his detractors chastised him.
"People would say, 'There's no one in the seats'," he says incredulously. "There's like 5,000 people on the floor… but at the same time, it's not our show! People are there to see Metallica, and Metallica is on four hours later. Why would that many people show up beforehand?"
Wolfgang continued to grow more comfortable as a frontman. He engaged with the audience more than he had previously, and the witty banter that only those closest to him knew, was reflected in his performance.
"I remember at the Santa Ana show, he asked the crowd how they were feeling and then said, 'Actually, hey you! Only you in the blue ball cap? How are you feeling?'" Patrick Bertinelli says: "He's opened up himself and can do that now, find things that are fun and engage with the audience."
In November, when he heads out on what will be his first headlining tour to promote Mammoth II, it will also be his first time hitting the road as a married man, having married Andraia Allsop, his longtime girlfriend, in October. Surrounded by 90 friends and family members at their Los Angeles home, Wolfgang says the night "couldn't be better," except he missed his father. A little over three years after he died, Wolfgang still "carries a weight of sadness" that his father won't witness his milestones. The couple did everything they could to make sure that he was there in spirit.
"We left a seat for him," he says quietly. "I walked down the aisle to '316.' It felt like he was there with us."
In July, Wolfgang, taking advantage of some downtime, went to Amoeba Music in Hollywood to shop for records, and I went with him.
Walking through the vinyl section, he gathers Daft Punk, Steve Winwood, Pantera and Radiohead records in his basket. Stopping at the M section to look for Metallica releases, Wolfgang does a double-take when he spots a placard for Mammoth WVH. In other stores, he notes, Mammoth WVH is filed in the Van Halen section.
"That's so cool they have that for Mammoth," he says.
What's more, the Mammoth WVH slot is empty. When told by an employee that the Mammoth WVH vinyl is sold out, Van Halen flashes a grin before exiting the store.
On his way back to his car, he sees a promotional poster for his album hanging outside on the wall of the building. After posing on the sidewalk for an Amoeba employee who snaps a photo for the store's social media platforms, Van Halen takes another look at the poster, smiles, and walks to the nearby parking garage.
Shortly after he arrives at 5150, Wolfgang pauses for a moment, reflecting on finally being recognized, independently, for his music.
"I can't believe Amoeba has a placard for Mammoth," he says, shaking his head incredulously. "That is so cool."
"I've called people 'grapes' before. I don't know what it was about that one that blew up."
Wolfgang Van Halen