When Joe Casey was 12 years old, he heard one woman murder another on the front lawn next to his. "It sounded like somebody was getting slapped," he says. "But it was the sound of somebody getting stabbed, 60, 70, 80 times. Slap. Slap. Slap-slap-slap-slap." A domestic dispute had started and ended outside in the summer heat while Casey, now 37, was watching television on the couch. As his older brother ran to the screen door and then to call the police, Casey remained seated, just as he was on a cold morning in early March, 25 years later, in the same living room. "No effect," he said, flatly, when asked if the event had one. "Other than that I remember it."
The Casey family home sits at the end of a quiet street in northwest Detroit. Joe grew up here, attended elementary school a short walk away, and moved back in after he graduated from the University of Michigan in Ann Arbor. His family bought this house—red-brick, white shutters, and a model, All-American driveway—during the 1960s, when his father began working as a construction inspector for Detroit's Department of Water, Waste, and Sewerage, a position that required the Caseys to live within the city limits as long as he held it. When that rule was later repealed, they stayed, happily, even as the street changed and the city began to crumble around them. "Our family was so close and it was so nice at home that we just didn't really notice what was going on," Casey said. "Either that or it didn't affect us."
Inside, it's as though time has stopped. There is a dented tin of tooth powder above the bathroom sink, original appliances in the kitchen, and matted, green carpet like seaweed at our feet. A forgotten Marian shrine sits under five-foot doorbells in the hall, and, behind each painting and fading family photograph on the walls, rests a frond of Sunday palm turned angular and brittle, fossilized since its respective mass.
His parents bought this house in part because of its proximity to the leafy grounds of St. Scholastica, a church and stone monastery next door that was once run by Benedictine monks. It's where the Caseys, "pretty Irish, pretty Catholic," took mass every Sunday, and where Joe found his first job, answering phones as a teen. When it came time to name his first band, two decades later, he chose a moniker that made reference to St. Stephen, Roman Catholicism's first martyr—Protomartyr. "You wanna know what was formative?" Joe asked me, there in the living room, his cheeks as red as his wool cap. "These old Italian guys who used to work over there were great examples of what a priest should be: Religion wasn't a complete fix-it for everything, it was just a way to live life. One of them, Father Livy, his health was slowly declining. So he invites me and my brother over and he says to us, 'The secret, is that God gives you gifts. And one by one, God takes them away.'"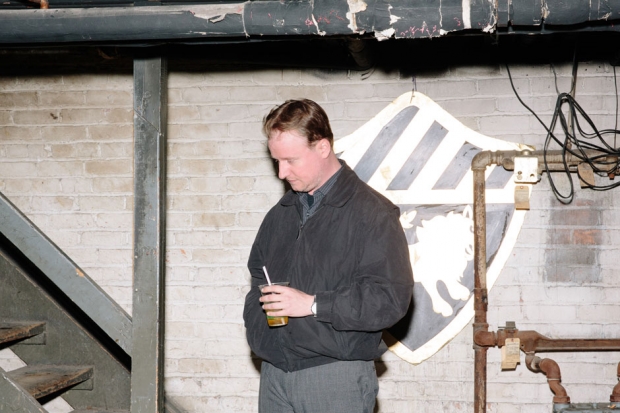 Winter was especially unforgiving in Detroit this year, temperatures loitering in single digits, record amounts of snow waiting outside for plows that never arrived. Somewhat mercifully, Casey was preparing to leave for Austin, Texas, where, under the constant threat of sunburn, he and his equally fair-skinned bandmates—guitarist Greg Ahee, bassist Scott Davidson, and drummer Alex Leonard—would play a spate of pivotal shows during this year's annual SXSW festival. He was understandably nervous, for a variety of reasons. "I might have to go blow into a tube today," he warned me, flip phone to his ear. "It ends up being once a week, but I have to call in everyday. Sometimes, once a month, you have to blow and  piss." He snapped the phone shut. "I don't have to go in."
In June, 2013, Casey was pulled over late at night while driving under the influence along 8 Mile, that now infamous "border between the haves and have-nots" in north Detroit. He was headed home from a friend's in nearby Ferndale, texting while at the wheel, unaware that he was briefly passing through the more assiduously policed suburb of Oak Park, in neighboring Oakland County, where he would spend the night in jail. While Casey says he hasn't had a drink since, as the law dictates, his probation subjects him to regular blood-alcohol testing, which will present a challenge as Protomartyr prepares to spend months away from home this year, in support of their second LP, Under Color of Official Right, a haunting, unassuming burst of post-punk that bristles with pathos.
"It's kind of a maudlin thing to say but there's really not that much else to do in Detroit but drink," he said, sucking on a cigarette at his dining room table. "But this year of not drinking has been pretty good for me, because I was probably drinking too much. That was our early charm: 'Jesus, this guy's drunk.' I get nervous on stage so I had to be pretty poo-poo'd before I could do it. People still think I'm drunk anyway." Why? I ask him. "Because," he says. "I look like a drunk: old, fat, and I slur my words."
Blonde, green-eyed, and soft in a non-threatening, middle-aged way, Casey is an uncomfortable frontman, a lifelong introvert forcing himself to work through his straightjacket in plain view.  This year marks his third trip to Austin, but only his second performing with Protomartyr, and it brings with it an anxiety that he says extends far beyond the law or expectation.
Casey's onstage persona is not that of the natty guitar hero or writhing rock'n'roll demigod, but rather, a muttering schlub.
In March of 2008, he drove down to Texas for the first time with his friends in Tyvek, a beloved Detroit punk band comprised of high-school classmates and close friends for whom Casey, a former film student, would often shoot video and sell merch. As the band traveled on to play a small festival in Mexico, he stayed behind to explore more of Texas on his own, taking in hill country and rodeo. While visiting Houston, he received a call from home: After a relatively benign, long-avoided hernia operation caused severe internal bleeding in his lower abdomen, Casey's father had suffered a sudden heart attack at 72. Joe flew home immediately to be at his side, along with his mother and two older brothers. When he arrived, Casey's father was still conscious yet unable to communicate. But when his blood pressure dropped dramatically in the night, activity in his brain ceased. He was placed on life support. The Caseys chose to let him go.
"At first, we said, 'Mom, we can do whatever you want, we can get you a house out in the suburbs,'" Joe said. "But she really wanted to stay in that house." So the two of them stayed. And as Joe began to confront his own fear of death, his mother began to exhibit increasingly troublesome signs of Alzheimer's, a disease that had taken her own mother, and a development that, he thinks, was exposed and accelerated by her grief. "I used to joke with people for the first five or six years I was back from college, 'Oh, my parents need me around to take care of them,'" he says. "That wasn't really true; they were pretty independent. But by the end, it was. So my excuse for living at home became my reason for being there."
Last year, as her condition worsened, Casey and his brothers decided it was time for their mother to leave "the Detroit House," so that she could live in the suburbs, where it's safer. The house is as she left it, and as her husband did: paint peeling inside and out, gradually falling apart but just beyond repair. In the evenings, when he's not with the band, Casey works the door at a comedy club. During the day, he drives to his brother's to be with her, to take her to lunch and make sure she gets a bath. Then he comes back to Detroit, to a home that's filled with their belongings, to live amongst ruins in a city that's become famous for them. Without his father, Joe was "anchor-less and rudder-less." He'd spent his twenties inert and crippled by shyness, looking on as his brothers progressed through graduate school and professional school, then on to careers. He'd watched his friends tour the world, watched his parents fade away. Annealed and then liberated by his grief, he resolved not just to change course, but to finally plot one. In college, he used to daydream about becoming a writer, about leaving Michigan, about being for Detroit what James Joyce was to Dublin. He started a band instead.

(l-r) Joe Casey, Greg Ahee, Alex Leonard, Scott Davidson
In the early evening, all four members of Protomartyr sat together in Davidson's Ferndale living room, absently watching the Red Wings hammer the New Jersey Devils at home. Davidson, broad-shouldered with deep dimples and long, curly blonde hair, received some consolation from his bandmates: Two weeks ago, while playing with Tyvek on a short tour of the South, he awoke one morning to the news that his Chevy Trail Blazer, Protomartyr's onetime "tour bus," had been stolen off the street where he'd parked it in southwest Detroit. It had been found earlier today, with considerable damage done to its steering column, bumpers, and windows, a cumulative toll too expensive to repair. Everyone in the room has had their car abused more than once. Outwardly, Davidson seems unbothered.
"I've had a bunch of different windows broken," he said, squeezing a can of light beer. "But I've never had it stolen before."
Davidson's home is something of a clubhouse for the band, replete with vintage pinball machines, a colossal television, and large stores of beer. Since giving up their cavernous, longtime practice space in Russell Industrial Center, a former parts factory for cars and fighter planes, they relocated to Davidson's basement, once known locally as a venue for DIY house shows. Its name is visible as you descend the stairs, in black pen on white paper adhered to the ceiling, one comforting word a sheet: NO BUMMER ZONE.
They were here to practice one last time before both SXSW and the Hamtramck Music Festival, a two-day happening spread out across the bars of downtown Hamtramck, an independent city and mostly Polish enclave surrounded on all sides by Detroit—tomorrow, they will headline a bill comprised of friends at a VFW hall.  Standing in a diamond, face-to-face, the four of them rolled through the set list, Casey leaning up against a pillar like he's waiting for a train, mic glued to the side of his mouth, one hand in his pocket. In preparation for a forthcoming video segment for the Onion's AV Club, they worked in a throbbing, note-for-note cover of the Stooges' "Down on the Street," which despite some hand-wringing on Casey's part, suited them well. "There are so many other bands in Detroit with singers who are definitely inspired by Iggy Pop and capture that spirit," he said. "But I am not that guy. I'm not going to be shirtless."
In Detroit, 'You can start to feel like the Elephant Man. People are just coming to look at you.' — Joe Casey
While Protomartyr draws more influence from English bands like the Fall and Wire than they do from Detroit's defining, proto-punk forefathers, Casey has developed a style of writing that is uniquely of this place, and the emotional geography in which he lives. The band's 2011 debut LP, No Passion All Technique, pointed to nearby "Ypsilanti" and the "Feral Cats" that roam Detroit, one of which lives under his house and eats from a bowl Casey leaves on his front doorstep. On "3 Swallows," he wrote a strangely melodic "love song" with Irish whiskey in mind. Though he readily identified with Jack White early on—"another white kid growing up in Detroit, an altar boy"—his onstage persona is not that of the natty guitar hero or writhing rock'n'roll demigod, but rather, a muttering schlub. In a live setting, suspenders on or tumbler in hand, he works an anti-schtick that plays up his age and his Midwestern averageness while simultaneously baffling most of the room. To combat his stage fright, Casey still removes his glasses before every show, so that the crowd in front of him, large or small, is always one fleshy, contiguous blur.
Early on, when the band would play the song "Free Supper," he'd point indiscriminately at faces in the audience as he howled through its coda, "And you will die alone! And you will die alone!" On separate occasions, it spooked Ahee's younger brother and even made Leonard's father, "a born tough guy," uncomfortable to the point of aggression. "I had to assure him it wasn't personal," Leonard says. "I said, 'He does it to everybody, Dad, I swear.'"
"Joe is one of the best lead singers right now," Parquet Courts' Andrew Savage told me. "His whole stage thing is awesome, but it's not even a 'thing'—it's just who he is."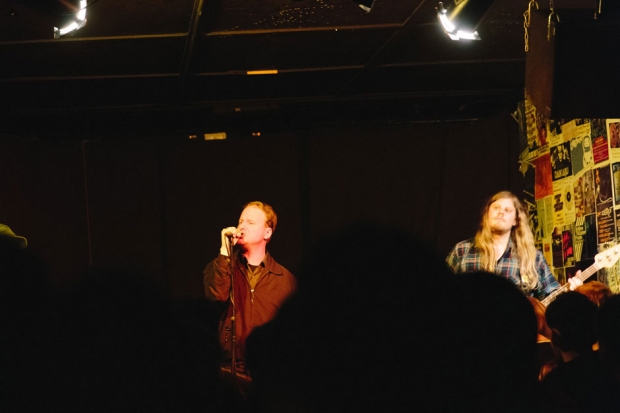 Jumbo's is just a bar. Situated on the edge of the Cass Corridor—a landmark neighborhood that's seen every breathtaking phase of Detroit's rise and fall, from derelict mansions to total decay to the arrival of Whole Foods and real estate re-branding—it's a pile of cinder blocks in a muddy lot, one minute from the freeway. Green walls, orange signage, no windows, and no draft beers: If they never closed, you could spend days in here without knowing the time. Protomartyr wrote a song for and about this place, one of their best. And anytime they play, here and elsewhere, they tend to close their set with "Jumbo's," an indestructible, dead-behind-the-eyes crescendo. In the course of a few years, they've inadvertently created a mythology for this place: Bands from the outside, they say, have started to book it and drop its name. "I worry," Casey mused, as he nurses a ginger ale at the bar, "that we've helped gentrify Jumbo's."
In 1950, Detroit's population was roughly 1.8 million. Last summer, just before the city declared bankruptcy, the federal government estimated its population at 688,701, its exodus having slowed to about 7,500 fewer residents each year since 2010. In the previous decade, Detroit was hemorrhaging an average of 24,000 people each year. But few American cities carry more of a conversational charge at the moment than Detroit, and fewer still are as allegorically adhesive: a point of pride or a teachable moment or a third-world example of what's to come for the rest of the country.
"People believe in the mythology of this place," Casey said, on a drive from one end of the city to the next, so that I could better visualize the scope of its devastation. "They feel like, if they live here, it bestows a certain toughness to their character. That's why I worry about saying that I represent Detroit, because I don't know shit about cars, I like the Tigers but that's it, and I'm not particularly tough."
Growing up, Casey felt shocked at hearing the news that the rest of the country wasn't also majority black—that's all he had ever known. When Protomartyr first began to tour, Casey said, the people they would meet always asked, "'Oh, isn't it scary there? Have you been shot?' Now, when we leave town, it's, 'Oh, I heard Detroit's great for artists.'"
We drove past "liquor stores next to storefront churches next to liquor stores next to churches next to wig boutiques," past new craft cocktail lounges and fair trade coffee shops and the blight you've seen on the news: abandoned buildings whose guts, charred timber and brick, often sit exposed inside them in gnarled heaps. "Has the weight of the city gotten to you yet?" Casey asked me. "After a while, you'll find yourself surprised to see something that's not abandoned." In front of Detroit's empty, still magnificent train station, tourists have stepped out of their car to take photos. "Some of this is safari," Casey said, nodding to them. "With a tinge of racism, classicism, and all sorts of things. And I get it: If you've never seen things like this, you want to see it. It's fascinating. But you can start to feel like the Elephant Man here. People are just coming to look at you."
While Casey takes great pains in emphasizing that Protomartyr ("four white guys in a 'literary punk band'") isn't especially representative of Detroit as a whole, and that Under Color of Official Right is not "a Detroit album," he did indeed set out to write "Detroit songs," as he did for "Bad Advice," a story about the seemingly predestined path of corrupt former mayor Kwame Filpatrick, as well as "Come and See," an apocalyptic anthem that invokes the Bible in parsing Detroit's precarious place in the national conversation. Casey is authoritative, but never prescriptive. As Ahee put it before band practice, "referencing Detroit isn't exactly a novel idea for a Detroit-area artist. But I haven't really heard people from around here talking about the Detroit references. Just outsiders." "Yeah," Leonard croaked. "They don't give a fuck."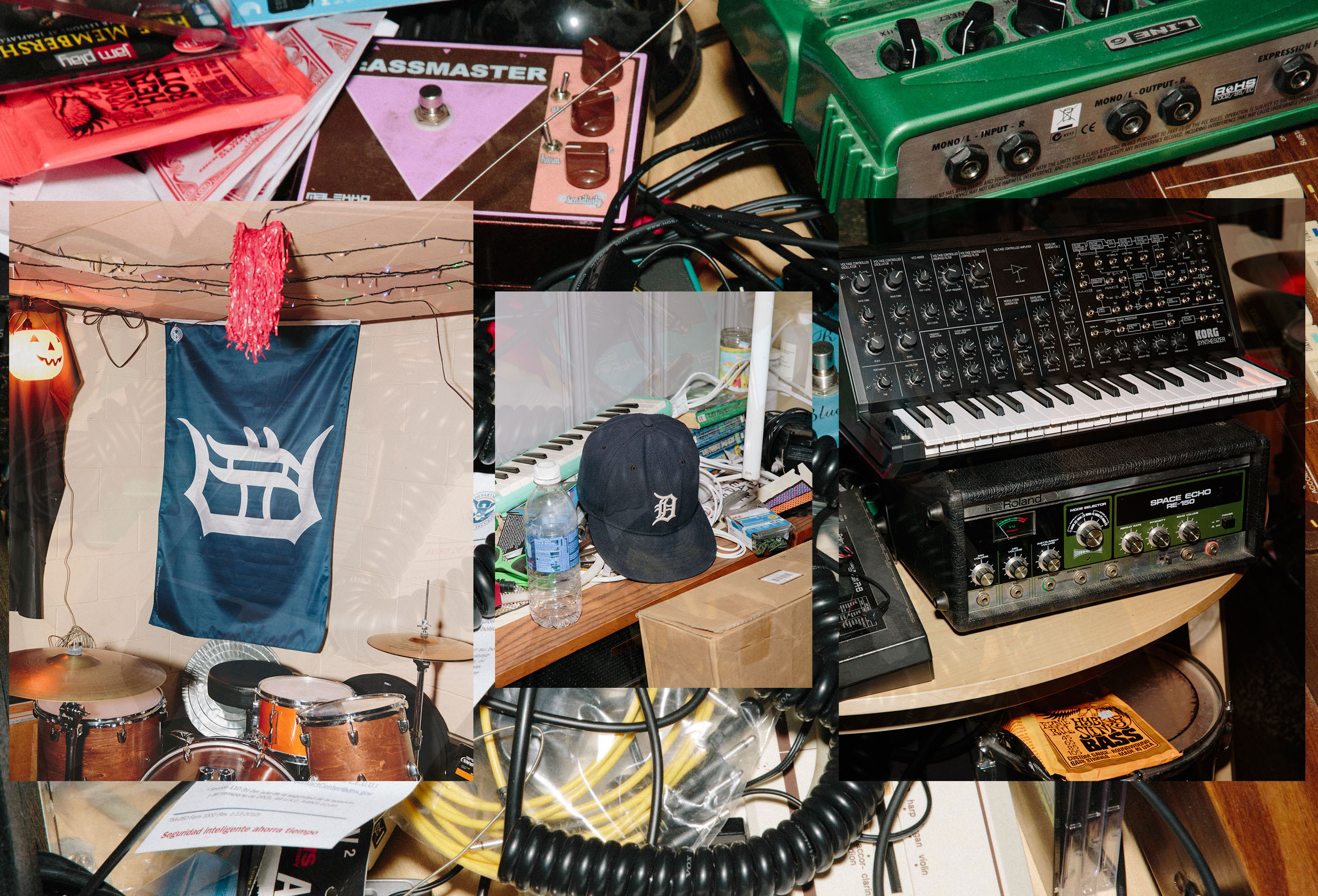 As the upstairs banquet hall at the Polish VFW in Hamtramck slowly began to fill, Protomartyr gathered in a storage room behind the stage to hydrate. Casey, eyes to the floor, quietly removed his glasses, wrapped them up in his wool cap, folded it, laid it down. When the four of them walked out, Casey squinted and grimaced like he had a toothache. And then they began, and he was transformed. For an hour, they bullrushed through old songs and new, Casey pacing the width of the stage, attacking the microphone like a man shouting into the phone in the privacy of his own office. As they unleashed the squall of "Jumbo's," Ahee drifted towards the wall, which he tested with his foot and then his guitar.
Afterward, he looked exhausted and Casey looked relieved. The four of them took seats again backstage to catch their breath. As dozens of friends came back to congratulate them, a diminutive young black gentleman named Brian, another fellow UD alum, sauntered in to do the same. Ahee introduced him by saying, "This is Brian, and, even though he hates our music, he comes to every show."
"You know full well that I am not a fan of the genre of music," Brian said, waving his hands, clearly orating now. "But I have to be here."
"You don't have to come anymore," said Ahee, laughing.
"No," Brian said. "I do have to come here. Because that's what's real. Even if I have to take the bus. Even if I have to ride my bike half of the way, I do have to come. Because that's what's real. I support my own."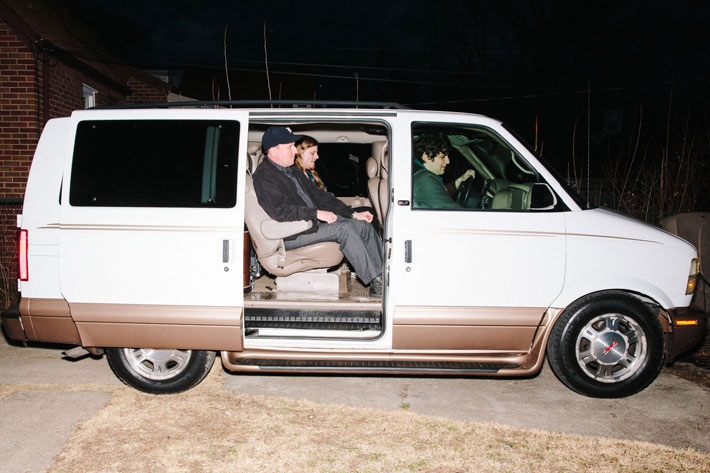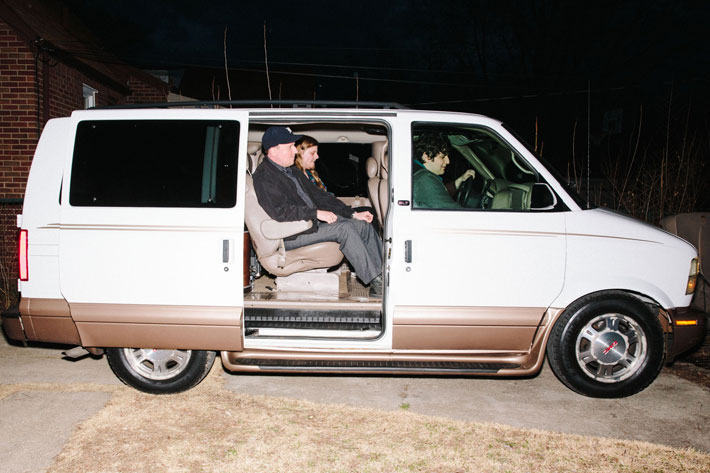 The following morning, the house was silent when we left Casey's house for the airport. He felt good about the show, about the response to the new songs. "I can't handle compliments so well," he said, as we get on the freeway. "If you had told me six years ago that I'd be in this situation. I would have thought you were insane." One of the conditions of his probation is that he goes to see a psychotherapist. "And it's not something I was looking forward to. But," he added, "the one thing I came across wasn't that I had a drinking problem, but that I had an 'action' problem."
For years, he'd shied away from starting a band, for fear that it would have embarrassed his father. "But that's probably just Catholic guilt," he said. "I'm sure he'd have been over the moon about it. One time, I took a train to the West Coast to visit a friend and Dad was so excited: He followed me and kept track of my train at all times of the day. He was just excited that I was having an adventure."