At the turn of the millennium, the internet was a new and novel discovery vehicle for music outside the usual routes. While New York's rock scene boomed as the city recovered from the World Trade Center attacks, indie bands from scenes relatively unplugged from the major label circuit could suddenly get their music out with a few clicks of a button. 
One of the biggest acts to benefit from the internet's indie rock boom was Toronto's Broken Social Scene, a collective of at least twelve musicians all with their own bands—Stars, Metric, Do Say Make Think, Apostle of Hustle—who had come together like a Canadian Voltron. A wildly positive review of the band's You Forgot It in People on a budding Pitchfork more or less put them on the map in 2002, and file-sharing spread their music faster than a major label could. Their ambitious, cross-genre sound was bound together by an irrepressibly romantic spirit, embodying the noise and angst of a generation coming of age under the worst American president of a then-teenager's lifetime. 
The satellite bands found success in their own right—most notably Feist, who became a superduperstar after "1234" scored an Apple ad—and Broken Social Scene became a supergroup created in reverse, a bigger deal than many bands in their milieu. Fifteen years later, as indie kids who daydreamed to "Anthems for a Seventeen-Year-Old Girl" have their own children, the band is about to return with a new album, Hug of Thunder. And the state of the United States is just as exhausting as it was then, much to the annoyance of Broken Social Scene cofounder Kevin Drew.
"Revolution means shit to me," says Drew of what it will take us to get through the currently tense global climate. "You have to sit in this regurgitated joke and find the light. There's only one fuckin' way to find it. It's the little things."
Drew, who turned 40 last September, is tearing into a kale salad at the Holloway, a bar in Los Angeles' Silver Lake neighborhood. A few minutes later, an order of buffalo wings arrives at the table. In his blazer and white v-neck, Drew looks like a distant cousin of Father John Misty. Rock n' roll has taken its course over the years, but he's comfortable.
"It hurts sometimes--I got a gut, my skin's okay, I smoke still," he says, tucking his scruffy shoulder-length hair behind his ears. Drew's voice sounds weary as he weaves his way through magnetic, discursive monologues. When he holds up his left hand, I see the letters tattooed across his fingers spell the word "YES."
"I get reviews where they're like 'The guy ruined the show 'cause he was dancing around.' But that's what I do—screaming and engaging with the people. You're in? Great. If you're not, I have no idea what you're doing there in the first place."
Drew was supposed to be having lunch here with Brendan Canning, his long-time friend in Broken Social Scene, but on the way over there was some typical band drama: The bandmates disagreed over where to eat. At some point along the way, Canning left the car to forge his own culinary path, and now it's just the two of us.
Not that he and Canning are actually mad at each other. Anyone who's been friends for as long as Drew and Canning—and more broadly, the members of Broken Social Scene—knows how such extended intimacies invite the occasional meaningless conflict. It just means you're comfortable being honest with each other.
On the final weekend of June, Broken Social Scene will perform at Arroyo Seco, a new festival in Pasadena, California, where kids under 10 get in for free. Tom Petty and Mumford and Sons are the headliners, and there are more food vendors than bands listed on the poster. Generally speaking, it's for upper-middle class parents young and old who're looking for a nice weekend where they can drink to moderation and then watch Jeff Goldblum's jazz ensemble.
This is where Broken Social Scene fit. Like the crowd, the band has inched toward middle age and accumulated the attendant responsibilities of parenthood and partnership; this weekend, they're ready to ease up and have a good time. The friendships between the band's members have only strengthened over the years, as Drew vigorously tells me, and their new music aims to celebrate those bonds.
"We just wanna pass this vibe on—this friendship, this unity," Drew says. "We just wanna show people hey, it's a pretty fuckin' selfish, egotistical world, and these people have been together, some of 27 years, some of 'em, 20, some of 'em 15 years. Because it's friendship, and friendship is one of the most important things in life." (In a 2009 oral history of the band, Emily Haines put it a different way: "Objectively speaking, when you look at it, everybody has fucked everybody, and to me it's not that sinister—it was really innocent and lovely.")
As we talk, Canning enters the bar. Drew waves him over to join the interview after all, but his back is turned to us. Soon after, he's joined by Sam Goldberg, Justin Peroff, David French, and Ariel Engle—Broken Social Scene's new vocalist, who joined after marrying the band's Andrew Whiteman.
"You know, these people make me strive to be better," Drew continues. "They do. They make me their spokesperson on stage, and I try my best. I'm surrounded by such talent—so many people that I love—that I've won. It's a hard job at times, and of course you have to go through all the ups and downs of being in a family together, but I've won. It's wonderful." When we're done talking, Drew walks me over to the rest of the band, who introduce themselves. Pretty soon, he and French are playing shuffleboard.
[caption id="attachment_id_248177"]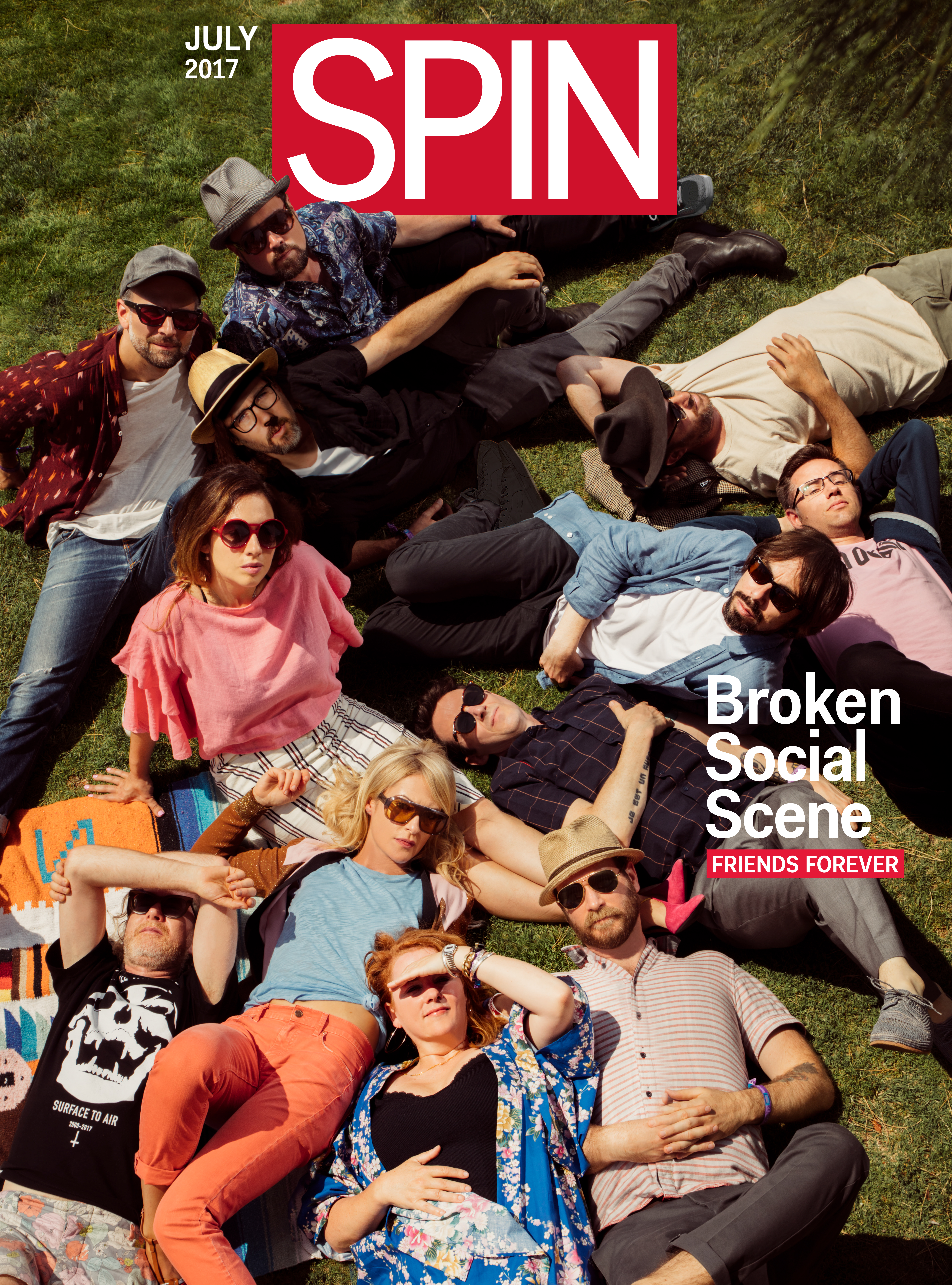 Photographed for Spin by Austin Hargrave[/caption]
Forgiveness Rock Record, the last Broken Social Scene record, came out in 2010. Their hiatus was nonchalantly announced not long after, though Drew eventually admitted his diminished enthusiasm for the endeavor. In a 2013 interview, he described himself as "frustrated and bothered" with the Forgiveness Rock Record tour, and said their risk-averse schedule had stifled his his creativity and willingness to gamble. "I came to the conclusion that I didn't want to go through all these channels when it comes to my passion anymore," he said. "I needed to step away and decompress."
"We all needed our space," Canning says. Seven years older than Drew, he comes off like a sanguine scenester who's seen it all. "You're in the same fuckin' band traveling in buses, and you have to live with everyone's bullshit everyday. You go fucking insane." Multiply that feeling by a dozen-plus touring members, add it to the inherent angst of being an indie rock musician—"trying to do this emotional thing where your chops aren't great"—and a break becomes sorely necessary. "You're chasing this elusive feeling, and it gets murky sometimes."
When I ask Peroff, the band's drummer, if he ever thought the band might not get back together, he says no. Spearin, a founding member and a friend of Drew dating back to their late '90s band KC Accidental, says maybe: "There was a chance that our lives would diverge farther. We've been friends for a long time and often friendships kind of dissolve and disappear. In my mind, it wasn't out of the realm of possibility that we were finished as a band."
Andrew Whiteman splits the difference with a choice metaphor. "I was feeling burnt out, for sure," he says. "But of course I knew we were going to do it again. You can't quit. It's like the mafia. You're in for life." The mafia seems particularly stuck in Whiteman's mind; the first thing he says about Montreal, where he lives with Engel, is that it's like Sicily, because it's corrupt and the mob runs everything. This is also the very first thing he says to me.
Everyone stayed busy during their time off. Stars and Metric released two albums apiece, as did Feist; Canning and Drew dropped solo projects; Whiteman and Engle released an album as AroarA; Spearin went to art school; and on, and on. (It would take a few paragraphs to list everything they did.) They produced records by other artists, played on each others' records, and did their best to stay in touch.
"I really think that all of these challenges and conversations and struggles that we've had on and off as a band have made us good people," says Spearin. "I don't really know how to say it. Sometimes I get this feeling of looking at all my old friends, who I've known for years and just thinking: 'Yes, good.'"
"We're Canadians, for God's sakes," Peroff says from next to him. "We have to be."
"I don't know where that thought came from, but yeah."
Peroff puts a hand on Spearin's shoulder. "I think you're about to cry, Charlie," he says.
https://www.youtube.com/embed/-aCT_QZg5vg
In 2015, the band performed at a couple of festivals, which led to a conversation at Drew's Toronto home about a genuine comeback. The core members of the band—Drew, Canning, Spearin, Peroff, and Whiteman—started hashing out ideas, encouraged by outside producer Joe Chiccarelli. Over the coming months, the Bat Signal went out for the rest of the band. "When we're working, we understand that there will be a lot more input, so we leave space in the music as we're writing it," Spearin says. "We would send out invitations for all the usual crew, and say, 'Hey, we're doing this again. Would you be interested in being part of this?'"
Ultimately, eighteen musicians were credited on the record. Ariel Engle, who first performed with the band in 2010, was invited to formally join and ended up helming two songs on Hug of Thunder—more than anyone except Drew. Feist, who hadn't sung lead on a Broken Social Scene song since 2006, seeded the idea for the lovely title track during an informal session at Drew's house. "Everybody, thankfully, got excited and came back with their A-game," Spearin says, "and it really felt like the old, friendly, love fest that it always was."
"We all did stuff on our own and whether they're commercial successes or not, at least they're things that you do on your own where you don't have to answer to anyone," Canning says. "And you can just feel how it feels to stand on your own without your big group. If everyone's being honest with themselves, no one is afforded a career without Broken Social Scene. Everyone can do lots of cool stuff on their own but this band has made it possible for everyone. You gotta respect the mothership."
The extended time off meant the members came back with even more ideas. Spearin draws a five-petaled flower on my notebook and says it represents the tastes of the band's core members—with the bud in the middle representing the overlap that comes during the recording process. "It actually wasn't the easiest record to make," he says, "but fortunately the challenge wasn't a shortage of ideas. We kept trying to get together to finish songs, and then we would write five new ones every time we got together."
They ended up with a half-finished album left on the cutting room floor, which suggests the Hug of Thunder follow-up will come in fewer than seven years. It also meant compromising about which songs should make the record—and with 18 people involved, that's a lot of negotiating.
"Democracy is annoying as shit, you know?" Canning says. "We try to be democratic as possible, but at certain points you have go-between individuals like an A&R guy. 'You guys don't like this; he likes this. I think it's alright. I see no problems. You wanna skip that song when you take home the album? Skip it. The album's not for you—the album's for everyone.'"
He points to the bar where we've ended up, following the argument in the car: "It may not be the first pick but you end up here and you're all still together. Everyone got fed. Nobody died. Just another point where sacrifices have to be made. We're coming down to this neighborhood and you're gonna find something to eat here and you're gonna like it."
[caption id="attachment_id_248171"]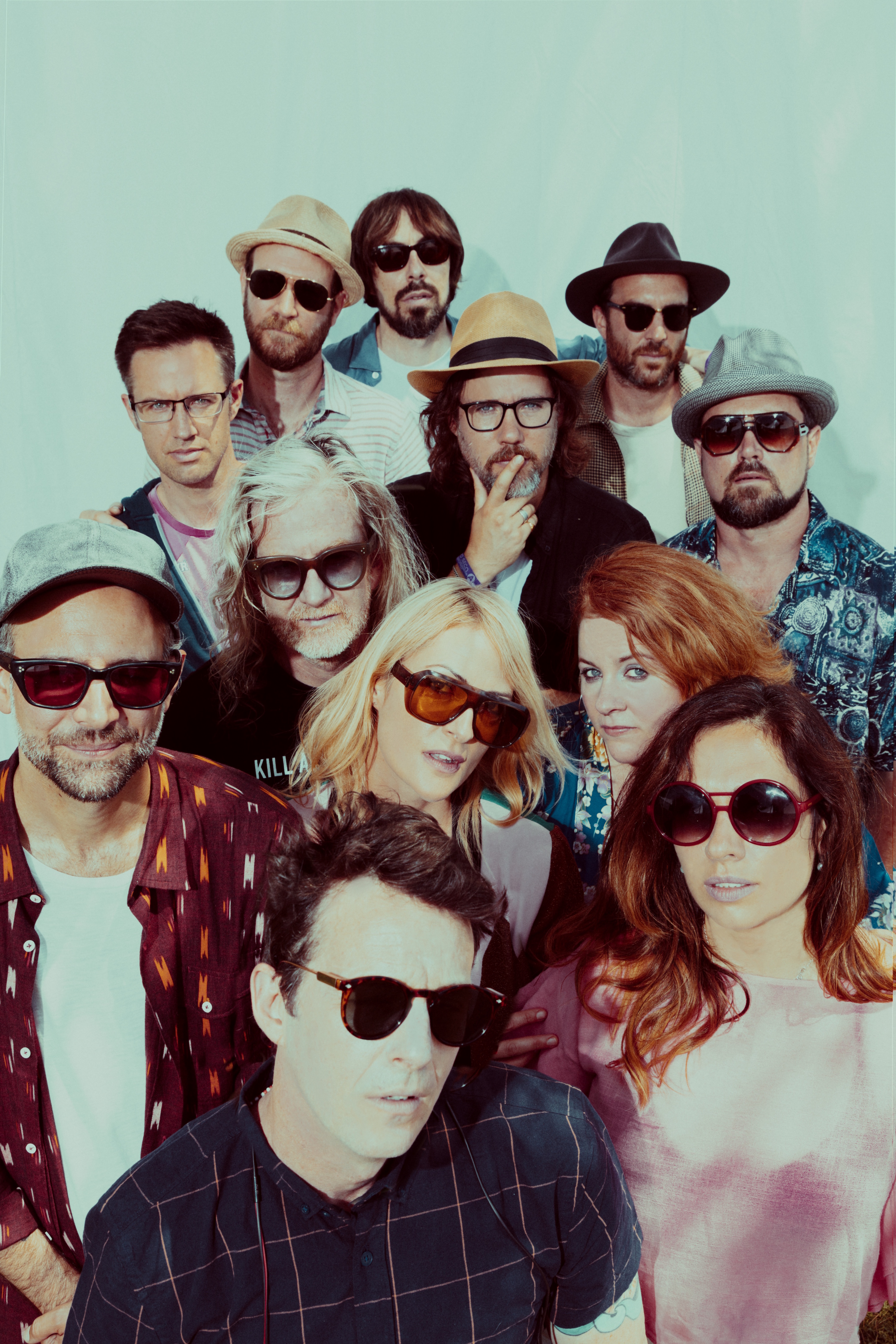 Photographed for Spin by Austin Hargrave[/caption]
The year after 2010's Forgiveness Rock Record, Arcade Fire—another indie rock darling—won the Grammy for Album of the Year with a concept record about suburban ennui. Seven years later, it's more or less accepted that guitar music—especially the kind led by bearded white men, regardless of how many female singers are in the band—is well past the point of mainstream relevance. The members are well aware that by waiting so long to release a new album, Broken Social Scene have unintentionally run the risk of returning as a nostalgia act.
"I live in a fuckin' bubble of being in Broken Social Scene," Canning says. "Back home, you get a little more patting on the back. Your friends will say, 'You guys are fine. You know you've got your fans.' Well, that's easy for you to say!"
Spearin, whose Toronto studio hosted many of the band's recording sessions, was more blunt: "There's a chance that we're gonna suck. We get older, and bands often get kinda shitty as they get older. But it became pretty clear to us that we were really happy with the music we were making, and I know that we're proud of it and that we didn't phone it in. We put our heart into it."
At their best, Broken Social Scene's music offers a curated sprawl combined with Canadian gentility. (As we sit down to talk under the darkened media tent at Arroyo Seco, Peroff quickly assures me he isn't wearing his sunglasses out of rock star affectation—they're prescription.) There are the triumphant riffs and singalong choruses of all great rock bands, backed by a swirling, mysterious something brought by the dozen-plus members ready to step in at a moment's notice and lend a weird harmony or unconventional part. Do you know what a nyckelharpa is? Me neither, but Charles Spearin plays one on "Halfway Home," and the trilling riff is the best part of the song. Phish have covered them, which makes sense.
Hug of Thunder is as attractively messy and untamed as Broken Social Scene's defining work. There are straightforward rock jams, breezily strummed hootenannys, melted experiments, defiant ballads, and more than a few memorable brass and trumpet sections. A song like "Skyline" builds with a simple, delicate melody before arriving at an ascendant stomp. Just as important as the sound is the sentiment: the lyrics contain spooked reads about the downcast state of the world that nonetheless avoid cynicism. Each singer sounds not entirely convinced that things will improve until they realize they're surrounded by loved ones.
"Hug of Thunder is a record that we wanted to come back and play in these times, because that's where we did well before—in this state of unease, in this state of tension, this state of chaos," Drew says. "That's where we really brought joy to people. When you're in this job, you got one fuckin' thing to do, and that's make people feel alive and happy and hopeful and not alone. This is a completely hold-on society at this moment in time. You have to hold on. This will pass. It will. But you need to be responsible to the idea of helping it pass, and you can't be selfish about it, because then you're really on the wrong side."
https://www.youtube.com/embed/n9ujF9s48Z8
The Arroyo Seco hits the mark, and the majority of the crowd is responsibly drunk. "It was serene," Engle says. "Usually, when you leave festivals, people are falling everywhere." It's true; the vibe is very calm. Still, what sticks with me is the previous night, when Broken Social Scene perform at a private Silver Lake party like any other house show. There's one bathroom for all the guests, a pair of large dogs running around, and a happy commingling of friends who haven't seen each other in forever. A catered bar offering cocktails named after the band's songs is the only luxury of a house show thrown by adults--the Lover's Spit, for example, is a mixture of upscale ginger ale and vodka.
These house shows, coordinated by a Los Angeles resident, are thrown roughly once a month with some accompanying social mission. The police presence outside makes me think they're monitoring the music, which is loud; instead, they're only responding to reports of nearby car windows being smashed with a baseball bat. Inside, donations are being collected on behalf of Planned Parenthood. Nevertheless, it's pretty cool to see a band as successful as Broken Social Scene tune up in a backyard. Peroff will later refer to the show as "very punk rock." The stage is small enough that when Engle tries to make a celebratory arm gesture during one song, she accidentally smacks Canning in the face.
Earlier that day, near the end of our interview, Drew's congenial tone turns—not exactly threatening, but protective of the band. He doesn't have anything to sell the SPIN audience, he says, and he wants to know that I'm not writing an article where everyone is made to look like they're talking shit about each other. He can't stop me, if that's what I want, but he won't invite me to hang out at the private show. Real intimacy doesn't deserve the judgment of an outsider.
It's more than a fair way to feel given Broken Social Scene's dynamic, which consists of not just the music but the relationships binding the members across decades, allowing them to come together now as fortysomethings building on musical connections established in their teens and twenties. It hasn't gone perfectly; no lasting friendship does. But they're here, together, trying to give it back to you. When Drew talks about this, he sounds messianic, and maybe a little righteously paranoid. 
"Don't live in the past, but remember how you felt," he says. "Because they're changing it on you. They're fucking changing it on you. I can't scream that enough. It's so goddamn important to feel vulnerable without defensiveness, and that's not what we're getting into right now. It's fuckin' defense, defense, defense, defense, defense, defense, apologize, apologize, apologize, apologize.
"You've got me at a particularly burnt out time, but burnt out because of great things. Even tonight, who knows what the hell this will be. But generally, when we're all together, we have a great time."
At the Silver Lake house, the band is especially relaxed as they play. They take turns trading off instruments and make goofy expressions as they sing face-to-face. Whiteman takes a rare turn at the microphone to play "Looks Just Like the Sun" from You Forgot It in People. In this environment, Broken Social Scene don't sound or look like a career band who'll perform at a festival the next day. They seem like a group of friends, playing for friends.
"This is fun," Drew says at one point. The night is lively, and there's the feeling that as long as the band can connect with a few dozen people, then they'll keep the music going for everyone--but most importantly for you, and your friends, and anyone who might want to join in. "This reminds me of the old days. We used to do this—Brendan, did we not used to do this? We're going to keep going. Who wants to keep going?" The mothership is boarding.