It is true, Nashville and Memphis secure a lot of love. But they are not the only mellifluent cities worth exalting. In fact, St. Louis (founded by the French in 1764 as a sanctuary) is everything you want. An alluring place deeply respectful of its musical heritage, and now with some very fresh blood taking its music scene into the future.
I mean, Mark Twain even said, "The first time I ever saw St. Louis, I could have bought it for six million dollars, and it was the mistake of my life that I did not do it." I can't speak for Twain, but I can speak for myself, and I thank that Mississippi River that made for an easy migration of blues musicians, who integrated into the already popular ragtime genre that was prevalent all over town, quietly drifting up from New Orleans to make home in St. Louis. Because today the city is on fire.
Not so long ago, at a special exhibit at the Missouri History Museum called "St. Louis Sound," I was introduced to the city's bottomless musical history, from the legends that include Ike & Tina Turner, Nelly, Miles Davis and Chuck Berry, plus the radio stations that against all odds promoted them. The exhibit showed material artifacts and multimedia features and revealed to me that this city is where everyone needs to come to understand the American music landscape. How it was, how it is, and probably where it is going.
The exhibit also featured the city's premier music venue, Mississippi Nights (now defunct and ready to be revived), and how that acted as a place where the city could come together in the name of music—no matter age, race, gender. Here you were welcome to join in the theurgy. If so, you were one of the lucky ones who managed to get to the Mississippi Nights—which was right on the banks of the river—during its reign of 1976-2007. Because not only did the local bands like the Urge, Pale Divine, and Uncle Tupelo come play here, but legendary events also took place, like AC/DC playing their ninth American concert there in 1977 and Nirvana performing their only St. Louis concert in 1991, just 23 days after the release of Nevermind, according to the tour guide at the St Louis Sound Exhibition. (Here's more on that.)

Upon entering the St. Louis Sound exhibit space, the first thing you see is just a piece of tinfoil. And then when you lean in and look closely, you notice it is a recording on an Edison phonograph made in 1878 in St. Louis, six months after the inventor patented it. The 78-second record is considered "the oldest playable recording of an American voice and the earliest known recording of a musical performance," according to Andrew Wanko, public historian at the museum and content lead for the exhibit. It was recently added to the National Registry of Recordings at the Library of Congress. Because not only did the local bands like the Urge, Pale Divine, and Uncle Tupelo come play here, but legendary events also took place, like AC/DC playing their ninth American concert there in 1977 and Nirvana performing their only St. Louis concert in 1991, just 23 days after the release of Nevermind, according to the tour guide at the St Louis Sound Exhibition. (Here's more on that.)
And then there is the legacy of the Blues in this town. Back in 1914, W.C. Handy was inspired to write the most popular blues song in history, "St. Louis Blues," while sitting right here on the riverfront. It has been immortalized by performers, from Bessie Smith and Louis Armstrong to Herbie Hancock and Stevie Wonder. And speaking of Bessie Smith, a short film of her rendition of the song (the only available footage of the legendary vocalist performing) is one of the National Blues Museum's (also here in town) most fascinating attractions.
As a city that became a hub for the African-American "Great Migration" leaving the Jim Crow South, this is where the mecca of Black music and art came to be in the 20th century. "In this city, legends like Scott Joplin, Chuck Berry, Albert King, St. Louis Jimmy Oden, and many other foundational blues musicians pushed the music forward," says Andrew Wanko. Especially in a time where that creativity wasn't completely welcomed everywhere in the country.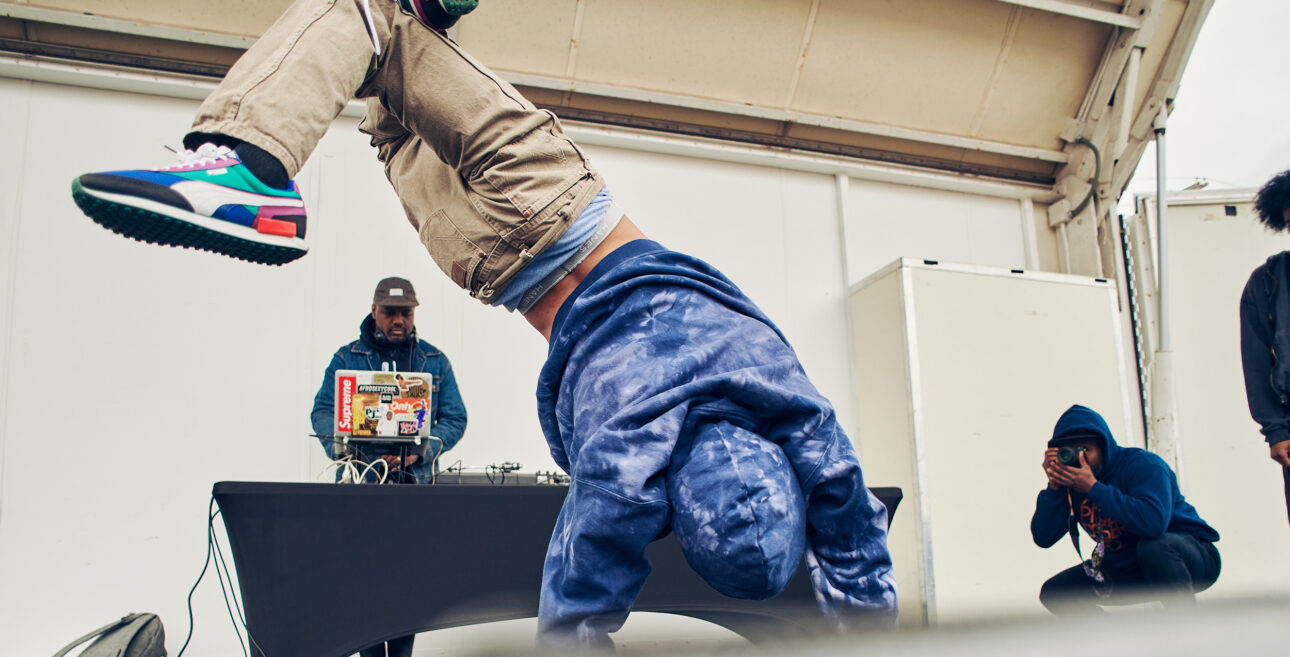 The vernacular of St. Louis is certainly blues, jazz, and ragtime. But it is also home to the second-oldest symphony orchestra in the U.S., and in the 1990s Uncle Tupelo blended punk, rock, and country-influenced music styles with raucous performances and became pioneers of what some call "alt-country."
Alexis Tucci, local DJ and event designer, tells me, "The result of our city's determination is a genre-bending fusion of art found in the assorted club nights and weekend festivals, art shows and album releases: House music finds a home within live jazz and blues; hip-hop shows rock the Chess Hall of Fame; and Jewish folk singers sell out shows year after year with their poetry reciting Rabbi."
On my most recent visit, I discovered some of the underground hip-hop scene, which is aflame. A few of the bars right downtown have these tiny basements where young rappers come to battle it out. Local legend Hitman Holla would be proud. I walked around for some fresh air one night and happened to hear the stridulations calling me. The good traveler I am, I sniffed the bar out and pranced down some tiny stairs. They don't call it freestyle for nothing. The poetry, the love from a beastie crowd…and that vitiator air. Man, it sucker-punched me in a delicious way.
But I also made the rounds at Oz nightclub to see where the queens and kings came to dance to rap and hip-hop—DJs every night taking music we know and giving a STL twist with some blues and ragtime mixed in. I mean, now we're talking.
And then there is this nifty basement scene that made me feel slightly old—as the kids are finding their groove at 16 and 17 years old, taking it to Tik Tok, and inviting onlookers, fans, agents, and music lovers to see what they're up to as they experiment wildly. As Vogue queen Anna Wintour predicted, there isn't a "look" anymore—it's now a mix, a mish-mash of all things. The future of style, inspired by the past and woven into a new aesthetic that becomes less about "trend" and more about exposing, experiencing, and flaunting a personal flair and methodology. I popped into one such house party with a friend, where I saw teenagers playing electric harps, intensely harmonizing, vaping something sweet, and working the crowd as if they were at The Viper Room. This felt new to me, as a '90s kid who hosted many themed parties and wild soirees, this night had a queerness, a certain futurism to it that I didn't recognize—but loved, loved, loved in a hopeful way.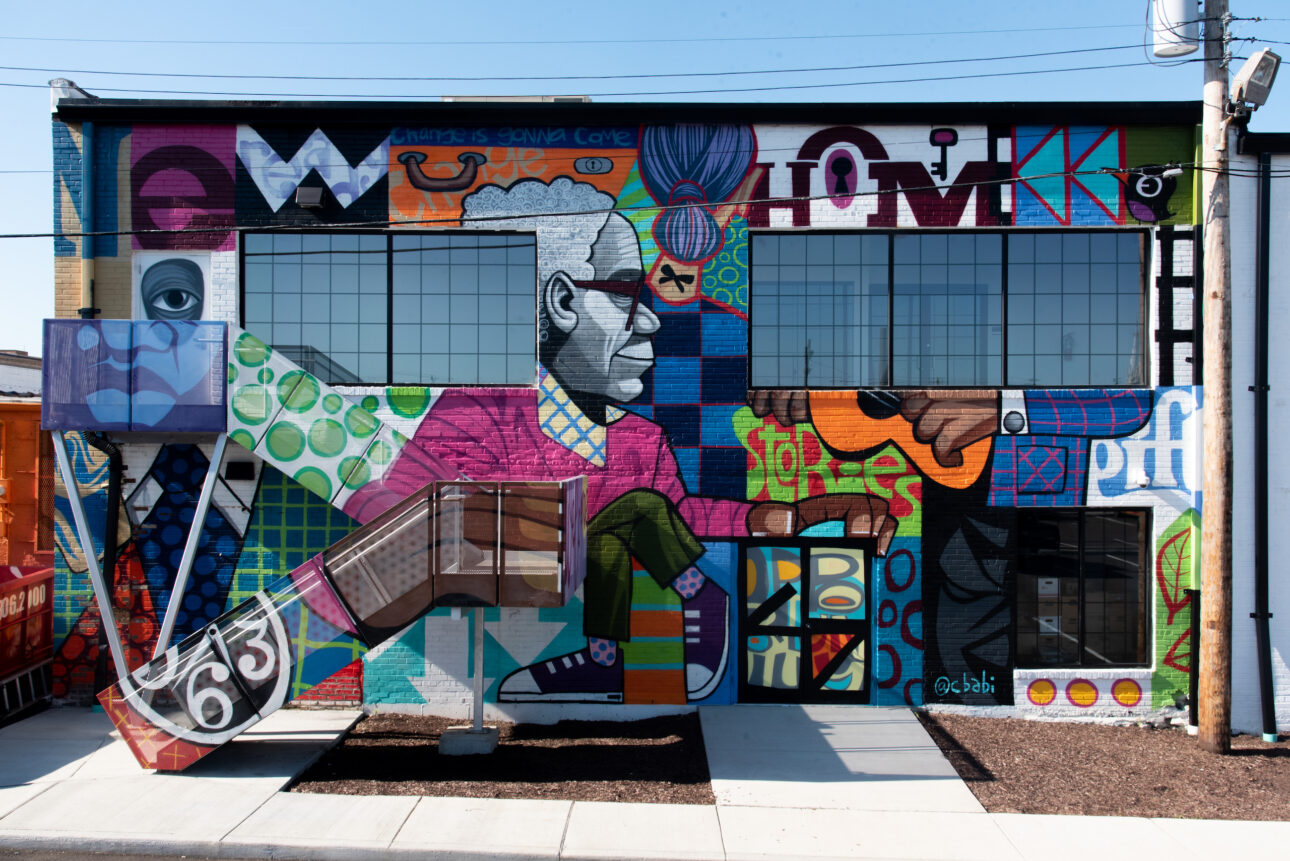 I needed to go to the best record store in town to find an old-timer who could tell me exactly what else makes this city so musically interesting. Enter Tom Ray, AKA "Papa Ray," who is a professional DJ and owner of St. Louis' Vintage Vinyl, and he gladly told me that the first time he heard Bo Diddley it gave him an erection.
Although Diddley was Mississippi-born, he spent time right here in St. Louis, bringing with him his signature African rhythms and those beats. The great Diddley played a key role in the transition from blues to rock 'n roll, influencing musicians from Elvis and Buddy Holly to the Clash and the Animals. "St. Louis was often overlooked because there was nobody to record music here, but the musicians all came through here driving from Memphis to Chicago—including Diddley," Ray shares.
But Carl Nappa, with over 30 gold, platinum, and multi-platinum records as an engineer, mixer, or producer, is changing that. He tells me: "It's not just a single genre of music; it is all genres, and all types of artists that are making great music."
He now teaches in St. Louis at the "Ex'Treme Institute," founded by Nelly, and also owns his own studio, the Saint Louis Recording Club. "Covid forced everyone to stay home and work on their crafts," he says. As a result, we have a young group of artists and musicians that are trying new and exciting ideas. This isn't something new for St. Louis, though," shares Nappa. "There has always been a strong musical lineage here. Whether it was Miles Davis pushing the boundaries of jazz or Chuck Berry teaching us all how to play rock 'n roll, St. Louis has always been the breeding ground for fabulous musicians."
One such group is Hazmat, currently recording with Nappa, an all-American indie-rock girl band formed in St. Louis, consisting of four members: lead singer Envy, drummer Bowie, guitarist Lily, and bassist Izzy. They got their start on TikTok when they uploaded an introduction video that got over 2 million views. Hanging with them, I was reminded that places like St. Louis are where cost of living is low and a basement music scene is where talented artists cut their teeth. As Envy tells me, "Nothing I love more than being on a big stage, but it is in the basements of friends' houses where we get sweaty and perform the real deal."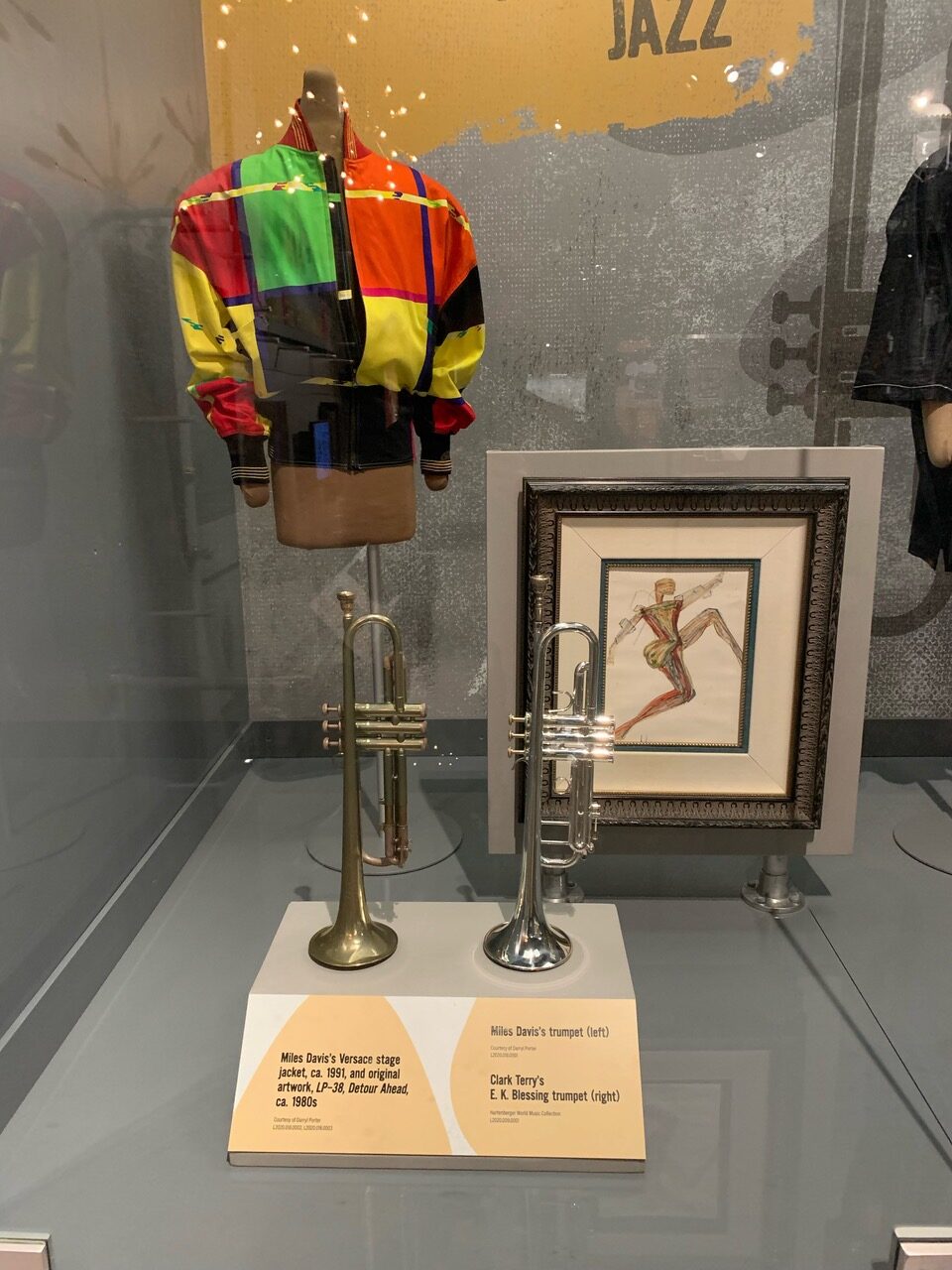 "It is truly a ripe time in St. Louis music as the consistent infusion of fresh faces, voices, and sounds has helped re-establish a thriving ecosystem and cultivated a fresh world-class music landscape," says Alonzo Townsend, founder of The Townsendx3 Agency, advocate for St. Louis music, and board member of the St. Louis Blues Society. "I was fortunate to grow up around legends like my father [the late, great Henry Townsend], Oliver Sain, Johnnie Johnson, Fontella Bass, Lady Jazz Mae Wheeler, Denise Thimes…and now we've introduced some of this city's next big artists like Sir Eddie C, DJ Nico Marie, Marquise Knox, Bell Darris, Scooter Brown, Mvstermind, NandoSTL, and LaToya Sharen & Jeremy Taylor, just to name a few. It's a beautiful future."
Amen to that, brother.
St. Louis has historically been a launching pad for many influential musicians. "Many great artists have frequently traversed and started on our music scene. If you look at the core genres of American music, such as jazz, rock, and the blues, St. Louis has touched or impacted them all significantly," says Larry Morris, Director of Artist Residencies at Kranzberg Arts Foundation, a non-profit foundation dedicated to promoting arts, music, jazz, theater, and culture in St. Louis. "Our geographical location lends to this as we straddle the North and the South, and we serve as the gateway from the East to the West. We are a music city in every sense. It's woven in our fabric; it's a part of our narrative."
And that's exactly what the Kranzberg Arts Foundation is doing in the city—supporting artists by building affordable housing for them, running multiple venues, mentoring everyone, and so much more. They are also responsible for the creation and growth of the Midtown St. Louis Neighborhood, which includes the Grand Center Arts District, an arts and entertainment district home to more than 1,500 cultural events annually, with more than 12,000 theater seats and 12 museums and galleries—-all within four square blocks.
One of the events is "Music at the Intersection," with lineups that are deeply rooted in the city's heritage. I walked the streets, went to dive bars, the famed Honky Tonk bar close to downtown, various pop-up neighborhood joints, many late night music venues, spontaneous hip-hop poetry slams, street festivals, and all the more formal music venues from St. Louis Jazz to the Fabulous Fox theater, where many of the big names perform, and it's all there, it's dangling and delightful.
Local multi-faceted artist Tiélere Cheatem (who I chatted to at a kismet meeting at a coffee shop in the arts district) said it best: "Music in St. Louis, while often underrated, is never to be overlooked. The St. Louis music scene embodies all genres. It continues to leave people craving more, and that's a fact. To deny yourself the opportunity to experience it for yourself is to deny yourself the experience of a lifetime."
Sometimes you have to just let your prejudice go and find things out for yourself. St. Louis is waiting, don't say we didn't tell you. Nikki Glaser, our St. Louis homegirl, just moved back here to bring her charm and creativity. I mean, Josephine Baker is from here. She's always winking as you come around a corner…and who wouldn't want that?