Westside Gunn related to Virgil Abloh on a different level.
Before the celebrated fashion designer and Louis Vuitton visionary lost his battle with cancer in November 2021, they'd become extremely close friends, so when Westside Gunn—real name Alvin Worthy—texted Abloh and didn't hear back, he was hoping he was simply too busy to reply. But then he learned Abloh had died from a rare, aggressive form of cancer called cardiac angiosarcoma.
Abloh never divulged his diagnosis to Westside Gunn, but the Buffalo-bred rapper knew his friend was sick. As he told me, "A couple of people in the who's who's tugged my jacket a little bit to put me on. But I didn't ever want to bring it up to him. I figured if he wants to tell me, he will. But it kind of happened so fast. That was the crazy part for me—the way it happened."
Westside Gunn didn't have time to say goodbye but regularly told Abloh how much he admired him. In 2012, Abloh launched his first apparel collection, Pyrex Vision. Around the same time, Gunn—fresh out of prison—was beginning to take his rap career seriously and working on the first installment of the Hitler Wears Hermes series. He took cues from the burgeoning designer and incorporated them into his own line, Fashion Rebels.
They finally met in 2019 and became fast friends. In fact, Abloh did the cover art for Westside's 2020 album, Pray For Paris. To extend Abloh's legacy, Westside used Abloh's design for his latest album, And Then You Pray For Me, released on October 13.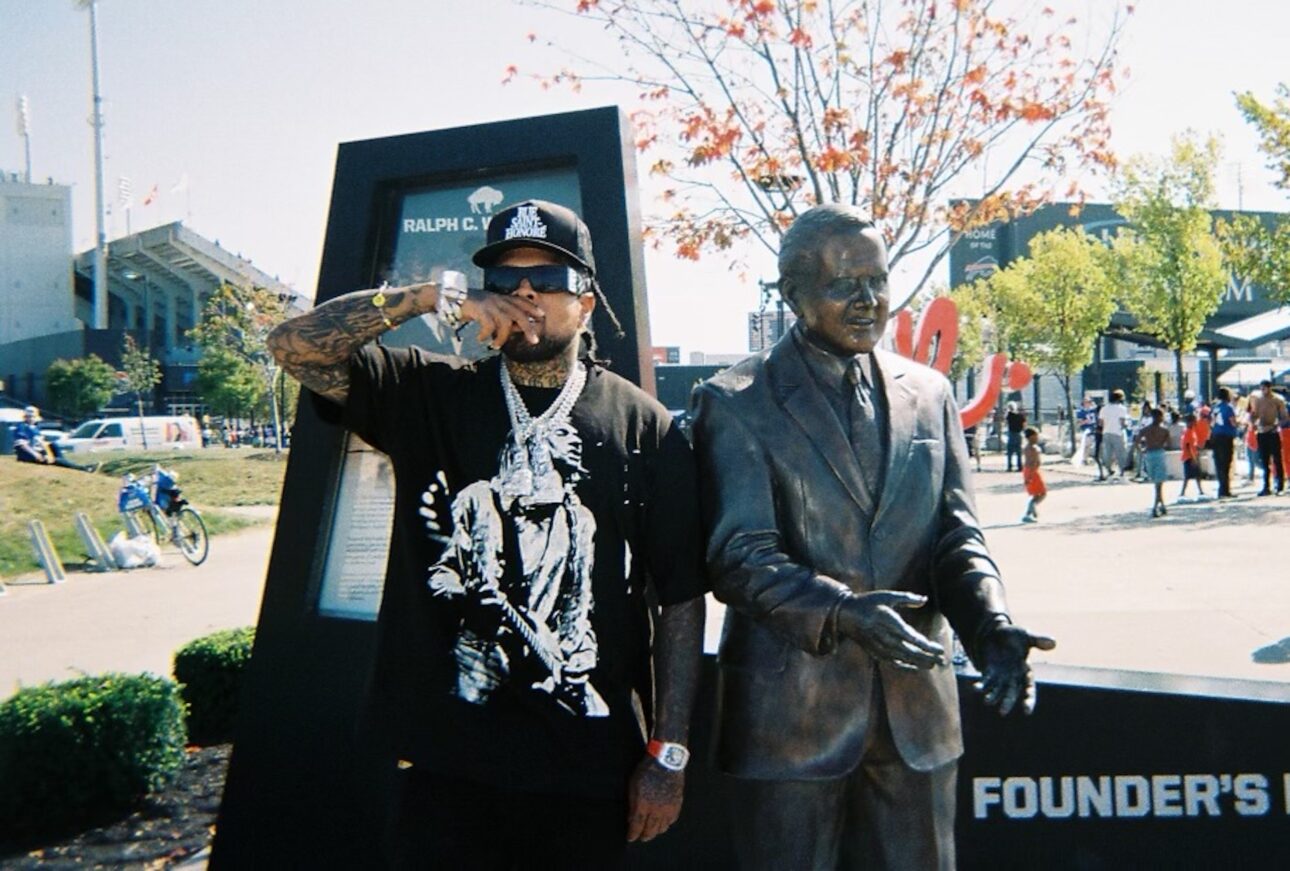 SPIN: A lot of people are saying And Then You Pray For Me is your last album ever, but that's not the case. Can you clarify?
Westside Gunn: I'm at a point in my life where I'm just living, and I just want to take that responsibility off my shoulders. Right now, I can create as much as I want with no pressure. I don't want to feel like, "Oh, I gotta come out with an album and make 15-20 songs." Like, nah. It's like if I just want to make a song, why even keep it on a computer? I'm just gonna drop it. Or if I want to do an EP with Alchemist or something, it doesn't have to be 15-20 records. We could do a strong five, six, or seven and keep it moving. That's all I was saying.
I feel like that's a next-level type of thing. Now you're kind of comfortable and you can do what you want.
That's exactly where I'm at, so that's why I'm saying that. I'm not ever saying I'm finished rapping. Somebody actually wrote about it, and the main thing was for clickbait, like "Westside Gunn Says This His Last Album." I wouldn't even retweet that because I never said that. You just trying to throw that narrative out there for the clicks.
I'm an artist, and I've got so much invested into my fans. People might hit me and be like, "Man, you saved my life." When I read those things, it's like how can I turn away from them type of people? You just never know what your music is doing or how it's affecting their lives. I have a bigger responsibility. That's when you are pushing the culture forward and coming with a pure heart.
If I'm their favorite guy and they hear I retire, ain't nobody want to hear that shit [Laughs].
People think Griselda Records blew up overnight, but you've been grinding for years. What kept you motivated every day, and what keeps you motivated?
The motivation was just making sure the world gets to see Buffalo. Up until Griselda, nobody had seen Buffalo before. It was like a lost land, and all we had was struggle. It was like a depressed city, a dark cloud. But it was still a beautiful city. I wanted to be the motivation. Not only did I want to put my city on the map but also just motivate my city, like, "Yo, we probably got something that we can be proud of." When Griselda started jumping, the Bills was still losing. They just started winning about two years ago [Laughs]. We had nobody, nothing. So for me, everything was Buffalo. Now, I don't need to do that no more. Mission accomplished. Now my mission is to have fun. I went from having to prove myself to jumping in a new weight class.
You're on Travis Scott's UTOPIA, which is one of the only rap albums to go No. 1 this year. Rap seems to be struggling right now, at least commercially. Why do you think that is?
A lot of the cookie cutter bullshit is really getting noticed because there's real shit that's happening now where it's like this should be corny. That bullshit don't work no more. It worked for so long, but when you have Griselda around, you can't keep coming with the bullshit. It's gonna get drowned out. I think, with a lot of these labels, there was investing and putting money behind the trash and not even getting their returns, and they just stopped investing in the shit. There's not even a lot of artists coming out right now because these labels have lost so much money. They wasn't in it for the love. They was in it for the money.
It's very easy to change when you get into this business. What do you think keeps you grounded?
I'm a grateful person. I'm a thankful person. It's where I'm at in life. I'm just making every moment count. I learned a long time ago, if you don't have nothing good to say, don't say nothing at all. Even with this music shit, if I'm not giving you culture, if I'm not giving you art, why am I even here? I'm not here to push the agendas or the bullshit. I'd rather just walk away. I could just be designing clothes. I make more money on clothes than music. That's how I started anyway. I'm a designer.
You've collaborated with so many notable MCs and producers. You were on Kanye West's DONDA album. On this album you have RZA, Jeezy, and Rick Ross. Is there anyone still on your bucket list? What else do you have to accomplish?
Nothing [Laughs]. And look at the amount of time I've done it all in. Five years. It's incredible. It's never been done. It's never been done before.
It sounds like you're smiling through the phone.
And I totally am.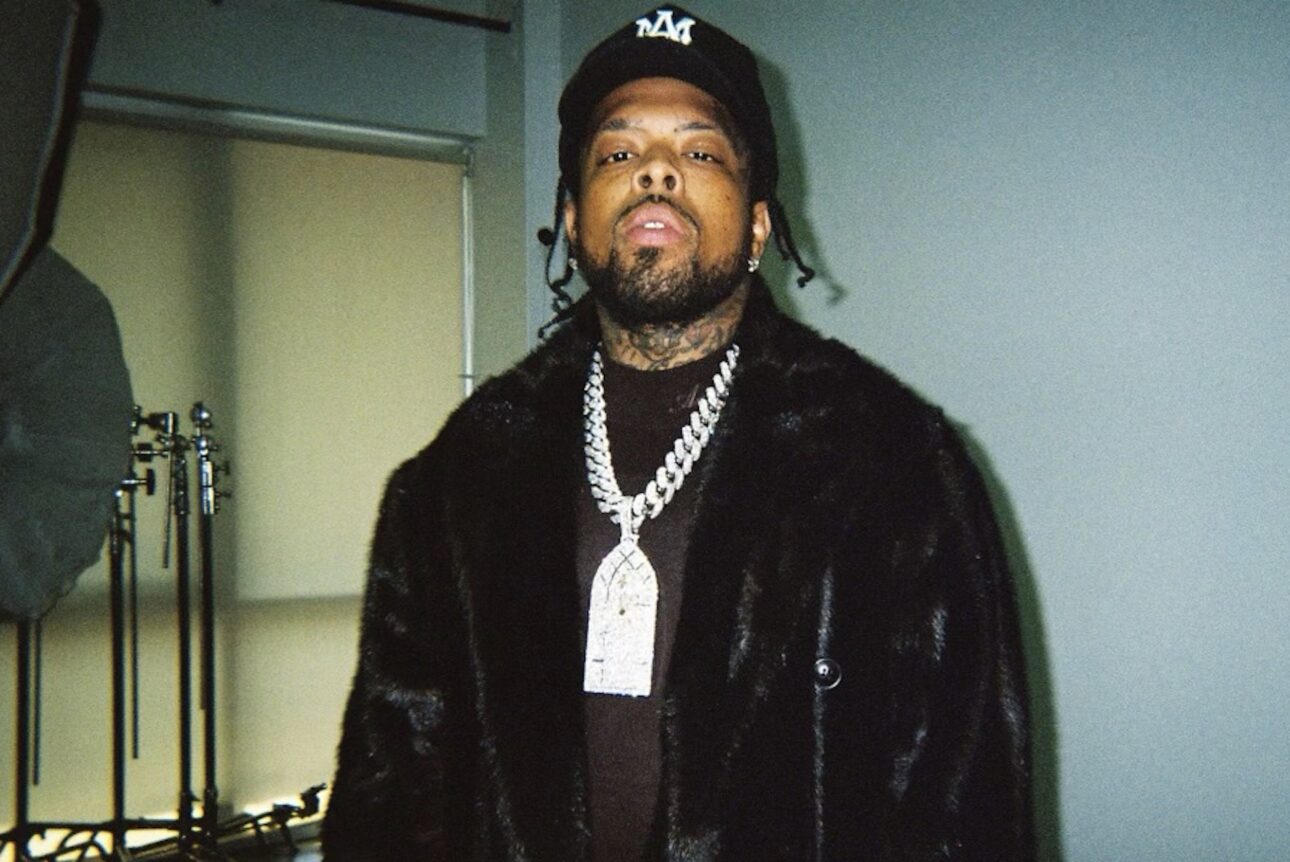 You have a lot of different producers on this record. What are the advantages and disadvantages of so many different producers?
I'm not gonna lie. For the first time in my whole career, when I was sequencing the album, I was like, "Holy shit [Laughs]. How am I gonna do this one?" It was all over the place. Like how am I going to literally make this? Mind you, it's 21 songs. So how am I going to make 21 songs sound like a complete movie, sound cinematic? I really looked at it like if Virgil was curating it and putting it together. Like if I wanted to impress Virgil and I wanted Virgil to hear my album, what would he want to hear? I kind of switched it twice because I had too many trap joints at one time. And I'm like the king of boom bap.
I'm like the king of boom bap and the king of the underground, whatever they want to say. I didn't want to do too much trap shit in a row because I didn't want to lose my day-ones. But, I still wanted to cater to my trap heads. I just wanted to give you just an all around crazy dope project that everybody could love this time, and this is the first time I made that the focus point.
You recorded this album all over the world. How did that help your creative process?
It was just beautiful energy, so this album is just the energy of me traveling, me eating at fly restaurants, staying at fly hotels, buying fly clothes, just shopping in different countries and all of that. So you got that energy. The only problem I had on it was getting things together with my engineer because he actually took a trip to Africa. So we was kind of doing things back and forth like. But I'm here, and he's in Africa, so the time difference and all of that—honestly, if my engineer wasn't in Africa, the album would have came out like three months ago.
What was your favorite country?
I love Athens, Greece. Of course, Paris is always going to be like a second home. But now I've been going to the U.K. more. I feel like London and Athens are my two favorite places now.
London just reminds me of New York City. The only difference is they drive on the wrong side of the street and the accent. When you're in London, it's like you're in New York City. That's really it. And Athens is just beautiful. Of course it got grimy parts like anywhere else, but it's an ancient country. Just the architecture—like the Acropolis in person is crazy.
Tell me about your relationship with Virgil. How did he inspire you?
Virgil has been an inspiration of mine since I dropped the first part of the Hitler Wears Hermes series, back in 2012-2013. That's when he was in his Pyrex days. Before he started doing Off-White, he was printing on Champion shirts. That was my inspiration. When I started doing my merch, I did it on Champion. When I put 187 on my shirt, it was because Virgil put 23 on the back. I think that's why we got so close. I gave him his flowers. He's probably the most influential person on me ever. Like, "Bro, you don't understand what you did for me." He was on a different level of not being afraid and just doing whatever you want, and being able to see further. Who would've ever thought when he was doing Pyrex, he'd be the head of Louis Vuitton in that short amount of time? That lets you know what kind of person he was.
And that's the type of thing with me—being from East side Buffalo, no real machine behind me, no real team, just working harder than everybody and pushing the culture forward. And here we are today. I've been on DONDA, I've been on UTOPIA—I've been on these No. 1 albums, these Grammy-nominated albums. But still, at the same time, I got songs with Rome Streetz. We're here to motivate. The same way he [Virgil] motivated the people is what I want to do. He showed me, "Nah, you can't be afraid. We're inspirations out here."
Did you have any idea he was sick?
I did. But it kind of happened so fast. It was a devastating blow because me and him was already building. There was just so much we were going to still do. It's like when you finally link with the person who inspires you and y'all together and cooking: He's sending me shit, I'm sending him shit, and we motivating each other, and then he's gone, it's like fuck. It was crazy.
Grief ruins you for a while.
I went through the same thing when I just lost my Aunt Michelle. It just happened, and it was so unexpected. That's why I do what I do and go higher because you just never know.
Of course I lost her and Big Al, her dad, in the same year. He was the man who raised me. So losing that man and that woman in the same year is crazy, but yesterday was Big Al's birthday, and we celebrated at my listening party. I wanted to make sure my listening party was on his birthday. I love to celebrate my loved ones.
You've managed to remain very down to earth. What do you think of fame?
Man, it's cool as shit. It's cool as shit.
You might be the first artist to ever answer that question like that!
Everybody else is flexing. They know they love that shit. They know what this is about, man. They love everywhere they go, they get love and get to take pictures. I'm such a people person. I never turn down a picture. You never know how much that person really loves you or is inspired by you. I don't want to be that guy like, "Oh I met Westside Gunn, and he was a dick. He was funny style, man. He was so Hollywood."
That's not what we're here for. We're here to inspire and push. I love the fame because I use it for good.