"Music has no border! Ska has no border! Kindness also has no border! We came here to share energy with you!" The nine-piece pink-suited ensemble of world-class musicians known as the Tokyo Ska Paradise Orchestra stands before a crowd of thousands and proclaims in these few words the sentiment behind an entire four-day event. The Supernova International Ska Festival at Fort Monroe, Virginia is ground zero for ska fans who come from all over the globe to attend the world's largest ska festival. But they also come to see each other. Supernova is, as rude girl Joanna Wallace describes it, a family reunion. "A pure love fest," she says. "For the first time in a long time, I am hopeful and feeling positive about things to come," says Wallace, from Minneapolis.
That positive feeling and camaraderie has always been at the heart of ska music. When it first began in Kingston, Jamaica, ska lifted the still-colonized and gave them an escape and hope. When it immigrated to the UK via the Windrush, ska warmed black West Indians with sounds of home and energized white alienated youth. When it spread to America and the world, ska elevated all races, all classes, all genders, all ages from varying depths of oppression. Ska just feels good. And when ska is experienced together, it feels good together.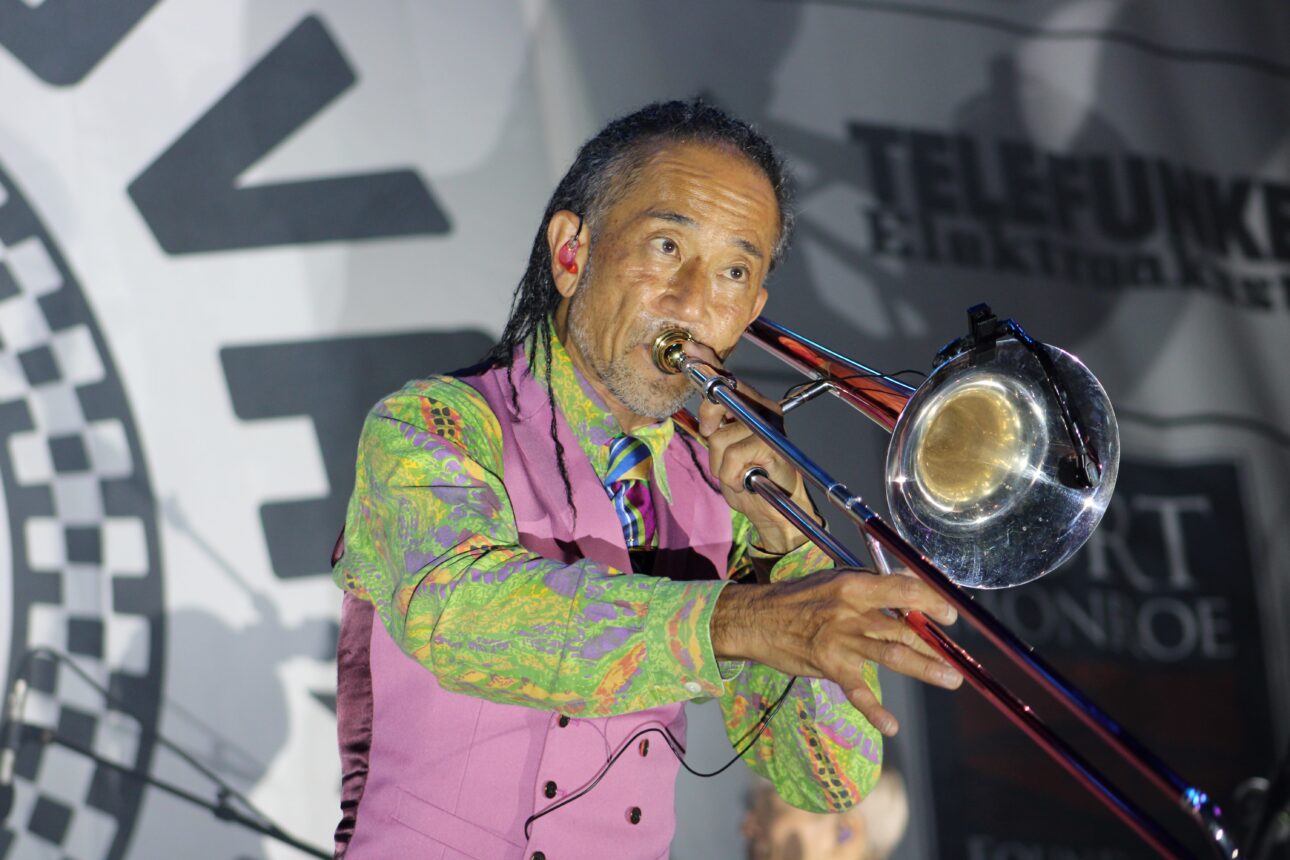 At Supernova in September, the Jamaican legends that take the stage demonstrate their dedication to the music that started with them. Stranger Cole transports the crowd to 1960s Jamaica through sing-alongs of his hits like "Rough and Tough," "Run Joe," and what is considered by many to be the first reggae song ever recorded, "Bangarang." Dressed sharp in a suit with a baseball hat, Stranger performs his duets with the phenomenal Dunia Best, backed by Eastern Standard Time. Percussionist Larry McDonald's hands and arms fly into a frenzy on the congas, long grey dreads swaying, eyes both fierce and warm. In his 86 years, Larry Mac, as he is affectionately known, played regularly with Bob Marley, Lee 'Scratch' Perry, and Gil Scott Heron, to name just a few. Performing with the supremely talented David Hillyard & the Rocksteady Seven, Larry Mac provides the backbone rhythm of Africa that runs through the veins of all who take the stage here.
The ground beneath and surrounding the stages at Fort Monroe was where dozens of enslaved Africans were sold as human chattel in 1619. So when Friday headliner Fishbone opens with their new song "Enstranged Fruit" and frontman Angelo Moore sings, "We may not see as many bodies hanging from the trees, cause they're busy lynching our ideals, our pride, and liberties," the moment is profound, especially when punctuated by Moore's use of the theremin.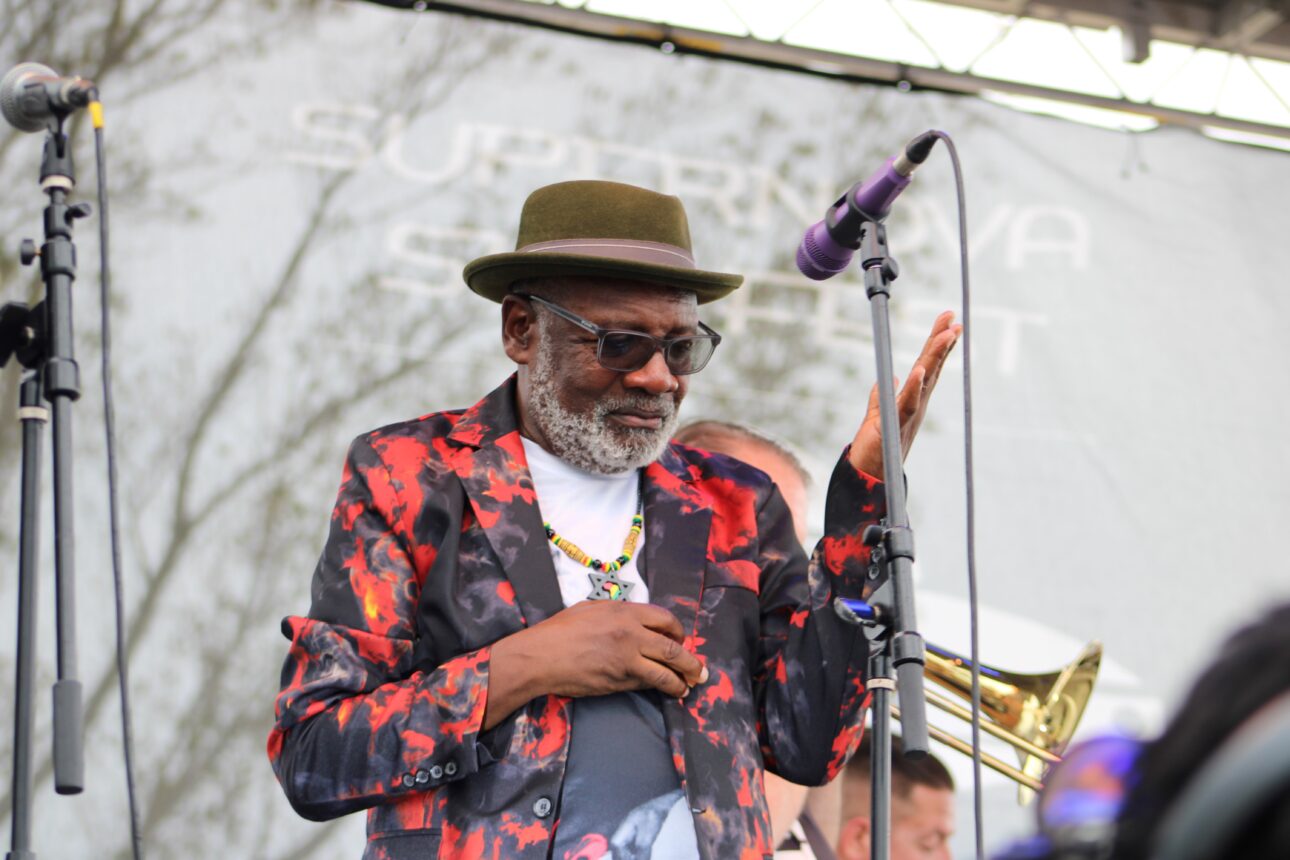 The lyrics and themes of ska, the racial composition of the bands, and the black and white in ska iconography have always represented unity, love, and resistance against racism. The 2 Tone era of ska in the UK during the late '70s and early '80s began in large part as a response to violent racism in England. And up until last year, Lynval Golding, guitarist and founding member of one of the original 2 Tone bands, the Specials, continued to espouse racial unity and love in the songs he wrote and performed. That got waylaid when Terry Hall, frontman for the band, died of pancreatic cancer in December 2022. But in a surprise appearance at Supernova with the Aggrolites, Golding performs for the first time since Hall's death.
Golding opens his red and black jacket to reveal the t-shirt underneath: a printed photo of Lynval and Terry Hall together. Dedicating the song to his life-long friend, Golding sings the Alton and Hortense Ellis song, "Breaking Up Is Hard To Do," before ending with a roll call of ska musicians who have died, and the same words that Hall used to end all Specials' shows — "Love, love, love." There are few dry eyes in the crowd.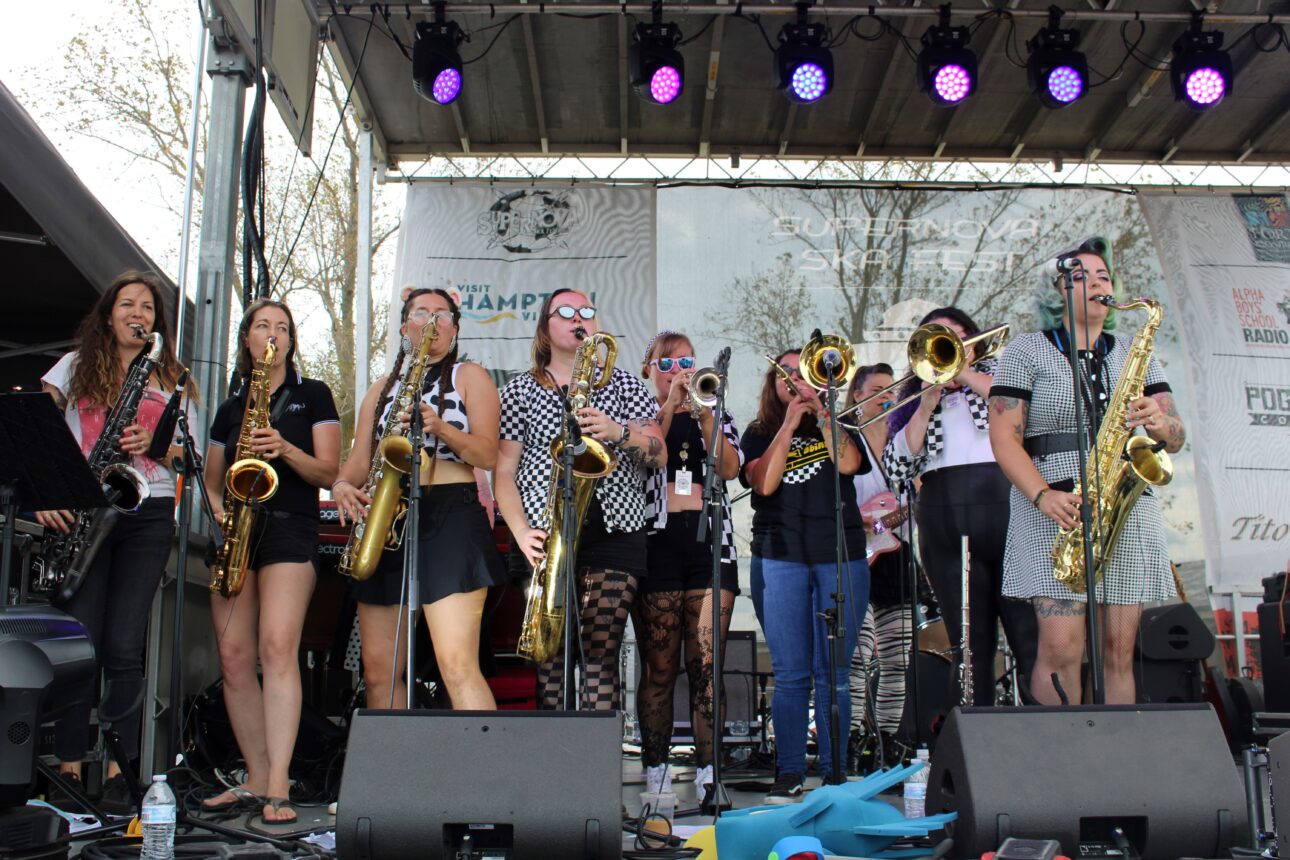 Over the course of the four days, many musicians guest with other bands. And one band in particular features only members from other bands — the supergroup Rude Girl Revue. Some 19 hornswomen, vocalists, guitarists, and a drummer remind the audience that unity and equality applies to the sexes too. Singing songs like "Respect" by Aretha Franklin, "Bad Reputation" by Joan Jett, and a slew of originals, this conglomeration formed for Supernova in 2021 and they've since grown in number and reach.
"Where are my queens at? You are all seen!" says Kristin 'Lady Hatchet' Forbes of the Scotch Bonnets before singing her song "TikTok." "What is the worth of a woman? What has more value, her heart or her career? How does it hold up in the businesses of men? To be a success must she live in fear?" sings Forbes, who exchanges her guitar for the mic on the tune. Other songs affirm women's right to live in "Unruly Ways," and to be a "Lioness," with the advice, "If you want to be the next lady millionaire you work as a team and attack in pairs." Yells one woman in the crowd, "I love them! They're my friends! You're beautiful!"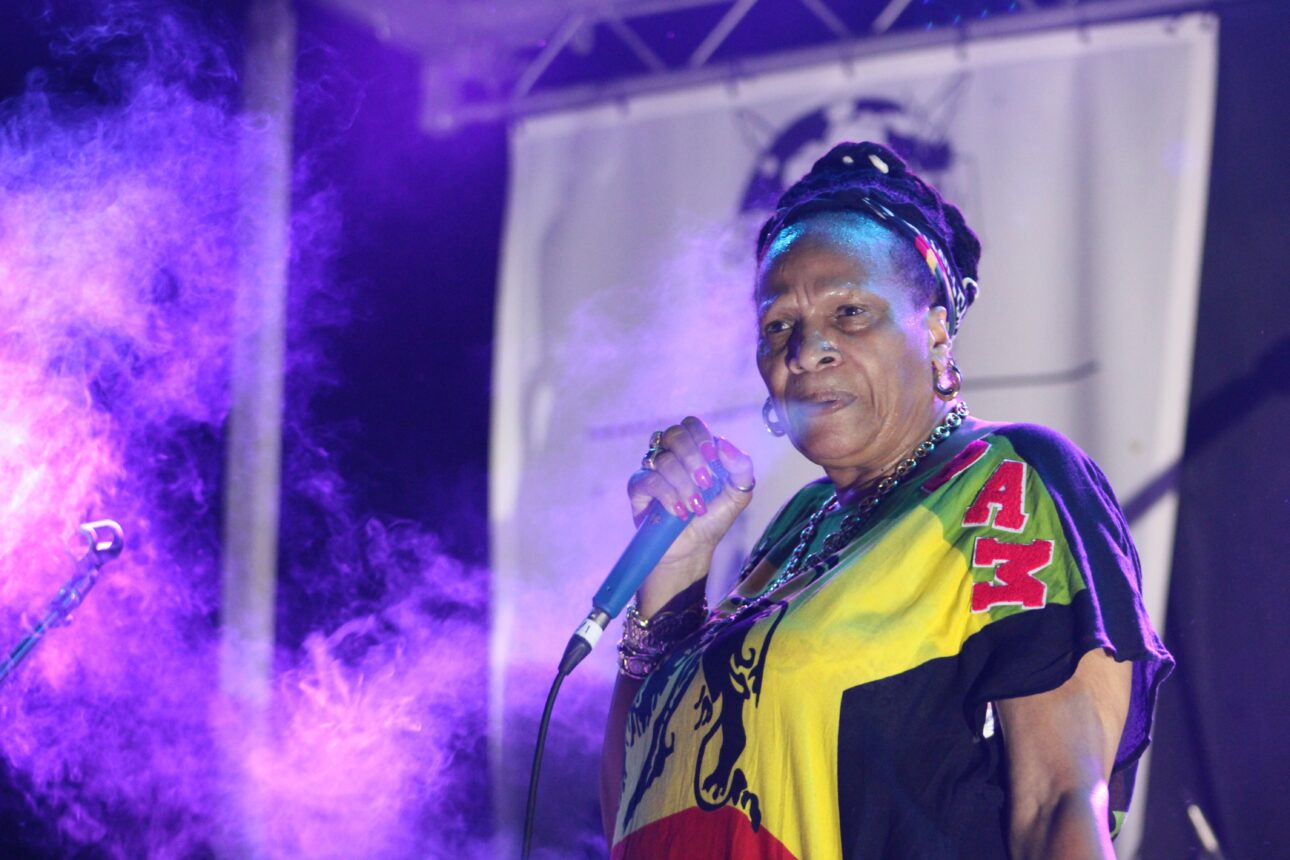 Though rare, women in ska and on the mic aren't new, and Sister Nancy is here to remind everyone of this herstory. "Ain't no stopping Sister Nancy, cause Nancy been deejaying from I was 15 years old," sings the dancehall pioneer the night before Hollie Cook performs on the same stage. Two eras and two styles sharing one family tree. Sister Nancy uses the mic as her mouthpiece, "big upping" Jamaica, her skill, and marijuana, at one point asking someone to procure her some herb to smoke, which she does on stage.
The smoke that surrounds Hollie Cook's performance is of a different nature — more for atmosphere than seasoning her reasoning. Stepping into a haze of machine-produced fog, Cook's sultry and effervescent tones channel Phyllis Dillon or Marcia Griffiths but with an air of sweetness and flowing rhythms. The audience swoons.
Another fog, or a dust storm of sorts, appears during back-to-back performances by Out of Control Army from Mexico City and ADHESIVO of El Salvador. The pit in front of the stage transforms into a whirl of boots skanking to the beat and harmonic horns. Other astounding performances include Bad Manners with Buster Bloodvessel (and his tongue), a reunion of America's first ska band the Untouchables, the Toasters who formed in NYC in 1981, the Resignators of Australia, and dozens of others.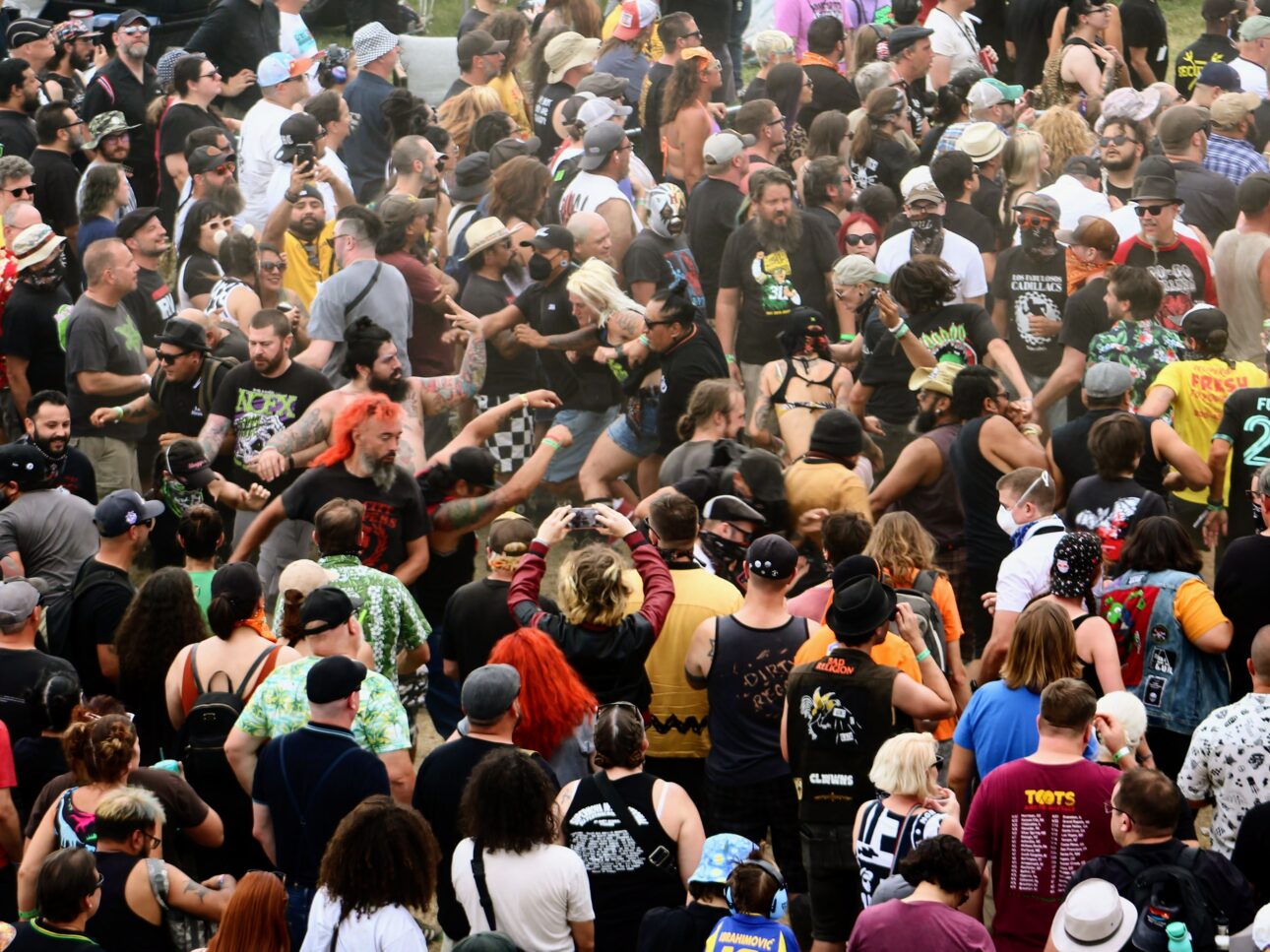 What has been called 'New Tone' brought their contingent to represent as well. Bands like Catbite, We Are the Union, and Bad Operation continue ska's legacy of inclusion and speaking out on issues of social justice. Before each song, New Orleans-based Bad Operation play audio clips that comment on a variety of such issues. "The combined wealth of the billionaires in 2021 was $13.1 trillion, a gain of over $5 trillion in wealth in just one year. This is an obscene form of pandemic racketeering," states one recording. Other audio clips are more humorous, asking the crowd not to stage dive before the band themselves stage dive. When asked why these snippets became an important part of Bad Operation's performance, keyboardist and trombonist D Ray responds, "It's meant to fit our New Tone style of joyous retaliation; serious fun; joy despite."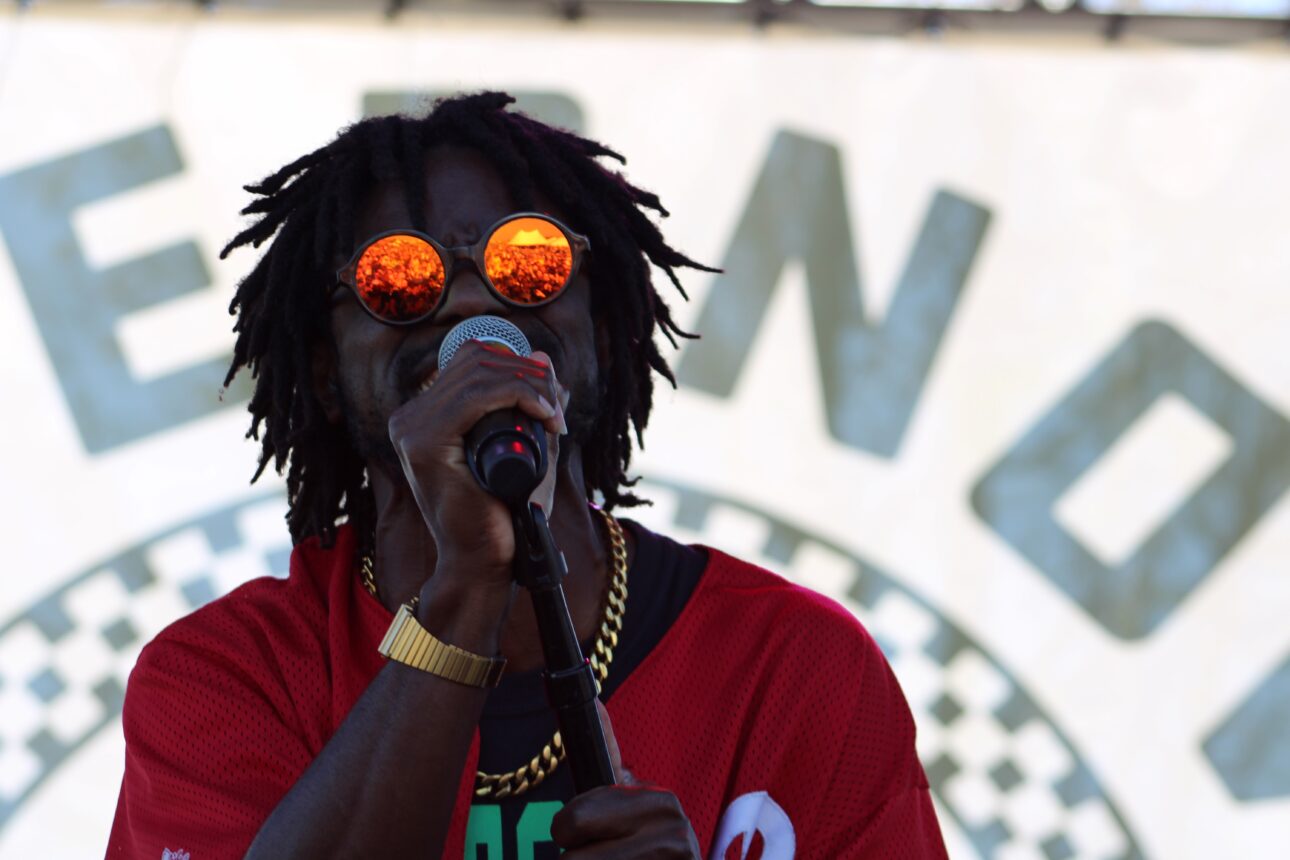 Ska has, in many ways, come far from Jamaica, but at the same time there are elements that have always been part of ska's fabric. To keep those roots, Supernova's organizers, April and Tim Receveur who began the event nearly ten years ago as a backyard party, invite two students and representatives from Alpha Boys School to attend from Kingston, Jamaica. Many fans stop to express their gratitude for the contribution this school made to the development of the music that is a passion and an identity. "Alpha alumni helped create ska music and so for Alpha to be here now it's a great experience to see where ska is going and where it's coming from and for everybody to meet each other," says Josh Chamberlain, representative from the school. Administrator Margaret Little Wilson echoes his sentiment. "I don't think most people realize how this music has gone all over the world. It's really wonderful."