Last weekend, Eddie Vedder's Ohana Festival returned to Doheny State Park in Dana Point, Ca., for the seventh year. Located adjacent to the Pacific Ocean, Ohana continues to be one of the more unique festivals of the season, drawing 14,500 people per day. While the weather was a bit chilly throughout the weekend, the performers, including The War on Drugs, Father John Misty and The Pretenders, were on fire — as were this year's headliners, the Killers, Vedder and Earthlings, and Foo Fighters. 
Here are some Ohana highlights.
The Best:
Star-powered collaborations: Ohana has long stood out for its collaborative spirit which is clearly important to Vedder who joined the Killers on Friday for a cover of Tom Petty's "The Waiting", before making way for former Van Halen singer Sammy Hagar to join the band for a cover of Van Halen's "Why Can't This Be Love." Glen Hansard brought Vedder's daughter, Olivia, on stage to sing "Falling Slowly," a song recorded by Hansard's band The Swell Season. And as an unexpected surprise on Sunday, Pretenders welcomed tennis legend John McEnroe on guitar for "Precious."
Haim: In their final show of 2023 (and three days after celebrating the 10th anniversary of their debut album Days Are Gone), Haim showed why they are one of the best live bands on the planet. The charismatic sisters ran through a career-spanning, hour-long set that had the crowd roaring and hanging on to every prompt it was given.
Deaf Charlie: Pearl Jam bassist Jeff Ament and former Fitz & The Tantrums drummer John Wicks formed Deaf Charlie in 2020 and this past June, released their debut album. On Sunday, the duo played their first show. During their 35-minute set, the duo was joined by vocalist Marlon Grace and Jolene Green (saxophone/vocals). The group's upbeat, melodic rock provided the perfect soundtrack to the sunny afternoon.
Japanese Breakfast: Michelle Zauner and company have risen dramatically in stature in the past two years, but they are still attracting new fans at events like Ohana, whose audience skews slightly older than other festivals. Fresh off a two-night stint at Walt Disney Concert Hall in downtown Los Angeles, Japanese Breakfast performed five songs from its breakthrough album Jubilee as well as a cover of Little Big League's "Boyish." Confident and engaging throughout the 10-song set, a smiling Zauner commanded the crowd with the ease of a 20-year veteran, foreshadowing the possibility that mainstream success might not be far behind.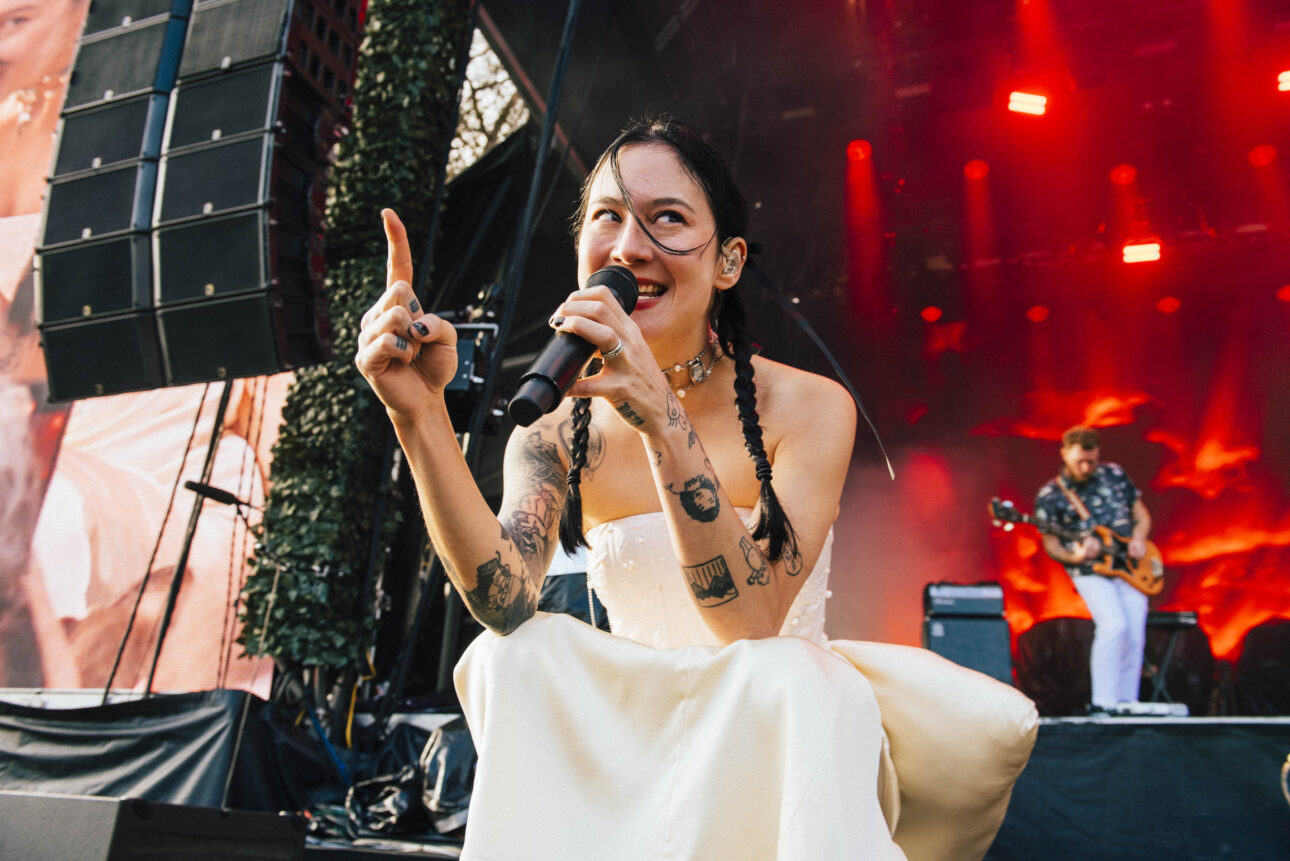 The Killers: Highly visible on the festival circuit this year, the Las Vegas natives remain reliable headliners. Two decades into their career, the Killers are the rare post-'90s rock band with enough caché to headline any pop or rock festival at a time when giant mainstream bands are becoming a thing of the past. During their 95-minute set on Friday, the Killers packed in all of their hits and squeezed in a few new songs.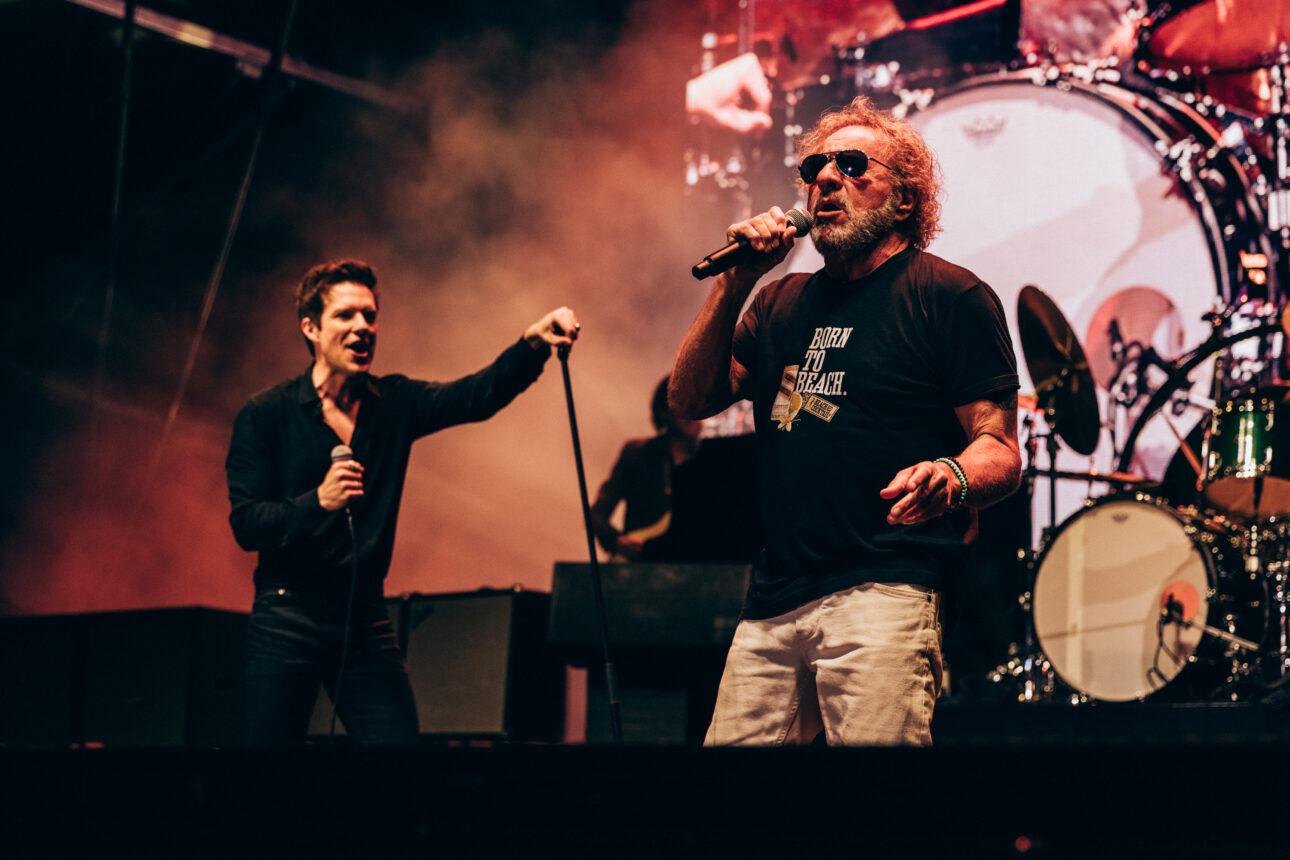 Activism: Located several hundred feet from the music performance stages is a smaller area in the Cove called the Storytellers stage, where speakers give talks on issues such as environmental justice. Ahead of this year's fest, the first Inspiring Activism Awards was handed out to Dr. Sylvia Earle and Kris Tompkins, who were honored for "shaping a better tomorrow for our planet and humanity, motivating others to take action, and making a positive difference in the world." Continuing with its activism, topics discussed at the Storytellers stage included Inspiring Action Through Skate, Surf and Science, Restoring Biodiversity in Our Oceans, and The Sky We Create: Climate Action, all of which were well-attended. It's easy for a festival to give lip service to its charitable partners, but Ohana has gone above and beyond to ensure activism remains a core part of its mission.
Eddie Vedder and Earthlings: Since the festival's first year in 2016, Vedder has headlined every Saturday night. This year, he brought along his solo band, Earthings. The ensemble features current Pearl Jam touring member Josh Klinghoffer, producer/guitarist Andrew Watt, bassist Chris Chaney, Hansard, and drummer Abe Laboriel Jr. (who filled in for Chad Smith who is on tour with Red Hot Chili Peppers). After a series of starts and stops (more on that below) the band performed songs off Vedder's 2022 solo album, Earthling, along with several Pearl Jam songs including "Better Man" and a tearful rendition of "Just Breathe" off 2009's Backspacer, which Vedder dedicated to a friend who died earlier in the day. The band closed out the set with covers of U2's "One," Pretenders' "Precious," The Cure's "Just Like Heaven" and a raucous version of Neil Young's "Rockin' in the Free World."
The Mess:
Cell service: Every year, the biggest qualm I have with Ohana is the lack of cell service and the apparent inability to figure out a solution. Even some of the artists were unable to deal with certain issues because they were unable to send texts. Every other festival seems to have figured it out, and hopefully, this one can as well.
People who can't handle their substances: Gen-X, get it together! The Saturday crowd was enthusiastic and festive but may have gotten a bit carried away. During three of his first four songs, Vedder had to pause his set so audience members could receive care. Fortunately, it wasn't anything too serious, but please — pace yourselves.
The person who said "You Can't Always Get What You Want" is a Beatles song: This was overheard being said by a younger attendee who was walking to get popcorn between sets. Here's a nickel's worth of free advice, Ohana. Why not ask the Stones to play next year, so this guy can hear the band that wrote it?
The Rest:
Screens: When it comes to seeing the action, Ohana nails it. There isn't a single music festival that has as many screens spread across its grounds. You never feel like you're missing a moment, even if you're taking a break at the back near the beach or having a drink at the festival's beer garden.