We've all been there: you meet an old friend for lunch, you reminisce, you get on famously, and before you part, you make commitments to stay in touch. And you go home, and years pass before you see or think about the other person again.
When Budgie, the former drummer in post-punk outfits Siouxsie and the Banshees and The Slits, was a touring member of John Grant's live band in late 2018, he used a day off in Los Angeles to call his friend and former Cure drummer Lol Tolhurst. The two reminisced about how their respective bands would meet in pubs together in 1979 after long days in recording studios in London. Before they said goodbye, Tolhurst suggested they should make some music together. Far from the typical empty gesture, the seed of the idea grew to be the project that would reinvigorate them.
"This is a point in life when a lot of things have happened to us," says Tolhurst over Zoom, recalling the days of excited emails bouncing back and forth that followed that meeting. "We were able to reflect on our situations and look at each other and go, OK, now is time we should do something, because who knows how long we have."
The result of that back and forth is Los Angeles, out on Nov. 3 through Play It Again Sam, a pulverizing, urgent and deeply rhythmic set of tracks that deploy brass and strings along with a smorgasbord of electronic textures. With an A-list of guest vocalists, including James Murphy, The Edge, Primal Scream's Bobby Gillespie and Modest Mouse's Isaac Brock, to befit Tolhurst and Budgie's reputation, the album swaggers between industrial, post-punk, and glam rock with a confidence that did not come easily. All of this comes to life on the band's latest single, "We Got to Move."
The 66-year-old Budgie (born Peter Clarke), one of SPIN's greatest drummers in alternative music, left his London-based family life for weeks on end to join Tolhurst, 64, in L.A., where the latter has lived since 1994. In between sessions of speed yoga and cooking for each other, they put together the tracks that they thought would make up an instrumental record that recalled the motorik rhythms of 1970s acts like Cluster and Harmonia. But something wasn't clicking.
A chance meeting with Irish producer Jacknife Lee (R.E.M., Taylor Swift, U2), a personal friend of Tolhurst's, at the 2019 Topanga Canyon Blues Festival, proved to be pivotal.
"We just sat down and talked for a couple of hours," says Tolhurst. "I played [the demos] to him and he went, 'OK, let's just rip it up and start again'. I thought, yeah, that's what we have to do. So, I got outside, called Budgie up and said, 'I found our guy'. I'm sure I was almost in tears at that point."
"It was the chemistry that happened on that first day at his studio," recalls Budgie. "I felt like this is what it was like with Mike Hedges," referring to the producer who helmed early albums by both The Cure and The Banshees.
Encouraged by Lee to leave behind the traces of their past, the duo sifted through the producer's extensive vinyl collection, taking influence variously from obscure Indian, Ethiopian and French records.
"One of the things that Jacknife would say to us was, 'What is the job of the musician?'" says Tolhurst. "We came to the conclusion that it is discovery. Going back to the past is not discovery, it is excavation. We were discovering and it was joyful. When you're a teenager, that's how you start making music. The Cure's first album came from three years of us sitting there just making noise in the back room at Robert [Smith]'s house."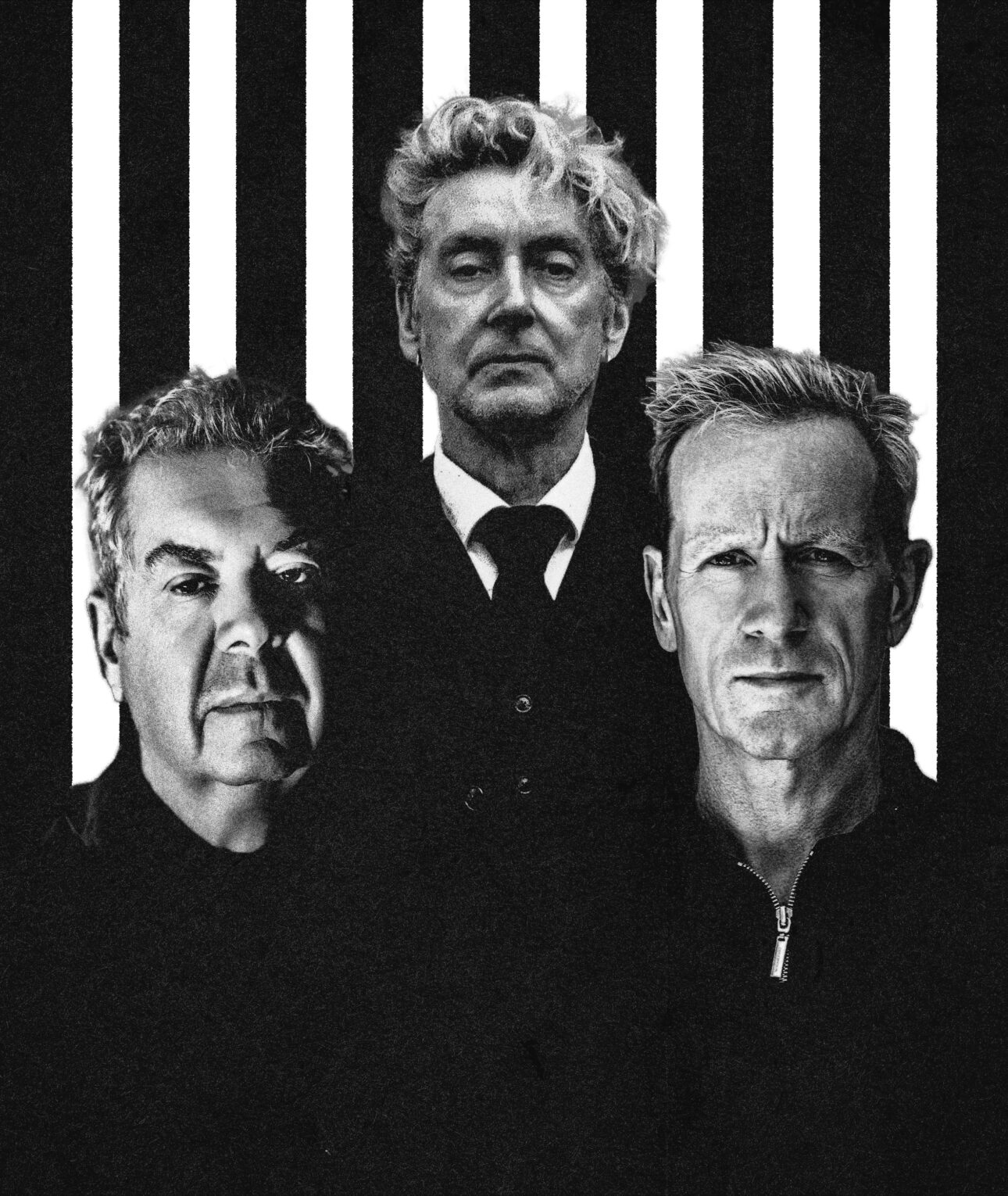 More than just a title, the album is a living, breathing tribute to Los Angeles, the city that brought Tolhurst, Budgie and Lee back together. From the institutional racism referenced by the avant-garde singer and campaigner Lonnie Holley on "Bodies" to the lascivious Hollywood cynicism outlined by Starcrawler's Arrow de Wilde on "Uh Oh," the album does not shirk the dark underbelly of the city that "eats its children," as James Murphy sings on the title track.
"That's the thing that people don't really realize about this place," says Budgie. "You drive around the city for a few years, and you realize that it is really an oil town. You drive past Beverly Hills High School and there's this thing that looks like a beautiful statue, and actually, it's just a cover for an oil derrick which is behind it. Underneath the glitz and glam is this other side."
For both Tolhurst and Budgie, making the album has had a rejuvenating effect on their creativity, a sense of excitement about new music that Tolhurst says he has not felt since The Cure's 1985 album The Head on the Door. At a stage of life when most musicians who are still working find themselves relying on the old familiar songs, trapped in an ever-decreasing cycle of relevancy, to leave behind what you are known for and craft a new project that resonates with the shock of the new is commendable.
Now close friends, the pair began co-hosting the podcast Curious Creatures in 2021, and they are currently preparing to take Los Angeles on the road, with some ambitious, star-packed gigs planned for both sides of the Atlantic.
"We had our first day of rehearsal a couple of days ago and me and Budgie were just grinning stupidly at each other. It's exciting," says Tolhurst.
"We're not having to try so hard anymore, we're just seeing what comes along and going, OK, let's jump in," adds Budgie. "And this is beyond our wildest dreams."