On a hot summer night in East Los Angeles, a house near Cesar Chavez Ave. was blasting music from its backyard—a common occurrence in this working-class neighborhood where Latino families often hire live mariachis or bandas for birthday parties. This particular house, however, stood out as punks sat on the rooftop drinking 40-oz. beers, crowds in leather lined up out front to get in, and bands full of rage, including Corrupted Youth, played to a packed yard where circle pits somehow managed to dominate space.
It is controlled chaos at its finest.
"It just shows how big those gigs have gotten," says Albert Licano, a renowned music photographer who was in attendance for the show.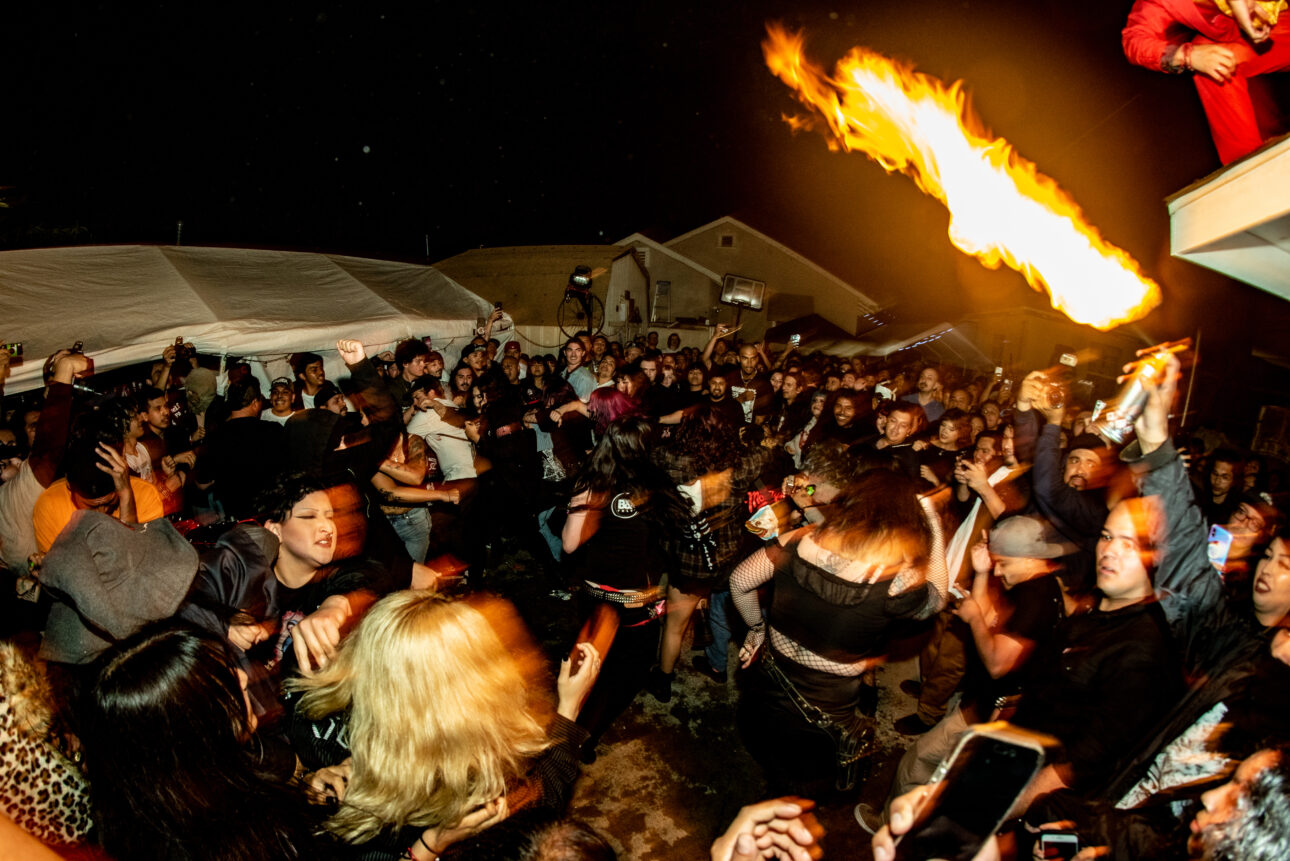 Backyard shows are the norm across California. For those of us who grew up going to these gigs, there's no mystique to it—it's simply part of the scene's DIY ethics married with the cultural inclination to host festivities like quinceañeras, baptisms, and birthday parties in our backyards. This is mainly because throwing a party in a backyard has been the easiest and most accessible option for low-income families. 
As punk veteran Jimmy Alvarado detailed in Razorcake, backyard shows in the 1980s grew out of necessity because bands from East L.A. were unable to get booked in clubs, especially in Hollywood. Johnny Alvarado, his brother and former Fish Head vocalist, says this prompted them to take matters into their own hands.
"The Hollywood scene—to get a gig over there was a bitch, like nine times out of ten you'd call and then they'd say, 'Where are you guys from?' and you'd say East L.A. and they wouldn't give you the time of day," Alvarado tells SPIN. "And then a lot of the Hollywood kids over there [would call us] taco punks, beaner rock, or possibly my favorite, we were just called Julios."
Continuing, Alvarado says, "We [couldn't] get any shows over there, and so a lot of the kids—speaking from my own experience—we just started having backyard shows, and if we got paid then we'd just hold on to the money, buy better equipment, and if we didn't buy better equipment we'd just put it all in a pot and then rent a hall [to play]."
Backyard gigs have become closely associated with Southern California punk, in particular in Boyle Heights and East L.A. However, it wasn't always like this.
Historically, East L.A.'s impact on punk rock has been overshadowed by the scene's Hollywood origins in the late 1970s. Books like Marc Spitz and Brendan Mullen's We Got the Neutron Bomb: The Untold Story of L.A. Punk detail how beginning in 1976, bands like the Screamers, The Weirdos, and the Germs heralded the music in Hollywood and centered the movement there. Punk grew quickly and spread across California, and in Boyle Heights/East L.A. specifically, the predominantly Latinx community generated its scene thanks to bands like Stains, The Brat, Thee Undertakers, and Los Illegals.
"There was a divide there where the bridges are that go into downtown, if you were to go into West Hollywood, that's far, there's no convenient way to get there," Licano says. "If you look at Boyle Heights and East L.A., it's a really small concentrated section and there's a lot of kids that are there and they don't have transportation, and if there's a backyard show, boom, for some of them that's the only kind of show they're gonna go to."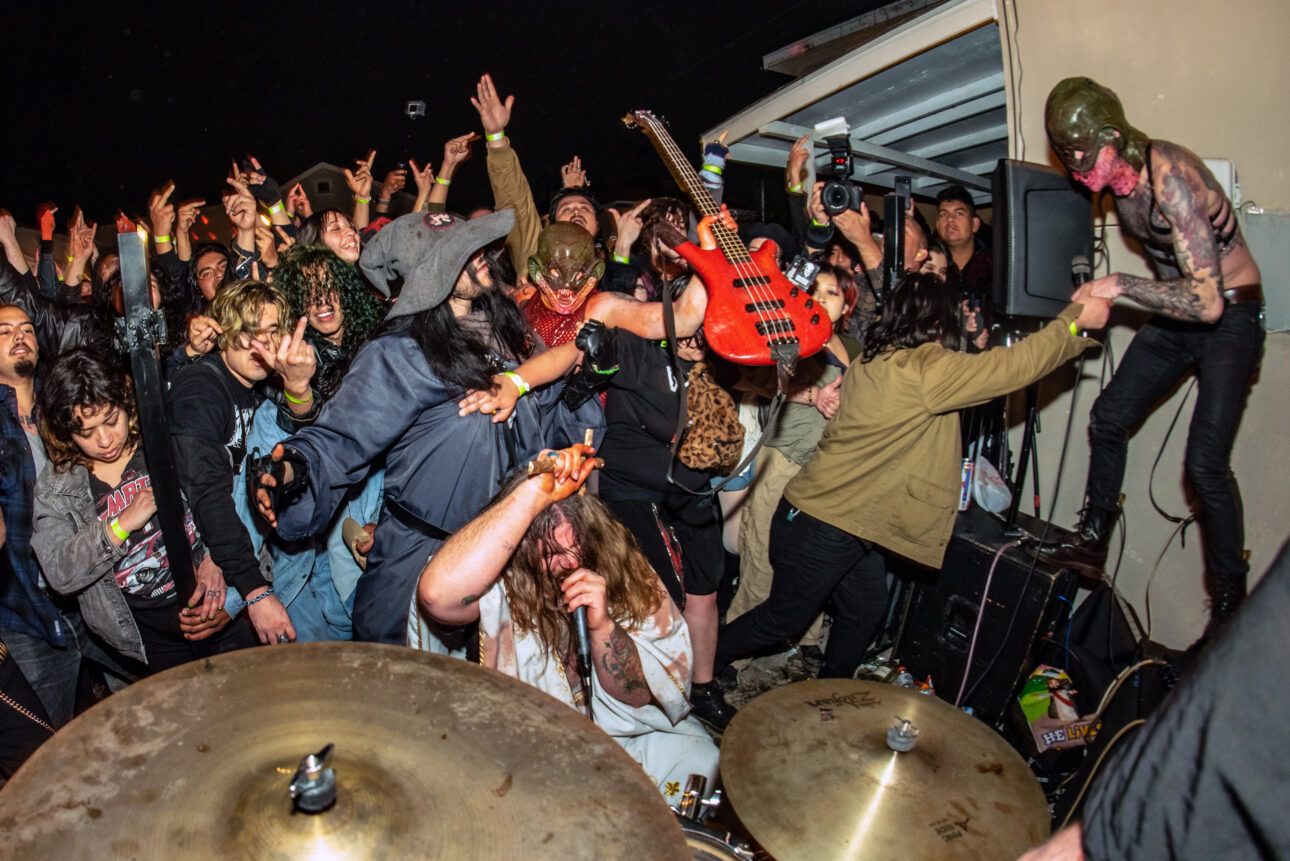 One of the earliest clubs in the area that allowed the East L.A. punk scene to thrive was The Vex, which was an arts center known as Self-Help Graphics (SHG still operates today at a different location). The center was run by Sister Karen Boccalero, a nun who allowed Willie Herron of Los Illegals and community member Joe "Vex" Suquette to book punk shows in 1980. As Suquette wrote in We Got The Neutron Bomb: The Untold Story of L.A. Punk, "The Vex became the link between East L.A. and Hollywood." After The Vex closed, however, bands in East L.A. continued to face challenges when it came to expanding their reach and booking shows in Hollywood.
"To play in Hollywood, you had to be rich and white," Alvarado says.
From the mid-2000s to mid-2010s, the backyard scene in East L.A. was at its pinnacle. Gigs were so packed and rowdy that LAPD choppers would arrive to disrupt the parties and shut them down with police in tow. Much has been documented about the scene too, most notably Javier Cabral's coverage in the early 2010s for LA Weekly, which led to Angela Boatwright's Los Punks documentary (in which I appeared).
Despite the COVID-19 pandemic causing the parties to stop, Albert Gamboa says the scene has roared back and is just as intense and urgent as before.
"Everything was dead, show-goers were scared to be around other people, but I'd be lying if I said the scene didn't sneak some shows in there," Gamboa says. "Post-COVID though, everybody and they mama were eager to get out and hit shows, kids that were too young were old enough to participate now, there was a boom of sorts with the scene and shows were intense."
The bands and people may have changed, yet the East L.A. scene continues to thrive thanks to the members of Nothing Less Booking, a collective dedicated to throwing punk shows throughout L.A. Their members include Roman Gomez, Nick Saracho, Ignacio "Nacho" Rodriguera, and Gamboa. One of their biggest functions was organizing Corrupted Youth's last backyard show with support from The Streetz, Self-Sabotage, Castillo, Desmadre, and Dr. Know. Gomez says that due to their show's popularity, they decided to sell tickets to help with crowd control—something that isn't done for backyard gigs. The show ended up selling out and popping off without a hitch.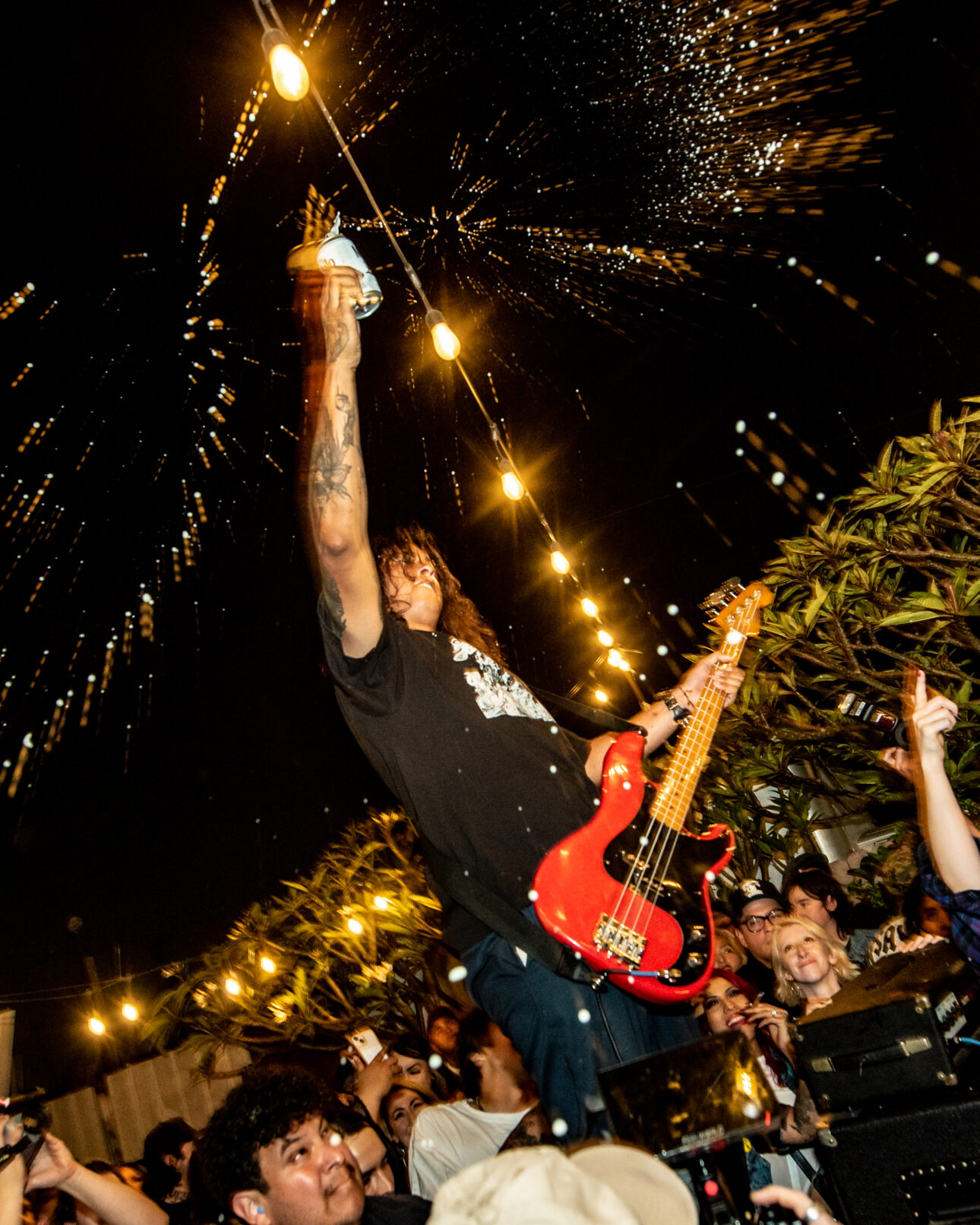 "By the first band at 8 o'clock, I think we had like 200 people there," Gomez says. "And for every single band, the kids went crazy. They were just awesome, and it's not just kids. A lot of people are aging out in their 30s, and people that are even older like 40s and 50s came to our backyard show because Corrupted Youth has been a staple in the East L.A. punk scene forever."
The importance these types of gigs have had beyond East L.A. can't be understated. They provide an all-ages haven for those who can't get into shows that are 21 and over. Having attended numerous backyard gigs elsewhere when he was a pre-teen, Gomez, whose first backyard gig was over 20 years ago in Whittier, says attending his first proper backyard gig in East L.A. was a life-changing experience that he still remembers fondly.
"What I had already known about backyard shows—it was that but on steroids," he says. "And it was just me and my little cousin walking in awkwardly, we didn't have cool spiky hair or anything and we're just admiring the whole thing, and I was like, this is where I want to be, and I just kept going and it kept going, and I never stopped going to backyard shows in East L.A. Boyle Heights, that's where I made all my friends."
Nothing Less Booking continues to throw shows all over Southern California. As varied and widespread as their gigs are, they will continue to pay homage to Boyle Heights and East L.A. by propagating the area's legacy in the punk rock community and hosting bigger and better shows there.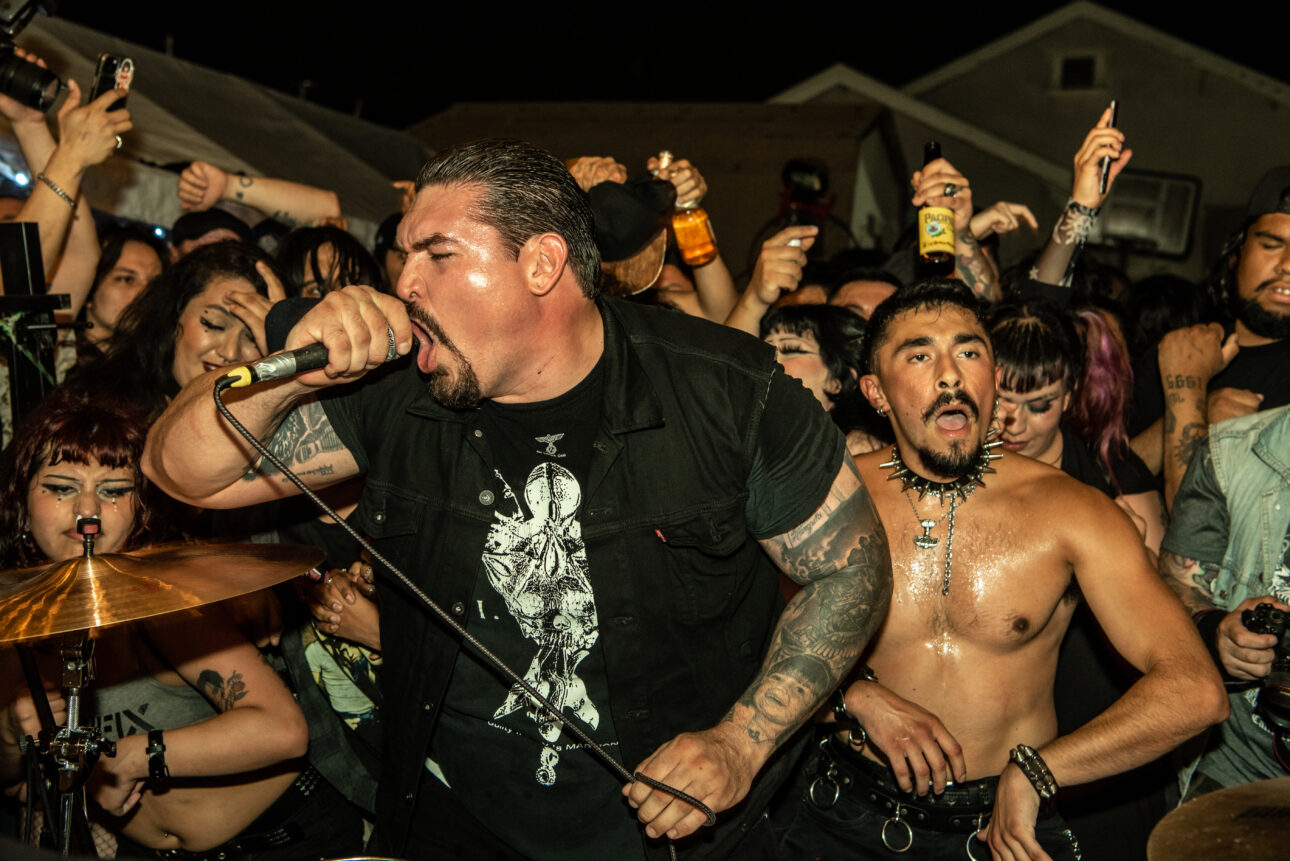 "We're bringing the Subhumans to Boyle Heights, and doing stuff we weren't really doing before," Gomez says. "To invite bands into playing in the neighborhoods that we all grew up in in terms of like—Boyle Heights, and East L.A. to me is like a home in a sense, because that's where I was hanging out with all my friends, and I still hang out there with all my friends, and it's cool to bring bands through there, through the hood."
Nothing Less Booking doesn't have any upcoming backyard gigs planned in the near future. However, it will be difficult for them to top Corrupted Youth's most recent backyard show.
When that gig ended around midnight, it didn't matter that the place was consumed by elephantine-level chaos, because people paid respect to the house and left in an orderly fashion without issue. A successful backyard gig is one that doesn't get raided by the cops, and this one made it to the end. It was just another night in East L.A., another night in its time-honored history of punk rock.