U2 kicked off its 25-night U2:UV Live residency at the brand new Sphere at the Venetian in Las Vegas, ushering in the world's most high-tech live music venue with a show dominated by its 1991 album Achtung Baby. The evening began with that project's first eight songs, including the maiden performance of "Tryin' To Throw Your Arms Around the World" since 1993, and was followed by a block of four songs from 1988's Rattle and Hum.
Bono told the audience that this mini-set will likely feature different albums on a nightly basis, somewhat in the vein of the "secret songs" block during Taylor Swift's ongoing Eras tour. U2 also acknowledged the presence of the Beatles' Paul McCartney by teasing "Blackbird," "Love Me Do," and "Sgt. Pepper's Lonely Hearts Club Band (Reprise)" into various songs, and nodded to Vegas regulars Elvis Presley and Frank Sinatra with bits of "Love Me Tender" and "My Way."
The final portion of the 22-song, two-hour-plus show was nothing but hits, with "Elevation," "Vertigo," "Where the Streets Have No Name," "With or Without You," and "Beautiful Day." The new single "Atomic City" was played after "Elevation," having just been released in both audio and video form the day prior.
Opening night brought another milestone of sorts, as U2 performed for the first time ever without drummer Larry Mullen Jr., who is recovering from health problems. He is being replaced at U2:UV Live by Dutch musician Bram van den Berg.
The $2.3 billion Sphere is comprised of 160,000 square feet of video viewing space, referred to as "interior immersive display," as well as state-of-the-art spatial audio and an exterior exosphere that morphs the building's look via fully programmable LED technology.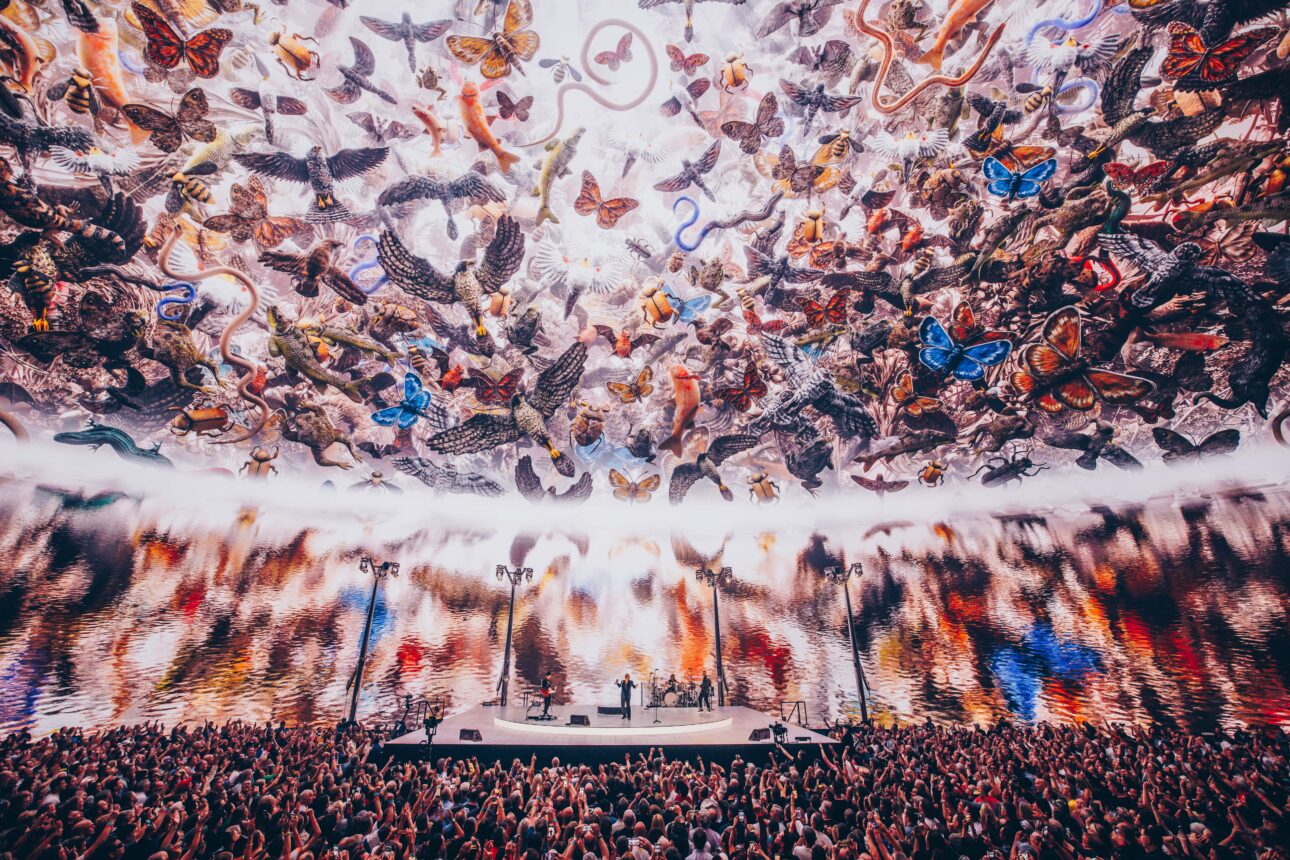 Here is U2's set list:
Zoo Station
The Fly
Even Better Than the Real Thing
Mysterious Ways
One / Purple Rain / Love Me Tender
Until the End of the World
Who's Gonna Ride Your Wild Horses
Tryin' to Throw Your Arms Around the World
All I Want Is You
Desire / Love Me Do
Angel of Harlem / Into the Mystic / Dancing in the Moonlight
Love Rescue Me
So Cruel
Acrobat
Ultraviolet (Light My Way)
Love Is Blindness
Elevation/My Way
Atomic City
Vertigo
Where the Streets Have No Name
With or Without You
Beautiful Day / Sgt. Pepper's Lonely Hearts Club Band (Reprise) / Blackbird