September 16 will mark one year since the brutal murder of Mahsa Amini at the hands of Iran's morality police. The event sparked protests in Iran and across the world, activating the country's extensive diaspora. Iran's regime retaliated by attacking its own people with heinous acts. Among these are deforming women by peppering their faces, breasts and genitals with birdshot, poisoning of girls on school campuses, public executions of young men, insidious murders of young women, plus rape and torture of almost 20,000 prisoners.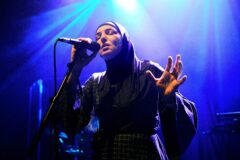 Creatives are particular targets of Iran's dictatorial government whose uneven rule follows an extreme interpretation of the tenets of Islam. Musicians are even more harshly persecuted based on the fundamentalist outlawing of music in Iran. There are many musicians imprisoned in Iran, among them incendiary rapper Toomaj Salehi who has been in solitary confinement for nearly a year.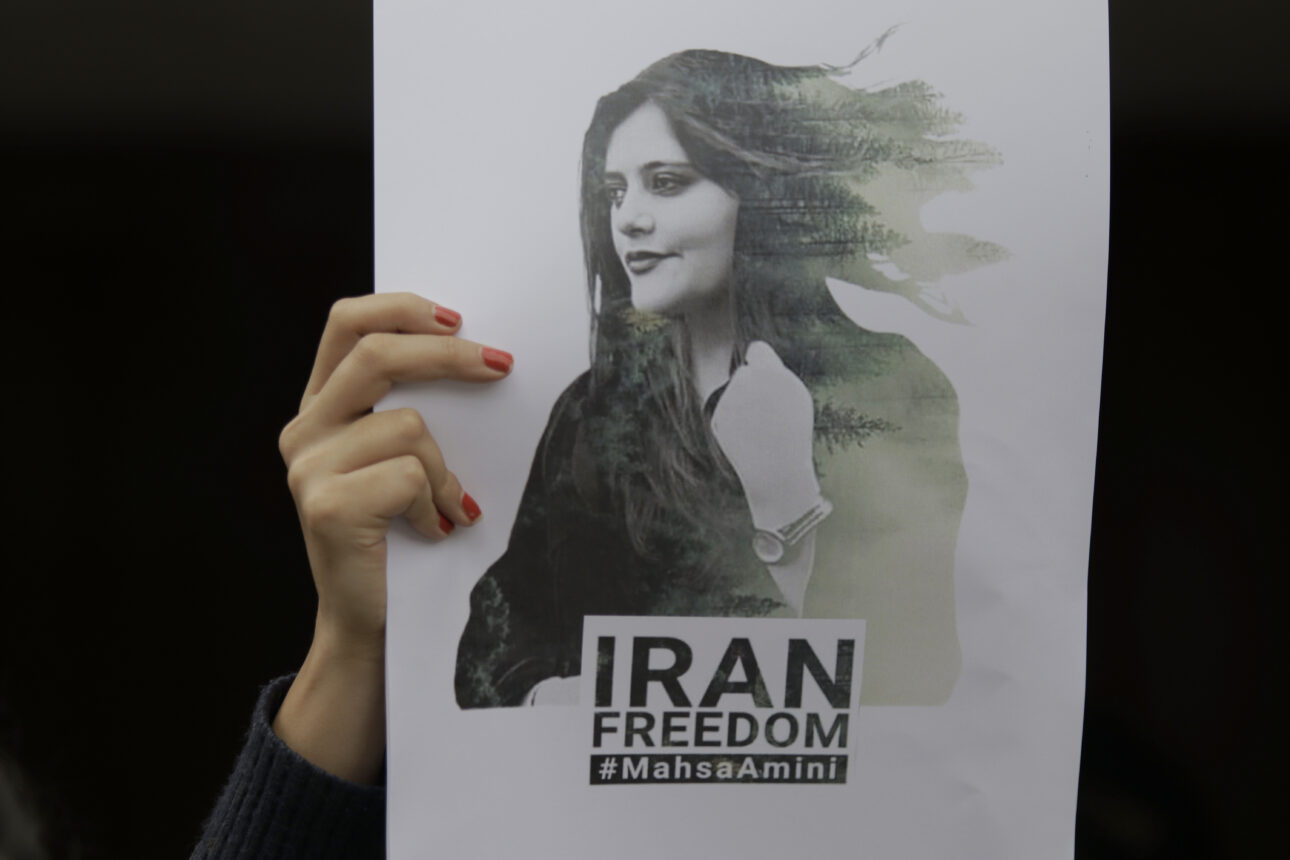 Shervin Hajipour is perhaps the most well-known to Western audiences for his poignant song "Baraye," whose lyrics are drawn from desperate social media posts by Iranians. Hajipour and the song won the inaugural Grammy Award for Best Song for Social Change. First Lady Jill Biden presented the award while Hajipour remained on house arrest in Iran.
Less than 24 hours before Hajipour was awarded the Grammy, multi-platinum, chart-topper Taylor Hanson had set up camp at Los Angeles' famed Henson Recording Studios, in the same room where 38 years prior "We Are the World" was recorded. Here, Hanson brought together people from all walks of life to sing his reimagining of Hajipour's song as "Baraye – For Women Life Freedom." Appropriately, this initiative is called the Voices Project. It is the first of its kind for Hanson's latest nonprofit, For Women Life Freedom.
In the final version of the song, which is released on September 8, there are other Western musicians who have added their voices to that of Hanson's. Among these are Rufus Wainwright, Ben Folds, Ryan Cabrera, Darren Criss, Cassadee Pope, Kevin McHale, Gus Van Sant and Mark Hudson. Iranian superstars Leila Forouhar, Shahbal Shabpareh and co-producer (and Grammy Award-winning) Hamid Saeidi of Opium Moon also shared their talents. Behind the scenes, co-producer/engineer Jim Scott (Red Hot Chili Peppers, Sting), engineer/producer CJ Eiriksson (U2) and multi-instrumentalist/producer David Garza (Fiona Apple) lent their expertise. Hanson opened participation on "Baraye – For Women Life Freedom" to anyone who wanted to share their voice using the Audiobridge app. The result is 16,000 voices raised for the people of Iran.
Hanson has remained diligent in using his platform to speak out about the atrocities in Iran. Here, in his own words, he tells us why this movement for freedom should matter to all people, not just Iranians, and what music's role is in "resonating humanity."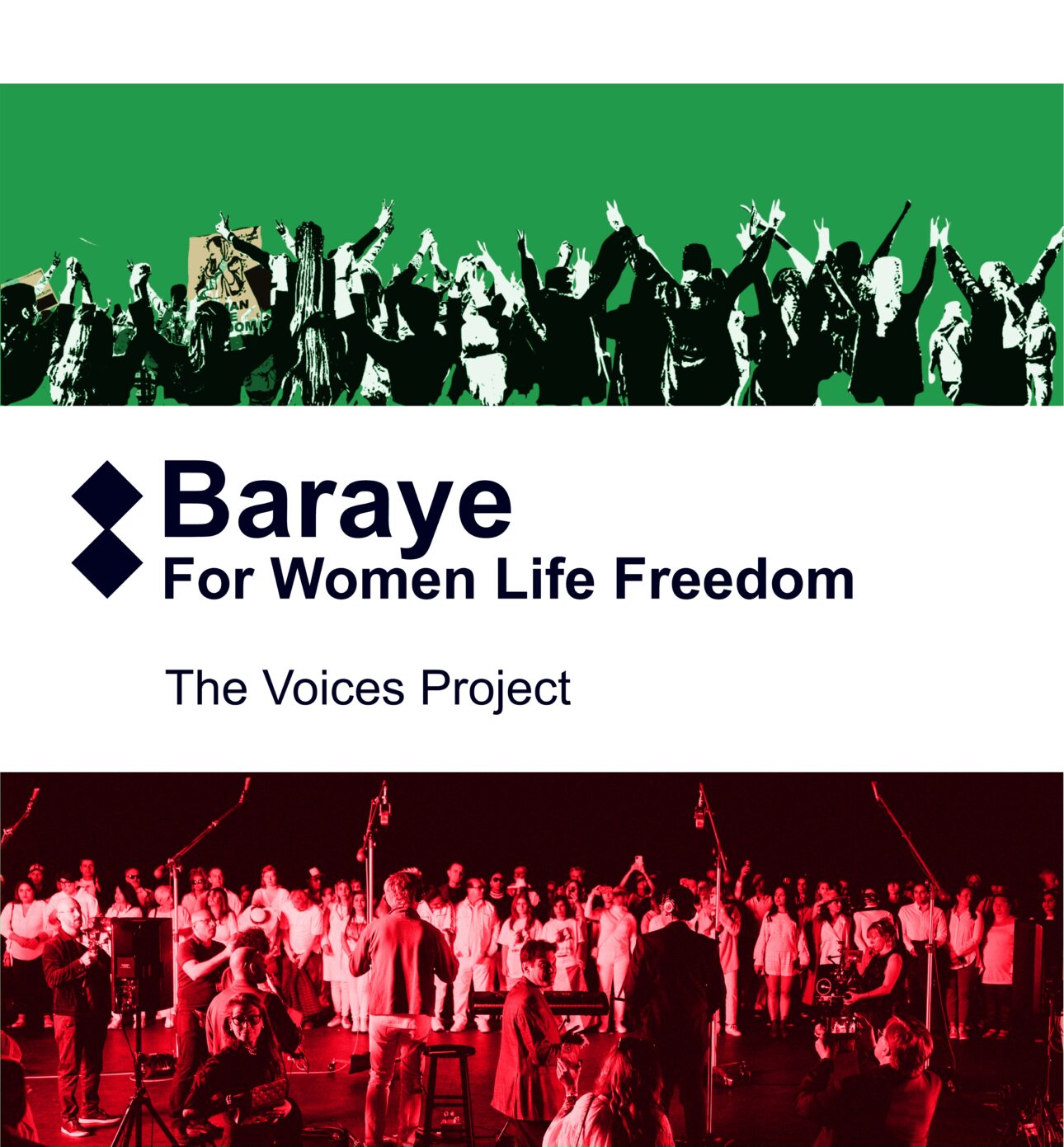 Understanding Iran
This project was born because we're trying to figure out how we can help tell a human story through music, and how we can bring people to the conversation. Iran has a deep history that we have a very "modern understanding" of outside of the country, which is not an understanding of Iran at all. Unfortunately, the government of Iran, its treatment of women, its relationship with much of the world has funded terrible acts, and that is the general picture of the country.
I can't fully explain why I'm in this seat, but I feel like I've been called to be here. I was inspired because I had an epiphany which is…here's a people that are truly calling for freedom.
We have a connection to the people of Iran…because of our basic humanity. Because we are parents, because we are siblings, because we have daughters, because we have wives, because we have a desire for the freedoms that we take for granted. Obviously, there are many flaws in any society, but we can live and pursue basic ideas of happiness in this country. We really don't understand what it means to truly have no human rights.
What really inspired me is…I've now met people of Iranian/Persian descent that I consider friends. People that are artists, people that are creators, people that are just like me. All of us have a story to tell. If we can connect as humans, and we can say, "That could be me. That's my daughter, that's my sister, that's my wife, that's my brother," that's what The Voices Project is about.
For Women Life Freedom and The Voices Project
For Woman Life Freedom was established to launch projects that could bring people to the cause. The Voices Project is the first. It's an archetype for what can be done to help bring people's attention, to connect hearts and minds to something that is hard to get your head around. When you can stand with three generations of people of Persian, Irish-American, German, African backgrounds, all singing "for women, for life, freedom" on one day in the studio in Los Angeles, and have people around the world joining, then we've begun to have a new conversation.
We captured the song, initially, hoping to help amplify the awareness of Iran with the Recording Academy, hoping that the original song could get the recognition it deserved. Incredibly, it won the Grammy for song for social change, which is no small thing. It is a big deal for the movement. But it was also sobering, because the recognition it should have received when winning that award was not nearly what it should have been. You've got an artist in his mid-20s under house arrest that wrote a song inspired by tweets of a movement led by young women in a country where rights don't exist for women. That recognition should have put Shervin [Hajipour] on the cover of Time magazine.
That's why, instead of simply immediately releasing our song, we've decided to release it at the most meaningful time, to bring the best attention to the critical movement that's happening in Iran. September is a sobering time because it's coming up on one year since the protests began and we want The Voices Project, we wanted the song to help amplify the continued need in this cause for the people in Iran that are still without freedom.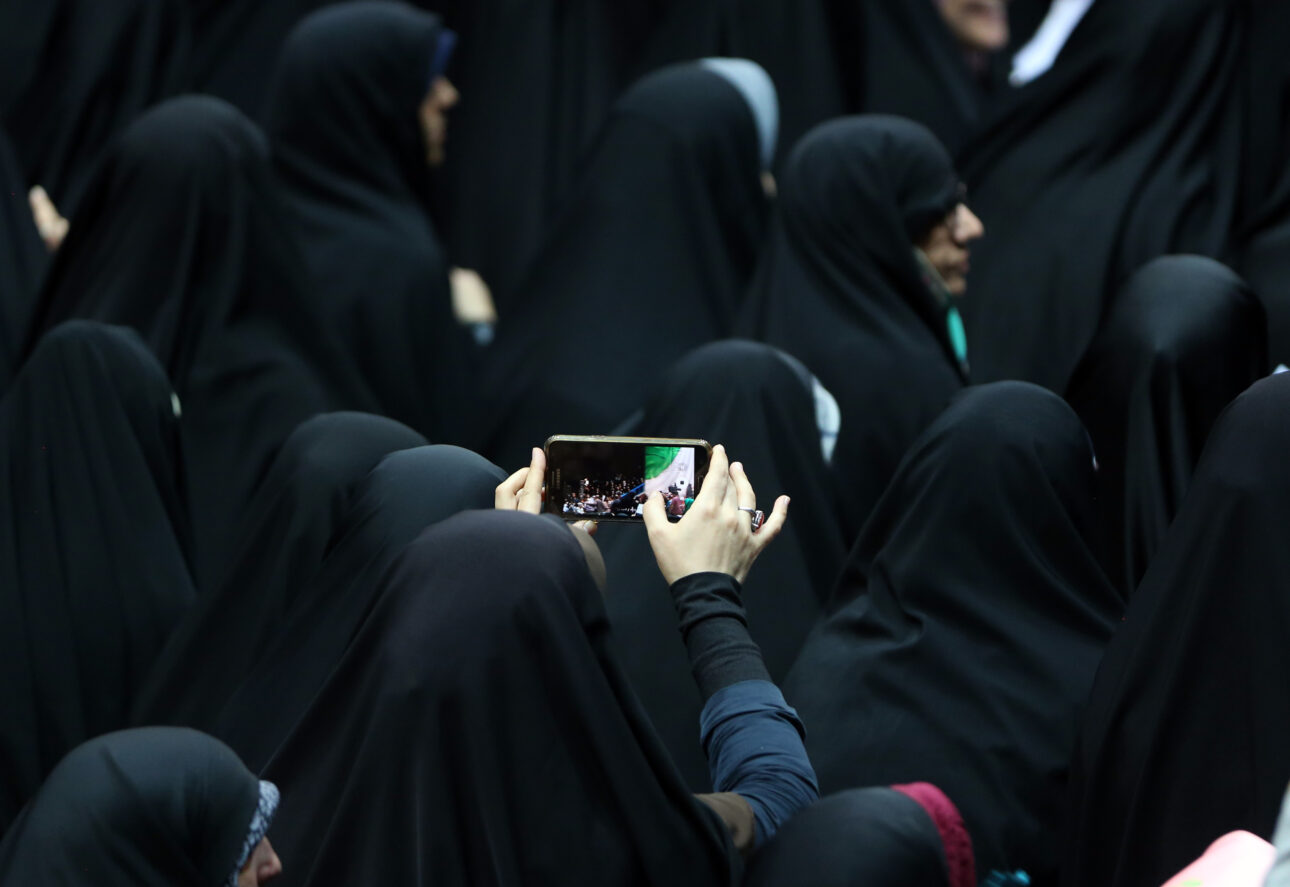 "The only thing necessary for the triumph of evil is for good men to do nothing."
I don't carry the authority, or the platform but I can say, I'm a dad. I'm a citizen of a country that has, at least, a very foundational respect for individuals' basic freedoms—that we have to fight for every day.
What's going on in Iran is incredibly challenging and complex. I'm not the expert on all the sociopolitical dynamics, but I do know for certain that a girl could walk down the street and be accused of a crime against God for showing hair in public and then be raped and murdered. We have an opportunity to support folks that are willing to risk their lives to fight against that.
We are standing up for Iran not because it's likely to see change, but because certain levels of atrocity require good people to do something. Over and over despots and historic leaders across history's shattered past are allowed to destroy human life because of the fear of those that are "good." The question for me when dealing with what's going on in Iran is not whether it's likely or easy or possible to see real change, that's not actually up to us.
What we've tried to do is to create a project and organize a group of people to amplify something that is important. I'm so grateful music actually has a real role to play. Thankfully, social media, the internet, this difficult thing that we have access to, is also very powerful, and has helped amplify a cause.
"Baraye – For Women Life Freedom"
When we did our session, I stood holding my two-year-old daughter, next to my 10-year-old daughter, next to my 18-year-old daughter, next to my four sons and next to hundreds of guests in the studio, many of whom come from various backgrounds, all of whom were singing those same words. The song was going to be released within a week of recording. It very clearly and quickly became apparent that we shouldn't stop hundreds of people that were sending in uploads of their voices. We needed to get every possible voice. That is a message that cannot help but move the needle for this cause.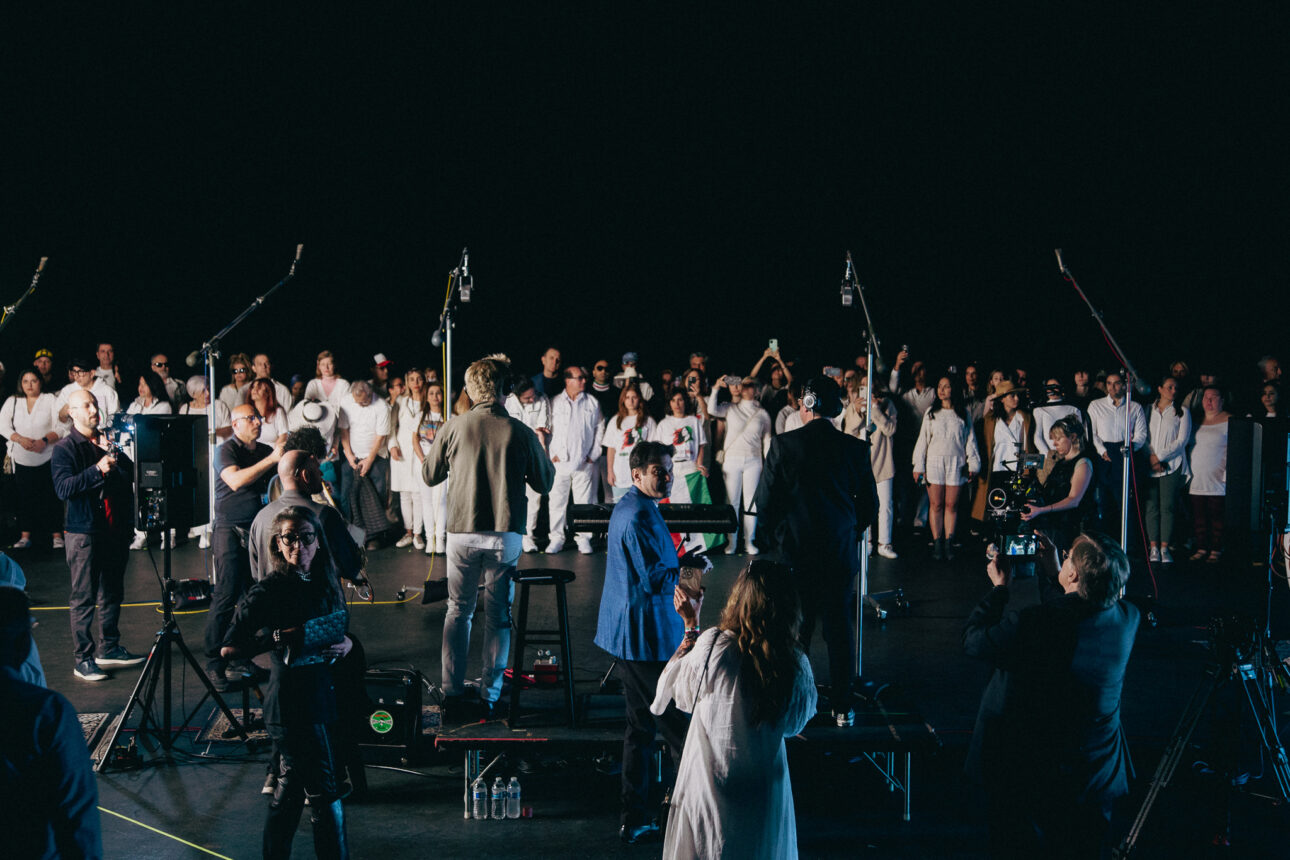 The Role of Music
I've spent my whole life talking about the power of music. We've seen how art, at its most basic, gives people a sense of hope because it gives you a sense you're not alone. Music and art have a role to play in resonating humanity.
In this particular case, we've got a more powerful example than anything I've ever seen. The power of songs and the power of communication can really amplify social change and advocacy for human rights. A son of Iran, releasing a song on the internet, that's then given an award that's broadcast to billions of different eyes on an award show. Thinking about all the people that have now heard about movement because of the use of that song is really sobering.
Music rarely has the opportunity to be as tangible as it does in this particular case. But it always has a role to play in inspiring action. I'm a person that spent my life writing pop songs. I say that with the most pride. A great pop song is a crystallization of a thought made so pure that a nine-year-old and a 90-year-old can both sing it.
"For women, for life/We sing freedom," is to bring all the powers of understanding melody and simplicity and the things that make each of us be able to share a story of popular songs into a cause that is truly complicated and challenging and frightening and horrific. And there's something very beautiful about that.