Welcome to Band Jury, a SPIN series in which artists defend black sheep albums they feel deserve another listen. These are projects that, for whatever reason (middling sales, negative reviews, a misunderstood stylistic shift) have fallen slightly out of fashion — or perhaps never reached it to begin with.
The Defender: Ryan Hahn
Qualifications: Singer, songwriter, and multi-instrumentalist of indie-rock band Local Natives, who released their fifth LP, Time Will Wait for No One, in July; human who enjoys music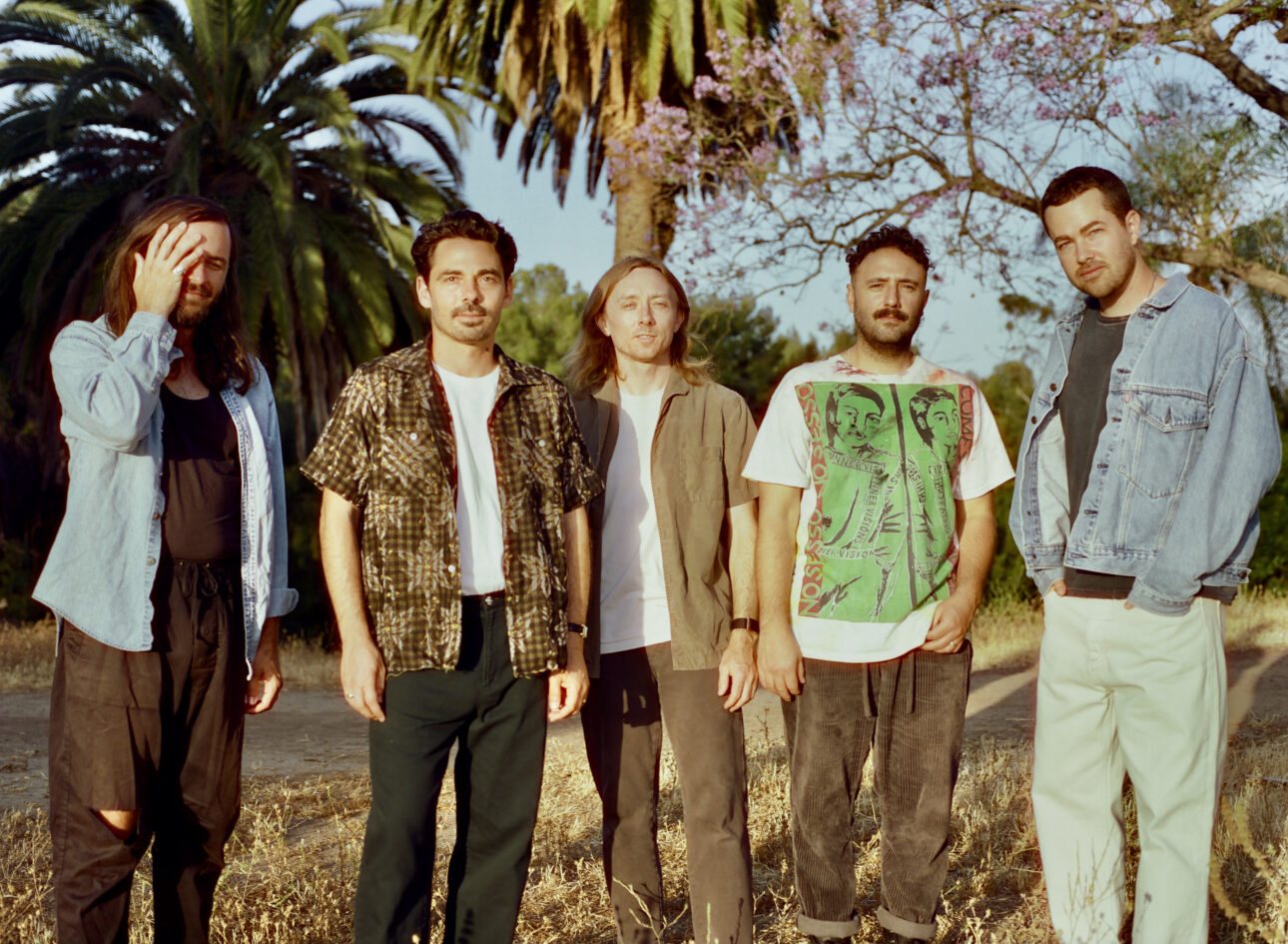 The Defended: U2's 1997 album, Pop
Overview: Mixed-to-positive critical reception; topped the Billboard 200; spawned six singles: "Discothéque" (No. 10 on the Hot 100), "Staring at the Sun" (No. 4 on the Hot 100), "Last Night on Earth" (No. 57 on the Hot 100), "Please" (No. 31 on Alternative Airplay chart), "If God Will Send His Angels" (No. 12 on U.K. Singles chart), and "Mofo" (No. 35 on Australian chart); band's sixth-worst score (2.95/5.0) on fan-review site RateYourMusic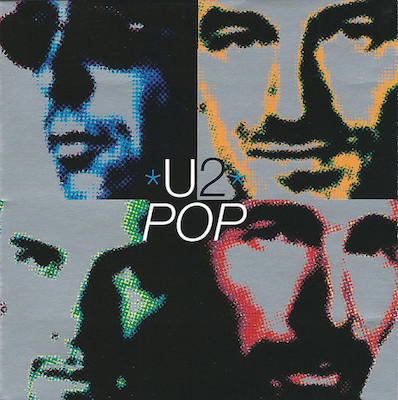 I was admittedly only 9 in early 1997, when U2 released the video for their grinding, glittery dance-rock single "Discothéque." But I was old enough to realize this was a polarizing cultural moment. There before me on my ancient rec room TV was Bono—the heart-on-sleeve classic rock god of War and The Joshua Tree—dressed up as a motorcycle cop, thrusting his crotch into a mirrorball camera with wild ferocity. 
This was how U2 chose to introduce their ninth LP, Pop, to the world: with unsubtle club beats, with weirdly cartoonish vocal mixing, with visual nods to the Village People. They'd been shape-shifting since the beginning: post-punk, Americana, Eno-guided ambience, electro-tinged alt-rock. But for many fans and critics, Pop was the point where that sonic search stopped yielding results—by diving deeper into the realm of the synthetic (programming, looping, and sampling), perhaps they'd lost some humanity.
The album did have its champions from the beginning: In one notable example, SPIN's James Hunter wrote, "Pop realizes a symphonic transcendence for which the band's earlier stabs like The Unforgettable Fire could only wish." On the other hand, Robert Christgau rated it a "dud" in his Consumer Guide, while The New York Times' Neil Strauss assessed, "Beneath the expensive gloss and easy irony of Pop is a great band struggling to come out."
Like me, Ryan Hahn of Local Natives grew up a student of classic rock—so when he first started exploring U2, he gravitated toward the band's earlier, unbesmirched masterpieces. But he eventually found his way to Pop, partly out of hushed curiosity. What's the big deal with these songs anyway?
"It was always the dark horse album, the one that no one seemed to talk about," he tells SPIN. "I never seemed to read about it. It was always a passing thought. When I got to high school and was more of a proper U2 fan, I was like, "I should check out [Pop]."
He found that, yes, the record was messy and strangely formed and not quite the grand artistic statement it could have been. But it was also a lot of fun—and way more fascinating than the RateYourMusic consensus (or Bono's awkward dancing) might suggest.
"It feels like maybe the last time they were being experimental but also somehow in the mainstream—just going for it," he says. "Maybe that's what draws me to this era and this record."


When did you first hear Pop? Were you already a U2 fan?
The guys in my band, I've known them since we were in junior high. They'll tell you: I was always that guy who loved all things classic. I gobbled it up. I just loved the history of it all and the myth-making. I got into U2 as a teenager. [They're] a prime band for that because they make you believe in this idea of getting a band together with your friends and traveling the world. The whole story of it is so alluring for a teenager.
I think I gravitated toward the early stuff: War and The Unforgettable Fire and the singles from The Joshua Tree. But when it started to get more Americana, I think I was bored. Something didn't ring true to me, especially Rattle and Hum. It just wasn't my thing. Then I really loved Achtung Baby, sonically and aesthetically. I loved that they took this huge gamble: "We're gonna blow it up and start something completely different." Being in a band now, that concept [resonates with me] even more. That's a bold move, especially to be a huge band like that. It seems exciting.
One of my earliest U2 memories is when they did that song for the Batman soundtrack with "Hold Me, Thrill Me, Kiss Me, Kill Me." I remember loving that soundtrack as a kid—there are some really cool songs on there.


That was a great time for soundtracks, when they just threw together a bunch of cool artists that you'd never expect to be on the same album. In this case: U2, the Flaming Lips, Sunny Day Real Estate…Seal. [Laughs.]
[Laughs.] I was probably 10 years old, so I was happy to just hear all these songs that were on the radio and stuff. I'm remembering that, for some reason, that song—and the video—really grabbed me.


So what were your initial thoughts of Pop?
It was always the dark horse album, the one that no one seemed to talk about. I never seemed to read about it. It was always a passing thought. When I got to high school and was more of a proper U2 fan, I was like, "I should check out [Pop]. I always loved that Batman song. Maybe it's more like that." [Interrupts himself] But I always feel like I have to caveat with U2. So many people in my life don't like U2. I always feel like I have to [hides face in his hands].


Same here. My wife hates them, so when I try to put them on the car, she's always skeptically like, "Wait, is this U2?"
There are only a few other musicians I know [who are U2 fans]. Do you know Cold War Kids? They're friends of mine, and they're some of the few where we're like, "This is a safe space," and we geek out about, like, Bono's new memoir. The bassist, Matt [Maust], is always finding incredible vintage T-shirts from, like, the Zoo TV tour. Anyway, I'm just gonna do one big caveat and then speak freely.


Hopefully a lot of people will read this, but right now, this is a safe space.
I know, especially in recent years, that a lot of U2 stuff can be a bit cringe-y. But I just have such a soft spot in my heart for U2 that I give them a wide berth. I think Pop was them at their most experimental in some ways. It felt like they were having the most fun with the idea of being a big, successful band. They were being characters. I even like the look of it: the fake muscle T-shirts; Bono looked like he was in Trainspotting with this shaved head and his jacket wrapped around him.


He looked like a different person for a minute! They had fun with the concept of being rock stars. Why not?
Why not? If you're not a fan, if you see that, you might be like, "Oh, that's so pretentious and annoying." And that's fair. I tried to do a little bit of research, so I was looking at U2 clips of interviews from the era and some mini-documentaries—Dennis Hopper narrated one. You just see the way, especially Bono, commits to the bit. He's like, "This is what we're doing. I'm gonna be this guy. Every time we do an interview, I'm gonna say something that's gonna be an outrageous headline grab." In one, they're hanging out inside this lemon they brought on tour, and the whole thing is weird and absurd and extravagant. It feels like maybe the last time they were being experimental but also somehow in the mainstream—just going for it. Maybe that's what draws me to this era and this record.


Even if I don't love the whole album, I love that they were trying something—that they weren't afraid of being polarizing. Do you remember "Discothéque" coming out as the first single?
I think I came to it later. I don't know what I was listening to at the time—I think I was really into Weezer, so maybe I wouldn't have been into Pop when it came out. Later, someone for Christmas gave me a live DVD of them playing in Ireland called U2 Go Home. I think they played "Staring at the Sun" just acoustically and "Wake Up, Dead Man," which I think are two highlights on the record. I think that's what made me want to go back and listen to Pop.



You heard the songs in their foundational states. That's interesting because I think the production of this album–the samplers and sequencers–really trips up some people. A lot of fans probably didn't—or don't—hear enough of the band in there.
The little bit I've gleaned over the years is that they were back to that "having fun" thing, going back to clubs. I think they even started their own club in Dublin [the Kitchen]. I guess that was what was going on at the time: electronica and techno. You definitely hear it. That producer Howie B was basically bringing beats into the studio, and that's a big part of how they were writing. That was a cool idea: bringing in stuff that could be played at a club but still [make it] feel like U2.
It feels like they were obviously influenced by all this electronic stuff, but there are times where it feels like they were listening to Massive Attack or Radiohead. Especially a song like "Miami"—that's a weird track. There are some songs where musically it's sick, and then for whatever reason Bono throws a cheeseball lyric in there. That song "If God Will Send His Angels," I really like the song and melody and track, but something about the lyric, I'm like, "Aw, come on!"


The recording process was apparently very unusual, with Larry Mullen Jr. being injured and initially unable to play drums. They experimented a lot, and it sounds like they struggled to finish the thing.  
I got almost second-hand anxiety from it, but I read that they booked a tour before it was done, so they had to finish it by a certain date. It got released right before the tour. That might be another reason why I like Pop. So much of U2 is this polished, widescreen, reaching-the-back-row stuff. There are a lot of songs on Pop where, at other points in their career, they would Imagine-Dragon it and really go for it. But here, they're just kinda chilling. Bono's singing a lot lower than he normally does. There are moments where his voice is mixed lower than it should be. He's doing things with his voice that are really different. But he sings incredibly on this album.
I love that song "If You Wear That Velvet Dress." It's them trying to do something sexy. That one makes me realize how great the bassist, Adam [Clayton], is. There are all these dubby bass lines where you wouldn't expect the bass to be looping while all this other stuff is going on. I think that's why I thought of Massive Attack. It's called Pop, and I guess "Discotheque" did well when it came out, but there really aren't any certified, go-to pop songs on there.





That's a great point. I wonder if the album title alone colored the public perception before fans even heard the music. Maybe some classic rock people caught wind of the title and were like, "What the hell is that?"
It's almost like they were trolling people one too many times. If they pulled back a few layers of irony, it might have landed better. I saw something about them dressing up as the Village People in the video for "Discotheque." You're like, "Are you making fun of me, the fan who loves this? I don't know if I'm in on the joke." Again, they took a huge swing. [Laughs.]
Apparently they weren't as ready for tour, so it was pretty loose. There are a lot of great [live] clips. You're used to seeing them play "Sunday Bloody Sunday," and it's just like [raises hands to the heavens]. Then they're here playing "Miami," and it's just weird, and the crowd looks confused. But all credit to Bono—he's really going for it and dancing. When they played in Mexico City on that tour, there's this great footage of them playing my two favorite songs from the album, "Please" and "Gone." You're like, "Oh, I see how there could have been better versions on the record if they'd had some more time to play with it live." You really see how those songs speak more live. They're able to bring them up to that U2 level where it really lifts.


Did this album inspire any Local Natives songs? Have you recorded your Pop album?
Our band maybe is a bit different in that we [have multiple songwriters] and pulling from different places—and no one else in the band is a U2 fan. I tried to get our bassist, Nik [Ewing], into the album, and it wasn't working. [Laughs.] But I can speak for myself that I remember on [2016's] Sunlit Youth, our third album, there was a similar feeling. We have these [earlier] songs that build and take their time and end in these epic ways. I wanted something where you pushed play and it was kinda already there. It was a groove, and it just went. You didn't need some harrowing, emotional journey.