We all know that music heals, but for violinist/cellist/composer and sound healer Jessy Greene it's a calling. Last year's Chakras Lumina – created with Foo Fighters keyboardist Rami Jafee – is a beautiful album of ambient healing meditation music designed to "[lift] our spirits, [open] our hearts and [harmonize] our body systems."
For someone who says her childhood goal was to get out of her small western Massachusetts town, Jessy's done a lot more than that. She's recorded and/or toured with Foo Fighters, P!NK, Ben Harper, RZA, Wilco, Glen Campbell, Peter Buck and many more.
Jessy was given a violin when she was four years old. "I had a difficult childhood with many dark days filled with lots of drugs and little hope," she says. "Music was my main light, but the experience of being a classical violinist felt corrupted by pressure and competition of the classical world along with major challenges at home."
I actually discovered Jessy at a local Los Angeles showcase with her side project, Ooh La La, a band with a more alt-pop sound. She's committed to spreading light with her music and creating music that heals, continuing to study "the connection between sound frequencies and human consciousness, focusing on how music can heal and repair the human nervous system."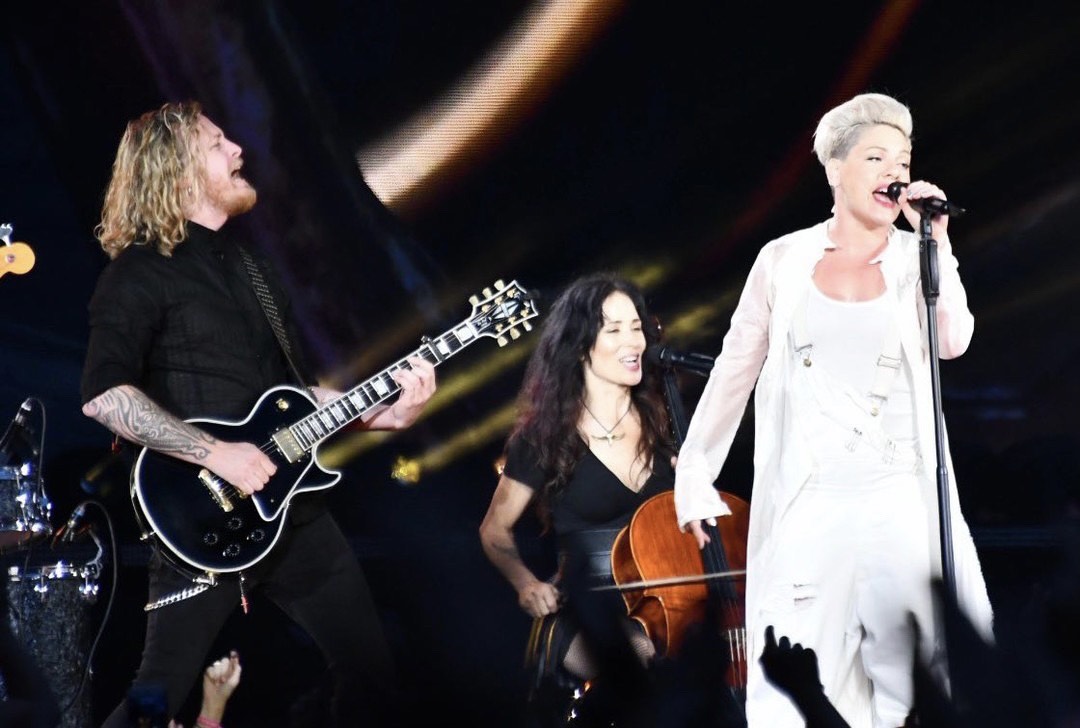 Tell us about your training:
After a decade of classical training, I decided I wanted to play rock guitar instead of classical violin. I was 14 at the time. I didn't realize I could play violin with music I liked until a few years later when I ended up in LA and started playing violin with a rock band. After a few college shows I got a call out of the blue from Jonny Perez (Sir Douglas Quintet) asking me to play violin on his album. I started apprenticing there as a studio assistant and junior string composer. During this time I also studied with a great contemporary violin teacher, Lisa Haley. With her help I got accepted into UCLA's ethnomusicology program by auditioning as a cajun fiddler.
Your first "big break" in the business?
At 19, when I was busking with my violin on Venice Beach, I was asked to join a national tour with singer-songwriter Peter Himmelman. A few weeks after I graduated college I was asked to join a rad cow-punk/alt-country band, the Geraldine Fibbers. We released two records on Virgin and toured extensively for three years. After that I moved to Minneapolis and played and recorded with some great midwestern bands and hip-hop artists; Dessa, Wilco, The Jayhawks, and many more. During this time I supported my music income by working in bars. I had just released my second solo record and was working at a German bar in Northeast Minneapolis when I got the call. I had received a few life-changing calls before but this one took my breath away. It was my friend Rami Jaffee, asking if I wanted to go on tour with the Foo Fighters!!!! Of course I said "YES"!!!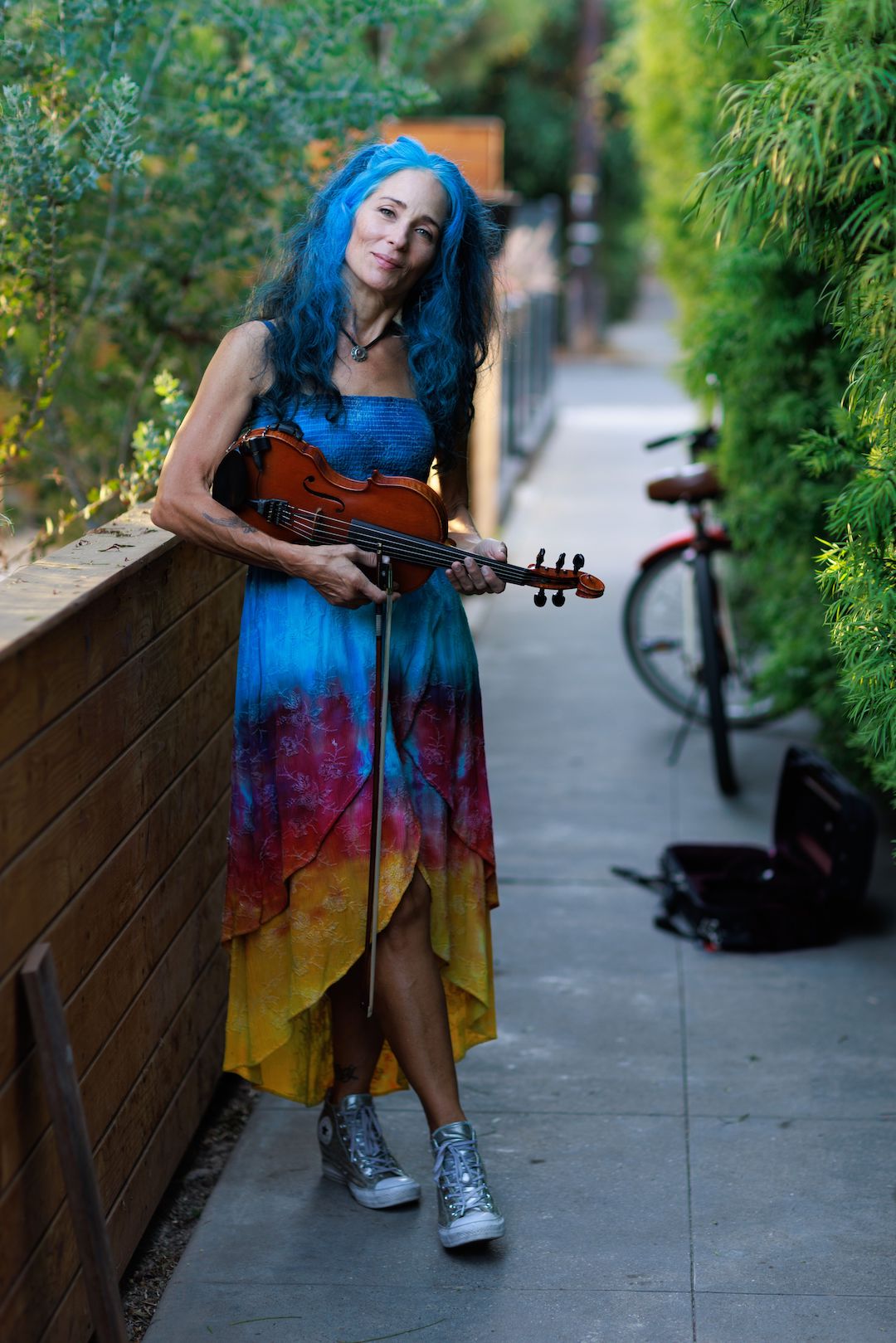 What are the top three things (gear, etc.) that you can't perform without?
My Dahlia 5-String Violin (master Gary Bartig Luthier).
Boss pedals.
Fishman amp or Avalon U5 DI.
Any writing/producing credits that make you feel especially proud?
My second solo record that I didn't do much promotion for but I am grateful I released, A Demon and Her Lovers also the song "If I Were Me" with Dave Grohl.
Do you still jam? If so, with who?
Yes! I love to improvise! I am currently jamming with a group of incredible world music aficionados. I really like playing non-western scale melodies with hip-hop beats. For me the violin is a voice and I appreciate the opportunity to express emotions and connect with others through sound and vibration. Jamming provides space for a special conversation between the players which includes the audience, if there are people listening. Either way it is one of my favorite things in life to do.
Any advice for young musicians?
Spend time finding out who you are and how you can feel peaceful and content just being with yourself. Focus on your intention not perfection. Don't give up!
What are some of the records you worked on, what was your favorite?
I have been so fortunate to play on many amazing records! A few of my favorites are Foo Fighters Wasting Light and Concrete and Gold, Wilco Yankee Hotel Foxtrot and Being There, Post Malone Stoney and many more.
Who's a genius in the studio?
Rami Jaffee, keyboardist for Foo Fighters and Wallflowers, and I have been making music together for years and he is a musical genius. He can sing to me the most fabulous string lines while listening to a song for the first time! He just knows what the music needs to sound amazing. Working with him in the studio has opened my mind to new ways to listen and create music as a composer and producer.
What's the craziest experience you ever had in a recording session?
I got hired for a big session I was very excited about. The band flew me into their town and provided a nice place to stay. When I got the recording schedule I thought the 11:00 p.m. call time was unusual, but it does happen. The studio had a party atmosphere and a group of people hanging around. As hours of slow set-up and working on string parts passed, the party around us got louder. I realized the producer was carrying around a rather large bag of cocaine, wired out of his head. Around 5:00 a.m. he started yelling and a fight broke out, the party was full on so no one noticed me exit the scene. I was not surprised to hear that record never got finished.
Find out more about Jessy by visiting her linktree: https://linktr.ee/jessygreene.