Who is the most underrated rapper?
In my humble opinion, I think Tech N9ne is easily the most underrated rapper. Why? His skills are easily at the G.O.A.T. level but, songs like "This Ring" flaunted those skills with a solid story. Tech N9ne also has another thing I admire—his business acumen. He is a "real" independent artist—owns a rehearsal space, is self-distributed, etc.
What are your favorite rap albums of all time? Why do you think they're important to the genre?
Public Enemy, It Takes a Nation of Millions…to Hold Us Back. Public Enemy was like The Black Panthers on wax. Good for the soul and Chuck D's voice made you want to suit up immediately!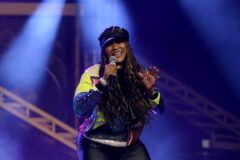 N.W.A, Straight Outta Compton. N.W.A brought an unapologetic introduction to the Westside. No matter who listens to Ice Cube's vocal delivery, it makes you wanna punch a muthafucka in the face. Westside fo' life!
Beastie Boys, Licensed To Ill. The Beastie Boys were like hip-hop meets a college house party. Funny as fuck, but it also maintained credibility.
Fifty years from now, in 2073, who will people still be talking about from hip hop 2023? Who will have a lasting impact?
1. Megan Thee Stallion. 2. Lil Baby. 3. Post Malone.
Interview by Kyle Eustice