Chuck D once famously called hip-hop the CNN of the Black community, the way people got the news. Is it still?
I totally agree. Hip-hop will always be the news because it is the voice of the young people, so whenever you want to know what is going on, all you need to do is definitely listen to hip-hop, and therefore you will get the latest news.
What is the news coming across, who is telling it most profoundly?
I would have to say that the truth is being told more today because people are not afraid to express themselves or even tell their secrets. Back in the days, people didn't really want to tell everyone everything that was happening with them, and now we have a lot of that in hip-hop. We show the darkest sides and tell the darkest secrets, so I would have to say that it's more truthful now. Before it was more like what we wanted it to be. Today, it's definitely what it is.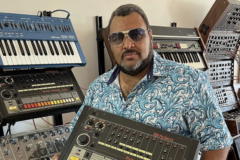 Fifty years from now, in 2073, who will people still be talking about from hip-hop 2023? Who will have a lasting impact?
They will still be talking about the Yankee Stadium concert on August 11. They will be talking about LL Cool J, Rock the Bells radio, and my Have a Nice Day show with Cool V. They will be talking about the hip-hop movies and documentaries.
They will definitely be talking about females in hip-hop because this is an incredible year and an incredible time for all of my hip-hop sisters, so honestly, 50 years from now, they will be talking about hip-hop women. Please believe it.
Interview with Kyle Eustice