Chuck D once called hip-hop the CNN of the Black community, the way people got the news. Is it still?
I think the news that's being communicated today is more subtle. Chuck and Public Enemy, as well as others like Nas, Jay-Z, DMX, Lil Wayne, Common, Mos Def, the Roots, Skillz, Ice Cube, Ice-T, 2Pac, Biggie, and Geto Boys were voicing a different type of viewpoint. Currently, there are a great many artists/MCs like J.Cole, Joey Bada$$, Kendrick Lamar, Keen Streetz, Kitty GATA, Boldy James, Rapsody, and Benny The Butcher, who give you a view of what it's like currently.
The key difference is what these artists cope with today versus what we dealt with and how we communicated that. It's not so much the challenges have changed — it's just the way the artists express themselves through their wordplay and flows.
Nothing new under the sun, only how we share it. Right now, the ones who I hear delivering the message for me are Nas, Boldy James, Kitty GATA, Scar Lip, OT The Real, Conway the Machine, Reuben Vincent, Vince Staples, Pusha T, Jadakiss, Rob49, Lil Baby, Sina Wynne — basically anything that Wayne616 produces, 'cause all his beats are crazy, and Neisha Neshae.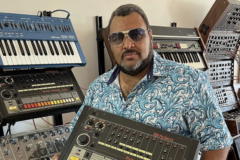 Fifty years ago, hip-hop started a revolution. Is another revolution possible now?
If you don't feel it, then you are spending too much time scrolling on your timeline and not truly listening. What is going on right now in music, in my own perspective, as we as some other music executives whom I admire all see, is the growing landscape of all sorts of great music being made all over the globe and the growing audiences in those countries. In the past, hip-hop was a subculture. We were music for the rebellious young people, the way rock and blues were before us. Even classical was first seen as "street music" before Mozart had his music commissioned by the kings.
Not only is it possible, it's happening. My hope is that we don't close our eyes to it, or worse. We call it "young folk music" and we ignore it. [Laughs.]
Fifty years from now, in 2073, who will people still be talking about from hip-hop 2023? Who will have a lasting impact?
My hope is it will be the pillars that we speak of in reverence today. Other music genres hold their elders in a different regard. We have started to make end roads there. As so many more artists begin to have multiple decades of success, like Busta Rhymes, Nas, Snoop, and as we begin to honor those that have died too early and we memorialize their music like Nipsey Hussle, Chinx, Stack Bundles, Big Pun, Big L, Biggie, 2Pac, MF DOOM, and Scott La Rock, we also love and honor those who are still moving this music culture forward. So artists like Jay-Z, Jay Electronica, O.C., Non-Phixion, EPMD, Nice & Smooth, Chubb Rock, MC Lyte, Antoinette, Biz Markie, Kool G Rap, the Fresh 3 MC's, Stetsasonic, De La Soul, Jungle Brothers, 3rd Bass, and any other artist who pushes the boundaries of how we hear rap music.
Looking back over the last 50 years, who is an unsung hero, someone who made a big impact on hip-hop who doesn't get credit?
This is an easy one for me because it's something that I think about a great deal. I break it down like this. Breakdancing: Marc "Mr. Freeze" Lemberger, the man who invented the moonwalk. He was a b-boy from The Bronx, famous for his moonwalk in Flashdance with the umbrella. Michael Jackson stole his shit. Period. While Michael is the King of Pop and a great singer, Marc never got his flowers.
Rap or emceeing: O.C. from his incredible punchline-filled guest verse on the Organized Konfusion classic single "Fudge Pudge," to his first two albums Word…Life and Jewelz, O.C. simply does not get the props he deserves.
Production: This one is close, but for me it's Paul C. Paul C was a producer/engineer in Queens who in many ways was responsible for the sounds of such iconic records from Eric B & Rakim to Large Professor and Kool G Rap. He was instrumental in building a sound that was later the blueprint for Nas' Illmatic and so many other classic records. Again, this is just my perspective.
Lastly, as a man who could have been as important to the music as any other executive, DJ Scott La Rock of Boogie Down Productions. He was a born leader, and I believe that, if he was alive, BBoy Records may have been as critical to hip-hop as Death Row or Cash Money. DJ would go to Cutmaster D.C. from Brooklyn. One of the first battle DJs to have a hit record—"Brooklyn's In The House"—as well as a skilled turntablist. He combined turntablism and showmanship with mic skills.
Interview with Kyle Eustice