Do you see hip-hop evolving in the next handful of years?
Absolutely. This is the 50th year of hip-hop. This is a genre that has transcended. It's about time that we give hip-hop the flowers it deserves. And what I mean by that is, the same way rock and roll was this mass umbrella genre that created many subgenres that went on to be acknowledged by award shows such as the Grammys and shit like that. It's that time for hip-hop as well.
Hip-hop, Black music, is the biggest genre in the world. That's what it is, that is pop music today. And it is way more than just hip-hop. The same way motherfuckers did sub-genres for rock and roll to make sure that Nine Inch Nails didn't interfere with the legacy of all of the votes, it's the same way we need to establish sub-genres and to respect subgenres in hip-hop. Future and Kendrick Lamar make two different types of music, and they're both equally great in their own right. It is about time that we look at hip-hop as more than just a single-dimension thing.
When was the first time you heard rap?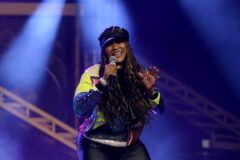 I want to say my earliest memories was hearing Biggie and Jay-Z. I was born in Brooklyn, and hearing them and knowing they were in such close proximity to me, it had a different type of effect. And they were also just amazing.
What do you think was the most important era in hip-hop?
I think every area is important because it's ever-changing, ever-evolving. I think every moment is important, and I think everybody deserves their recognition in their own regard. Everybody's doing different things, but it's Black self-expression.
Interview by Daniel Kohn