By 1984, hip-hop was in full force, but still in its infancy as far as narratives in cinema. Evolutionary movements in music have always moved more rapidly on the streets, where cultural gatekeeping erodes much faster than in either the film or music industries.
Hip-hop's origin story — DJ Kool Herc's 1973 Bronx dance party — channels a naturally visual mythos. In 1973, the world was still enthralled with disco, while Marvin Gaye, Pink Floyd, the Rolling Stones, Elton John, and Bruce Springsteen were all releasing landmark albums. William Friedkin's The Exorcist transformed the notion of horror, while key figures in the New American Cinema movement like George Lucas and Sidney Lumet released iconic films. Bruce Lee and Jim Kelly would influence a generation thanks to Enter the Dragon, and the Blaxploitation cinema movement birthed by Melvin Van Peebles gave us Richard Roundtree, Pam Grier, Jim Brown, Tamara Dobson, and Ron O'Neal, whose iconography influenced future generations. The birth of hip-hop arrived in the midst of tremendous political turmoil, as the U.S. left Vietnam and the Watergate hearings began, and Roe v. Wade came before the Supreme Court, legalizing abortion.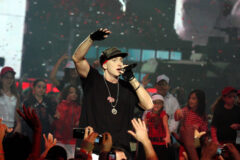 The nebulous realities of hip-hop don't allow for an easily definable genesis in cinema. What then, constitutes a "hip-hop film"? And how is it possible to discern the best or most notable, especially when taking into consideration products born for and by the culture, and those clearly produced by curious white counterparts?
Here's hip-hop in film, over the last 30 years.
1983: Style Wars
It would be years before an inextricable symbiosis between hip-hop and cinema was born, and in early depictions the music played a supporting character. However, 1983 would be a watershed moment with the arrival of Run-DMC, while Ice-T popularized gangsta rap.
The first film to delve into the culture would be Tony Silver's 1983 documentary Style Wars, which dealt primarily with breakdancing and graffiti, but provided a template for weaving rap into the soundtrack (including "The Message" from Grandmaster Flash and "Beat Bop" by Rammellzee and K-Rob).
Charlie Ahearn directed the first actual narrative film about hip-hop, Wild Style, released in late 1983, featuring graffiti artist Lee Quiñones and a whole slew of hip-hop trailblazers playing versions of themselves, including Fab 5 Freddy, Lady Pink, and the Rock Steady Crew, among others. Ahearn's plot is a bit iffy but roughly circulates around a curious white journalist (who is introduced with a soundtrack cue of Blondie's "Rapture") taking an interest in the graffiti artists. A year later, director Stan Lathan would release Beat Street starring Rae Dawn Chong, about rival dance crews, the highlight of which is a high-energy dance-off that feels like a template for Gaspar Noe's dance gonzo freakout Climax (2018).
The Mid-'80s: Breakin' and Rappin'
Whereas Beat Street feels more designed by the culture it depicted, 1984 was also the year of another generational-defining cult classic: Breakin' from white director Joel Silberg, featuring legendary dance moments from Adolfo "Shabba Doo" Quiñones and Michael "Boogaloo Shrimp" Chambers, who form a breakdance trio with an unlikely white woman played by Lucinda Dickey.
The film's success saw the release of an even more over-the-top sequel the same year, Breakin' 2: Electric Boogaloo. Ice-T plays himself in both films, giving live performances. The success of these films would lead to something a bit more risible from Silberg: 1985's Rappin', starring Mario Van Peebles, dubbed over by Ice-T and Master Gee of the Sugarhill Gang (whose younger brother starred in the film).
These movies had dancers and graffiti taking precedence over the music. It took accomplished director Michael Schultz (Cooley High, The Last Dragon) to craft the first successful hip-hop musical, 1985's Krush Groove, starring Blair Underwood and based loosely on the life of Russell Simmons at the onset of his Def Jam days. The narrative follows the creation of a hip-hop label, the energy and wit providing the spirit Silberg would copy in Rappin' (including a cutesy, disastrously cheesy rap about eating). This first cycle of hip-hop titles exemplified the commonly-known four core tenets of hip-hop: DJing, rapping, graffiti painting, and breakdancing.
In these early movies, the cultural divide remains troublingly clear, with white Americans balking at a visibility demanded by a culture they had no intention of making room for. As evidenced in Style Wars, New York mayor Ed Koch, along with a handful of celebrities, including Irene Cara, sought to dissuade the city's youth from defacing public property with graffiti, a campaign of shame referred to as the "War on Graffiti," which saw Koch trying to implement the use of wild wolves in subway car yards. Police brutality, instead, ensued, leading to the death of graffiti artist Michael Stewart upon being arrested for tagging (the impetus for Radio Raheem in Spike Lee's Do the Right Thing, as well as Jean-Michel Basquiat's now-famous painting "Defacement").
The violence would spur the rise of Public Enemy.
Rumbling on the sidelines are the first women of hip-hop, such as Salt-N-Pepa and MC Lyte, confronting the glass ceiling of the still male-dominated industry and some less-than-welcoming masculine posturing. Fifteen-year-old Roxanne Shante was a trailblazer, though her talents were also demeaned by some of her male counterparts, rather than celebrated.
Late '80s to Early '90s
As the '80s came to a close, then, the relationship between hip-hop and film became increasingly defined by soundtrack, which stretched into the burst of Black auteurs and actors who would flourish through the '90s. Spike Lee's Do the Right Thing (1989), John Singleton's Boyz n the Hood (1991), Ernest Dickerson's Juice (1992), and the Hughes Brothers' Menace II Society (1993) are all seminal soundtracks where music and cinema are harmonious. Lee employed Public Enemy's "Fight the Power," while Singleton utilized star Ice Cube and a whole list of notables, including 2 Live Crew, Tevin Campbell, Quincy Jones, Yolanda Whitaker, and Tony! Toni Toné! Notably, both titles premiered at the Cannes Film Festival.
In this same era, new jack swing (also known as swingbeat), credited to Teddy Riley and combining elements of R&B and hip-hop, gave rise to another crop of musical artists whose work would proliferate soundtracks of the 1990s, including Full Force, and producers Jimmy Jam and Terry Lewis famously fostered the ascension of Janet Jackson. And it would be remiss to forget Mario Van Peebles' spectacular debut, New Jack City (1991) amongst these soundtracks, which included — eclectically — Ice-T, Essence, Keith Sweat, and Johnny Gill.
Two of Tupac's most significant early acting roles, in Juice (1992) and Above the Rim (1994), also featured exceptional soundtracks. Dickerson curated Cypress Hill, Naughty by Nature and Big Daddy Kane to bolster his iconic debut movie, while white director Jeff Pollack (who directed Booty Call in 1997) featured the Lady of Rage, Thug Life and Al B. Sure! And the House Party franchise starring Kid 'n Play kicked off in 1990, their characters' musical aspirations expanding by the 1991 sequel, where Iman plays a greedy record exec trying to take advantage of them.
F. Gary Gray directed an iconic juggernaut in 1995 with Friday, the soundtrack featuring the film's star and scribe, Ice Cube, plus Cypress Hill. The success of this paved the way for a number of hip-hop adjacent comedies within the boom of Black independent cinema going on throughout the decade (although by the early 2000s, there was a growing and ridiculous resentment toward rap stars taking roles from "actors").
One of the most neglected offerings from this period is Rusty Cundieff's mockumentary, Fear of a Black Hat (perhaps overshadowed by Tamra Davis' similar CB4 from the same year, featuring Chris Rock). Cundieff, who also directed Sprung and Tales from the Hood, stars as the member of a fictional hip-hip group, N.W.H., the subjects of a documentary being made by a journalist, Nina, played by Kasi Lemmons (who would go on to direct Eve's Bayou in 1997, the first film directed by a Black woman to play in multiplex theaters).
Nina is a character well ahead of her time, and Cundieff doesn't shy away from the troubling misogyny normalized in hip-hop's early days (even Martha Wash gets an homage of vindication for her voice being credited to the thinner women starring in her videos).
On the lighter side of things would also be Paris Barclay's 1996 comedy classic Don't Be a Menace to South Central While Drinking Your Juice in the Hood, with a soundtrack featuring Lil' Kim, Jodeci, and Ghostface Killah.
As hip-hop infiltrated and assimilated, cultural critiques of misogyny and homophobia plagued its acceptability amongst white society. The infamous rivalry between East and West Coast rappers, resulting in the murders of Tupac Shakur (whose filmography prior to his death suggested he would become a transfiguring leading man in Hollywood) and the Notorious B.I.G. would close out a decade of strife and infamy, stymying the rise of hip-hop's leading women, many who would also find success in cinema.
Their representation in '90s cinema was limited, led by F. Gary Gray's Set It Off (1996) as a groundbreaking standalone moment also featuring a distinguished soundtrack, with Queen Latifah making an iconic impression, jumping from Grammy winner (for "U.N.I.T.Y." in 1995), to television personality in Living Single, to film star.
At the tail end of this Black cinematic renaissance is Hype Williams' debut, Belly (1998), featuring Nas, DMX, and Method Man, while Malik Sayeed's cinematography assisted in creating one of the most beautifully shot Neo-noirs of the 1990s. Meanwhile, RZA and the Wu-Tang Clan would bolster the significance of Jim Jarmusch's Ghost Dog: The Way of the Samurai (1999), starring Forest Whitaker.
The 2000s found hip-hop in film undergoing a transformation, and profitability dictated its output. Method Man and Redman headlined 2001's How High, which followed in the footsteps of the ridiculous (and woefully dated) I Got the Hook Up (1998) featuring Master P.
The 2000s
In these early years of the new century, Mekhi Phifer was a connective tissue between all sorts of notable projects, both good and bad, starring in Charles Stone III's Paid in Full, a film with one of the best soundtracks from these years (heavily featuring Jay-Z). Phifer would also star opposite Beyoncé in Robert Townsend's greatest misfire, Carmen: A Hip Hopera (2001), a made-for-television film which included Mos Def as one of the victims in its wreckage.
Hip-hop's prowess would be victimized in the likes of Bille Woodruff's nonsensical Honey (2003), which made a star out of Jessica Alba, who, not surprisingly, later vocalized her ignorance about the necessity of screenwriters. It was also the year someone thought it was a good idea to green light Malibu's Most Wanted, with Jamie Kennedy as a rich white kid who thinks he's Black, and whose father hires two Black actors to kidnap his son and scare him out of his dreams to be a rapper. On the other end of the spectrum of white contributions, Craig Brewer would direct one of the best films about hip-hop ever made with the rags-to-riches odyssey Hustle & Flow (2005), starring Terrence Howard in an Oscar-nominated performance as a Memphis pimp who decides to become a rapper, featuring Ludacris, Anthony Anderson, and a phenomenal Taraji P. Henson. The song "It's Hard Out Here for a Pimp" took home an Academy Award for Best Original Song.
The early 2000s also saw hip-hop enter another cinematic phase with director Curtis Hanson's 8 Mile (2002), the fictionalized story of Eminem, starring the real Eminem (Marshall Mathers) set in 1995 Detroit. Critically acclaimed (and winning the Oscar for Best Original Song with "Lose Yourself"), it would open the door for a handful of others, to varying degrees of success.
Irish director Jim Sheridan surely wasn't the greatest fit to head 50 Cent's story in Get Rich or Die Tryin' (2005), while George Tillman Jr.'s Notorious (2009) and Benny Boom's All Eyez on Me (2017) were each a bit underwhelming in the depictions of the Notorious B.I.G. and Tupac, respectively. However, Roxanne Shante's story in Michael Larnell's Roxanne, Roxanne (2017) is a well-performed, enjoyable portrayal, featuring Chanté Adams and Nia Long.
However, the most significant hip-hop film of the last decade is F. Gary Gray's runaway hit Straight Outta Compton, depicting the rise and fall of N.W.A. Despite its troubled production, a stellar cast led by Ice Cube's son O'Shea Jackson Jr. (playing his own father), Corey Hawkins, Aldis Hodge, and Jason Mitchell, signaled a change in shifting attitudes regarding mainstream acceptance, though not without convenient blindspots. As usual, the degradation of Black women in hip-hop is avoided in Gray's film, which suggests Straight Outta Compton should be shown as a double feature with Janice Cooke's Surviving Compton: Dre, Suge, and Michel'le (2016), the latter narrating her own story of abuse at the hands of Dr. Dre and Suge Knight, both of whom she had children with.
2016 saw the short-lived Netflix series The Get Down from showrunner Baz Luhrmann, charting the origins of hip-hop through a group of teenagers, who are mentored by Grandmaster Flash (played by Mamoudou Athie). The cancellation of the series suggests Luhrmann's (who directed the first episode) hyper-stylization and a penchant for schmaltz might have had more to do with its demise than interest in the subject matter, which remains ripe for reclamation.
The representation of women in hip-hop has, not surprisingly, been relegated to the sidelines until recently. Their proliferation as fictional characters is nearly as sparse as their biopics. But there are a few standouts.
One is RZA's 2017 title Love Beats Rhymes, which deserves automatic credit for making lead star Azealia Banks seem sympathetic and appealing, given her public persona. It's the story of a young woman learning to find her creativity, juxtaposing an age-old conflict between institutions which deride rap and praise poetry. Jill Scott gives a deliciously campy turn as a sexpot academic formatted as Banks' enemy, smiling like the Cheshire Cat as she introduces Banks derisively as a "hip-hop poet."
Shortly after, Radha Blank became a breakout in 2020 with her directorial debut, The Forty-Year-Old Version, playing a woman struggling with the same cultural divide between worlds: hip-hop vs. the white bread institution of the New York City theater scene. Television has allowed for more vivacious opportunities to showcase Black women, notably in Charles Stone III's well-received CraxySexyCool: The TLC Story (featuring Keke Palmer, Lil Mama, and Drew Sidora), and 2021's American Gangster Presents: Big 50 – The Delrhonda Hood Story, with Remy Ma playing the titular head of an infamous Detroit drug empire.
While women have rarely been given their due regarding their contributions to hip-hop, one of the major gifts the culture is receiving for its 50th birthday is the new four-part Netflix series Ladies First: A Story of Women in Hip-Hop. A historical recuperation providing a timeline of Black women's empowerment, this is a must-see exercise in their contributions to the movement. The series charts a timeline highlighting early figures from Sha-Rock to Roxanne Shanté to MC Lyte and Salt-N-Pepa, and conveys the explosion of women in hip-hop as pioneers.
The degradation of several key figures, such as Dee Barnes, who was assaulted by Dr. Dre, and Sister Souljah, demonized by President Bill Clinton, are important pit stops. Likewise, Drew Dixon, robbed of credit for uniting Method Man (with the help of P. Diddy) and Mary J. Blige on the Grammy-winning track "I'll Be There for You/You're All I Need to Get By." Yo-yo, Rah Digga, April Walker, and Queen Latifah discuss their early successes which bridged an evolution including Lauryn Hill, Lil' Kim, Foxy Brown, Eve, Trina, and Missy Elliott.
When juxtaposed with hip-hop documentaries from a previous era, such as Peter Spirer's 1997 Rhyme & Reason, where women are afforded a truncated montage of mentions, it's a testament to how much hip-hop has progressed. Queer hip-hop artists such as Chika and Young M.A reflect on their abilities to claim their authentic identities at the beginning of their career, made all the more significant when compared to the experiences of Queen Latifah and Da Brat.
As a culture with multifaceted origins, any tabulation of either its best or worst assets is impractical, as hip-hop burst outward from a few originating constellations. As the artform has changed and progressed, it's informed and underscored music and cinema to a degree where its various elements are an irrevocable part of our creative DNA, and perhaps is a litmus test determining where we've been and where we're going, as time marches on and hip-hop keeps flowing.
As we wish a happy 50th to the innumerable luminaries of hip-hop, a grand sentiment from the Queen of hip-hop soul, Mary J. Blige, perhaps says it best in her track "Just Fine": "No time for moping around. Are you kidding? And no time for negative vibes 'cause I'm winning."
Watch Nick and his husband Joseph review (and spoil) films on their YouTube channel, Fish Jelly Film Reviews. Their podcast of the same name is available everywhere.