DJ Shadow returns to the largely instrumental roots of his beloved earliest work on Action Adventure, a new album arriving Oct. 27 from Mass Appeal/Liquid Amber. The 14-track project is led by the peppy, synth-powered single "Ozone Scraper," which is accompanied by a video filmed in Uzbekistan and directed by Stefano Ottaviano.
"I didn't want to write music that was formatted for vocalists. I wanted to write music that flexed different energies," says Shadow, whose previous album, 2019's Our Pathetic Age, featured a host of top rappers such as Nas, De La Soul, Run the Jewels, Ghostface Killah, Raekwon, and Lateef the Truthspeaker. "This is about my relationship to music. My life as a collector and curator. All my records and tapes, and no one else's."
To craft the music on Action Adventure, Shadow mined his extensive record collection for items he'd never previously sampled, including 1980s R&B 12-inches and a collection of home recordings from the same time period taped off a multi-genre Baltimore-area radio station.
Shadow's lone upcoming tour dates comprise appearances alongside Cloud Conductor, Luke Vibert, Justin Martin, and Mr. Bill at the Submersion Festival in Hammonton, N.J., on Oct. 6, and two dates in tandem with Thievery Corporation on Oct. 21 in Denver and the following night in Chicago.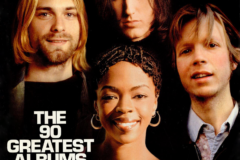 Here is the track list for Action Adventure:
"Ozone Scraper"
"All My"
"Time and Space"
"Craig, Ingels, & Wrighston"
"Witches Vs. Warlocks"
"A Narrow Escape"
"You Played Me"
"Free for All"
"The Prophecy"
"Friend or Foe"
"Fleeting Youth (An Audible Life)"
"Reflecting Pool"
"Forever Changed"
"She's Evolving"