Danger Mouse and Jemini's Born Again album was recorded in 2004 but, for reasons never quite explained, was never publicly released. The project will finally see the light of day Aug. 25 through Lex Records, with lead track "Brooklyn Basquiat" arriving today (Aug. 3).
Born Again's unveiling will come 20 years after Danger Mouse and Jemini released their debut album, Ghetto Pop Life, which was also Danger Mouse's first-ever release. Born Again is described as having "markedly more introspective and confessional tone" than Ghetto Pop Life, with Jemini in particular rapping about his time in prison, his difficult relationship with his father, and redemption.
Danger Mouse and Jemini have not worked together since 2004, with the former going on to mainstream success with his group Gnarls Barkley and serving as a producer on projects with everyone from Gorillaz and the Black Keys to U2 and Red Hot Chili Peppers. Jemini changed his performing name to Big City several years ago but apparently hasn't released any new music since.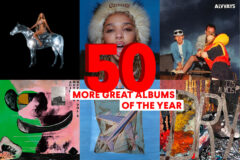 Danger Mouse & Jemini Born Again tracklist:
All I
Locked Up
Me
Knuckle Sandwich II
Born Again
Brooklyn Basquiat
Walk the Walk
Where You From
Dear Poppa
World Music