What's a classic hip-hop album that flew under the radar?
In Full Gear by Stetsasonic.
Favorite rap crew of all time?
Run-DMC. Period. They moved rap into the rock arena sphere.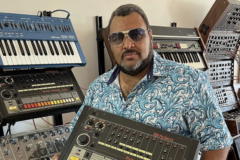 Looking back over the last 50 years, who is an unsung hero, someone who made a big impact on hip-hop who doesn't get credit?
MC Shan doesn't get enough credit. Andre "Doctor Dre" Brown of Yo! MTV Raps and Original Concept doesn't get enough credit.
Interview with Kyle Eustice