This article originally appeared in the April 1993 issue of SPIN.
Climbing the stairs from Manhattan's 157th Street subway station on a chilly Saturday afternoon, I hear a young Hispanic guy in front of me chanting "Hip Hop Hooray"'s hook—"He-e-e-e-y! Ho! He-e-e-e-y! Ho!"—like a mantra. Naughty By Nature's new single, with its smooth, rolling beats and infectious chorus, sank itself almost immediately into the mass consciousness of my old Washington Heights neighborhood. Seconds later, I pass a crowded takeout chicken joint on the same block. Inside, a teenage homegirl and her little brother are playing a sloppy game of patty cake as they wait for their snack boxes, using the cadences of "Hip Hop Hooray" to syncopate their hand jive. And, though I haven't lived in the 'hood for 15 years, the song has been doing heavy time on my Walkman all day.
The 'hood has spoken. Naughty By Nature's new one is gonna be massive. He-e-e-e-y! Ho!
Naughty By Nature is good-bad, but it ain't evil. Sure the trio of East Orange, New Jersey, rappers—Treach, Vinnie, and Kay Gee—used to clock (sell drugs), yoke jokers, and pop shit back in the day. They might still knock back a 40 or two of Olde English, but they're not hard rocks. Not really. At bottom they're kids, barely into their 20s, in love with hip-hop, amazed and proud to be on the vanguard of the freshest music scene.
Even NBN's breakout smash, that definitive hymn to infidelity, "O.P.P.," had a heart, even a moral of sorts: fuck around, don't get caught, and try to make sure no one gets hurt. On "Hip Hop Hooray," lead rapper and resident sex symbol Treach addresses a verse to his presumable main squeeze, who's just called him out on his stepping out. In his confident, fluid style, Treach breaks it down for her: "Hey, I did your partner / 'Cos she's hot as a baker / 'Cos I'm Naughty By Nature / Not 'cos I hatecha . . . You try to act like somethin' really big is missin' / Even though my name's graffiti-written on ya kitten." Well, even if those words aren't likely to placate many women who've caught their men cheating on them, Treach isn't fronting. In fact, there's something almost charming about his frankness, the absence of malice in his honesty.
Naughty By Nature are homies with heart, happy to have left behind the world of drug dealing to bring their message of hope through hip-hop to a few more ghetto bastards. They're a bridge between the daisy age and the gangsta era.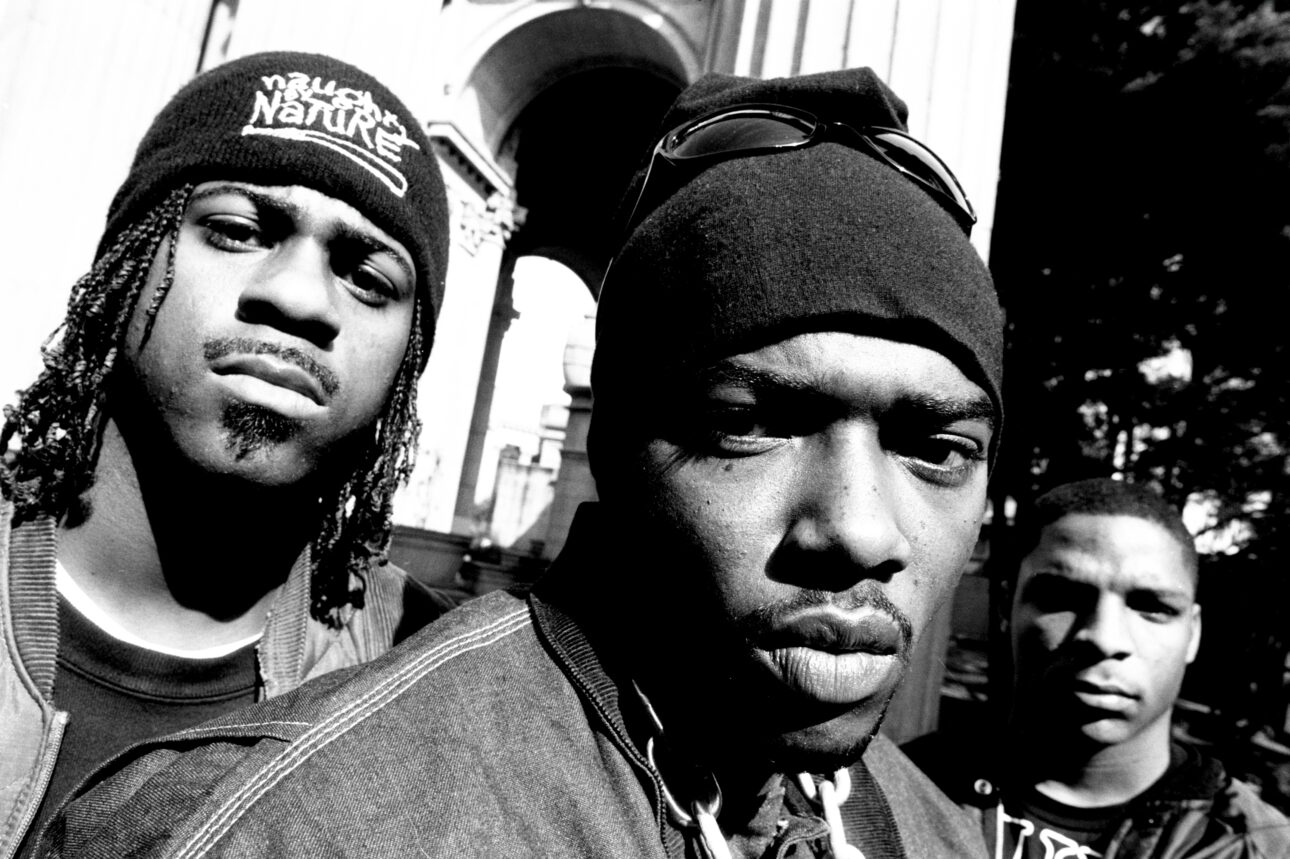 The NBN story began at East Orange High School, where Anthony Criss (Treach), Vincent Brown (Vinnie), and Kier Gist (Kay Gee) first hooked up and started rapping for kicks—Treach as lead MC, Kay Gee as DJ, Vinnie as second rapper. A high school talent show convinced them to try to go pro. Christening themselves the New Style—yes, after the Beastie Boys track—they recorded an album for the indie label Bon Ami, Independent Leaders, that sank without a trace.
In 1989, the group began sending out the demo containing "O.P.P.," to no avail at first. ("Motherfuckers were scared of it," laughs Treach. "I'll bet there's a hundred motherfuckers with that tape still in their offices, kicking themselves in the ass.") Then the group hooked up with a local girl made good, Queen Latifah, who became a fan. Latifah took their tape to Warner Bros., who appropriated the New Style—renamed Naughty By Nature—for its rap subsidiary, Tommy Boy.
"We got Naughty By Nature signed," Latifah says, "because the group was so hungry, even though they had problems the first time out. They still stayed strong."
The boys were so fresh from the 'hood that they brought their street approach, literally, to the recording studio. "When we were mixing the first album, we would make a cassette, and they'd go out to the car to check the sound," says Daegal Bennett, owner of Hillside Sound Studio, in Englewood, New Jersey. "They did that every time. It was an old 1970s rustbucket."
The label got behind "O.P.P." big-time, and the single went double platinum. Laurel Dann, Jive Records' production director, remembers the excitement in the industry surrounding the release of "O.P.P." "Our West Coast A&R guy tossed the cassette to me before it hit the stores," she says. "'You're gonna love this,' he promised. I did—that hardcore edge in a musical setting that was both accessible and melodic. That's what separates Naughty By Nature from the vast majority of hip-hop contenders."
The followup single to "O.P.P.," "Everything's Gonna Be Alright," was a scathing autobiographical portrait of the dead-end life of a "ghetto bastard"—both Treach and Vinnie grew up in fatherless homes—hooked with a Bob Marley sample that belied the song's bleak message and imbued it with an aura of redemption. Included on NBN's debut album, Naughty By Nature, both "O.P.P." and "Everything's Gonna Be Alright" cemented the group's status as hip-hop heroes who could rap convincingly about subjects ranging from sexual appetites to political powerlessness.
The Flavor Unit, the management company that represents NBN and a growing cadre of other hip-hop acts, is housed in a renovated firehouse on a shabby street in Jersey City. Inside, young black men and women buzz in and out of the reception area, navigating around each other with faxes, tapes, cartons of takeout Chinese food. This is rap's legacy: young black capitalists on the move. Sort of like Naughty By Nature, who turned their negatives into positives when they invested the money they made dealing drugs in studio time, eventually recording the demo tape that included "O.P.P." and got them signed to Tommy Boy.
On 19NaughtyIII, the new album, there's a track called "The Only Ones" on which the group proclaims, "Any connection in the drug game / We don't, we don't, we don't." Treach does, however, have some thoughts about his days as a clocker. "Hey, I did what I had to do on the street so I could get mine and not have to do it no more," he says. "A lot of black brothers and sisters that are out there hustling now don't put their money into anything productive. We didn't put our money into jewelry or cars or anything like that. We put it into studio time. And, once we got signed, we cut [drug dealing] out completely."
Treach's advice to blacks in the drug trade is as hard-line and practical as his outlook on making it with the next homie's girl: "Get your money and don't spend it on stupid shit. Get some collateral and credit together and open your own business, something legitimate. You don't have to be a singer or a rapper or an athlete. Put your money behind your own thing. That's what this country was built on. You can't expect to be in an illegal business and not get busted up sooner or later."
I also want to ask NBN about a little ditty that wags have been singing on the party circuit recently: "If you're down with O.P.P., you're down with HIV." While hip-hop artists are generally fairly sophisticated about safe sex—scores of them boast on their records of wearing "jimmy hats"—that rhyme does serve to point up the fact that not everyone is down wit' O.P.P.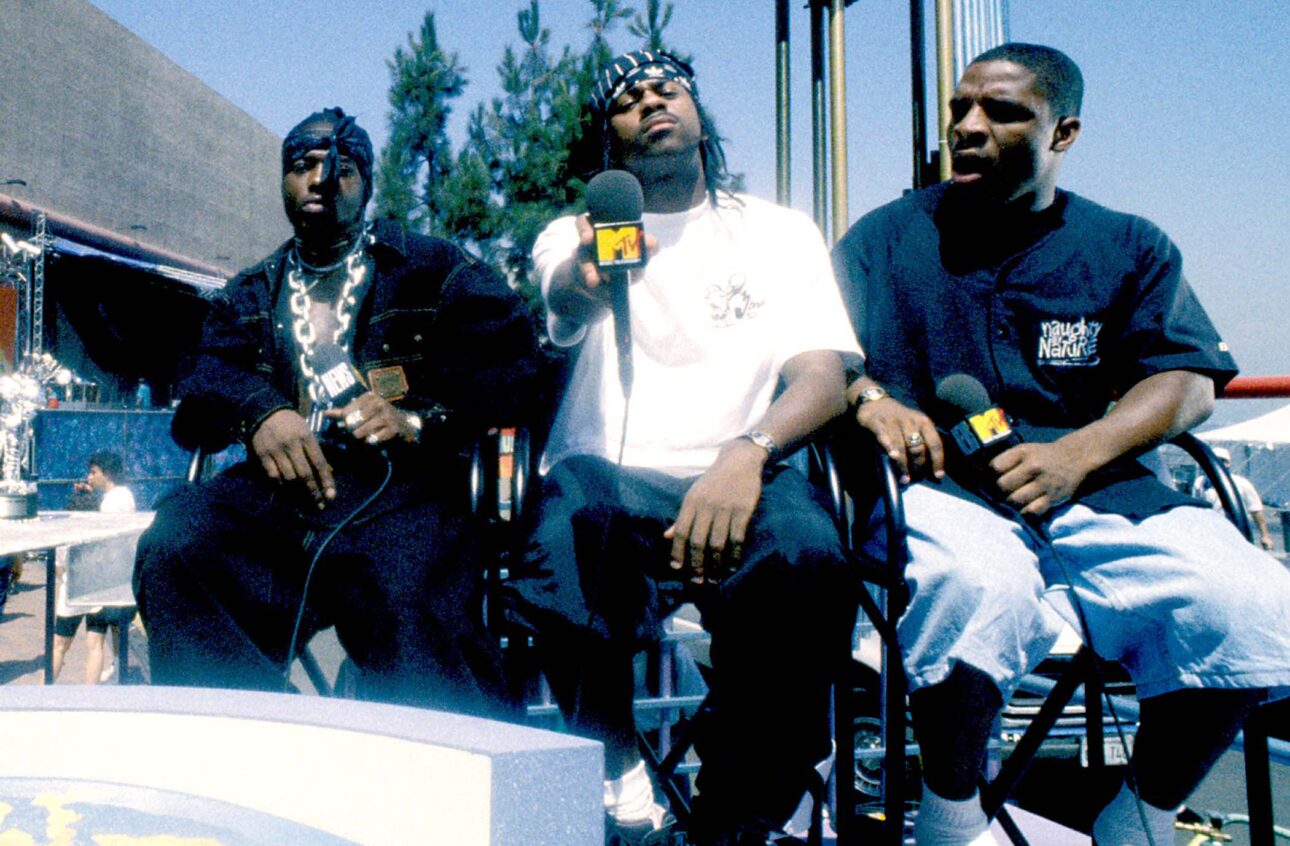 "Those are the people who aren't getting any who say that!" shouts Vinnie.
Treach: "Being promiscuous is nothing new. Husbands and wives are gettin' divorced every day 'cause they're each doin' what they gotta do. It goes on all the time. We were just blatant about calling attention to it." He points out that "Hip Hop Hooray" includes a message about respecting black women, as well as the surprising lines, "I love black women all ways / Let's start our family today."
So is there a steady woman in his life?
"Naw. I'm doin' so much traveling and stuff, I really don't have time for it. Plus, I'm still young."
Flexing his right fist—which sports a "118" tattoo, signifying 18th Street in East Orange, the block where he grew up, with 100 added to represent 100 "down niggas"—Treach proclaims that the New Jersey rap family comprised of the Rotten Rascals, Redman, NBN, Apache, and the Cruddy Click, a group of NBN protégés from the same neighborhood who were featured on 19NaughtyIII, will be "the native tongues of the '90s." He says almost all of the Jersey rappers will be featured on an upcoming single, "Roll Wit tha Flava," scheduled to be the first release by the newly-formed Flavor Unit record label.
"There's no real message, it's just a freestyle thing," says Treach. "Jersey in the house. People used to come up and say, 'We didn't even know there was black people in Jersey. We thought it was all beaches and shores and shit. We didn't know there was ghettos.' But there's always been a lot of talent coming out of our area. Even Whitney Houston is from Illtown [Newark]."
"Flavor Unit has become a trendsetter, because Naughty has opened doors for groups such as Kris Kross and TLC," says Queen Latifah. "Naughty By Nature crossed us over to the mainstream to allow freedom to do such songs as 'Gansta Bitch' by Apache."
19NaughtyIII features a mess of live keyboards and bass and some choice samples of everything from reggae to bebop. There's plenty of boasting and toasting ("I'm a pass the mike like a hot potato," from "Hot Potato"), a lot of—maybe too many—"shout outs" to friends and family, some social commentary ("Daddy Was a Street Corner"), and a lot of funk.
"People who've heard [the new album] are saying it's harder than the last record," says Treach. "We weren't trying to make it harder or softer or more musical or more this or that or the other. It just represents what we felt at the time. Everything we do comes out of personal experience."
NBN may be stars, but they're still fans at heart, impressed to be traveling in the same circles as their heroes. There's a measure of awe in Treach's voice when he talks about working with director Spike Lee—"a living legend"—who directed the video for "Hip Hop Hooray." And they're genuinely excited that they got to collaborate with Run-D.M.C. on an upcoming song. They grow defensive of the Hollis, Queens, rap pioneers when it's suggested that Run-D.M.C. are past their prime, and have been eclipsed by newer jacks.
"It's like a cycle," says Treach. "They helped us out by opening the doors, now we're gonna help them out. The skills—they still have them. They'll never lose them. Wait till you hear their next album, you'll see."
"We toured with them in Philly last summer and I said to them, we want y'all to produce a song. We like Naughty By Nature the best of anybody," says Run of Run-D.M.C.
"They still have their die-hard fans. I'm one of them," says Vinnie fervently.
Just as NBN sticks up for their old-school faves, they also refuse to be drawn into controversy about newer groups like Das EFX, who some hip-hop watchers have accused of appropriating NBN's style a little too completely. "That's bullshit," says Treach. "They've got their own style, and it's slammin'. Das gets nothing but peace from us."
There's a zealousness in NBN's embrace of hip hop as a musical form, a stance, a lifestyle that eclipses all else. They're lifers. Try picturing them in 30 years. I see Treach like Keith Richards; grizzly, wizened but still full of piss and vinegar, able to freestyle fluently at the drop of a beat. Listen for their manifesto, coming soon from a jeep or street corner near you.