Jane Birkin, a British-born singer, actress, and activist who rose to fame in the late 1960s thanks to her personal and professional relationship with legendary French singer Serge Gainsbourg, has died at the age of 76. French media reported Birkin was found dead at her Paris home, following a series of health issues in recent years.
Birkin became a sensation after appearing nude in the classic 1966 Michelangelo Antonioni film Blow-Up, and two years later starred alongside Gainsbourg, who was 40 at the time, in the French comedy Slogan. Although never married, the couple would spend the next 13 years together in fits and starts and became international celebrities, especially thanks to their risqué 1968 song "Je t'aime … moi non plus," was which was banned in several countries but became a No. 1 hit on the U.K. Singles Chart.
While with Gainsbourg, Birkin continued to record music and act in films such as 1978's Agatha Christie adaptation of Death on the Nile. After their split, she gained further recognition for her acting and garnered three nominations for the French equivalent of the Oscars, beginning with 1985's La Pirate. Birkin's status as a style icon was cemented with the Hermés Birkin handbag, which was introduced in 1984.
Birkin had a child with Gainsbourg, Charlotte, who became an acclaimed actor and singer. A daughter from a pre-Gainsbourg relationship with James Bond composer John Barry, Kate Barry, died in 2013 at the age of 46. Birkin's third child, the singer Lou Doillon, was fathered by French director Jacques Doillon.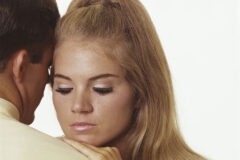 In recent years, she scaled back her performing and acting schedules but paid tribute to Gainsbourg with a 2017 orchestral album of his songs, Birkin/Gainsbourg: Le Symphonique. She also collaborated with musicians like Portishead's Beth Gibbons, who wrote on Twitter, "I'm so sad to hear that Jane Birkin has gone. She was such a beautiful, generous and kind soul. She was one of the nicest people I've worked with and always made me feel so at ease."
Birkin suffered a stroke in 2021 and was forced to postpone several Paris shows scheduled for this spring after breaking her shoulder in March 2022.