Animal Collective has set a Sept. 29 release date for its next Domino album, Isn't It Now?, which features material the experimental-leaning quartet road-tested on tour throughout 2022. On the heels of the recently released 22-minute song "Defeat," the group has now unveiled the album's opening track, "Soul Capturer."
The nine-song Isn't It Now? was produced by Russell Elevado, who is best-known for his two-time Grammy-winning work on D'Angelo's Voodoo and Black Messiah albums. It took shape during the same 2019 writing sessions at a cabin in Leiper's Fork, Tenn., which eventually birthed Animal Collective's 2022 album Time Skiffs.
Even before that project, the band was already playing other songs earmarked for Isn't It Now?, including "King's Walk," which has been part of its live repertoire since 2019. Nearly all of the other tracks were in regular rotation on the 2022 tour, with "Defeat" and "Genie's Open" both being performed at 35 of the 53 shows.
Isn't It Now? clocks in at 64 minutes, making it the longest Animal Collective album to date. As of now, the group's has no shows scheduled for this year, although group member Panda Bear is touring in tandem with Spacemen 3's Sonic Boom throughout the summer and fall in support of their latest album, Reset. Group member Avey Tare is also embarking on a fall North American tour, beginning Sept. 19 in Toronto.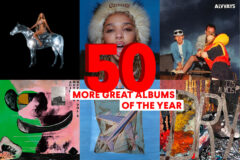 Here is the track list for Isn't It Now?:
Soul Capturer
Genie's Open
Broke Zodiac
Magicians From Baltimore
Defeat
Gem & I
Stride Rite
All the Clubs Are Broken
King's Walk