"We just did an interview with a progressive rock magazine," says singer/songwriter/vocalist Galen Ayers cheerfully during her Zoom chat with SPIN. "So Paul's feeling a bit defensive." She begins to laugh, "He thinks he may have been in the wrong pub!"
The "Paul" in question is Paul Simonon, bassist, vocalist, and visual auteur of The Clash. If the late Joe Strummer was the poetic heart of the band, Simonon was the conceptual engine, equal parts switchblade danger and gangster cool. The man who wrote the tungsten-hard declaration "Guns of Brixton," whose legend was cemented when photographer Pennie Smith caught him punishing the stage of the Palladium in New York with his bass guitar for the cover of The Clash's masterpiece, London Calling. His punk credentials are eternal, and greater than yours.
The charming Galen (pronounced "gallon") Ayers has a fine rock pedigree herself. She's the daughter of Kevin Ayers, the late singer/songwriter and multi-instrumentalist who was a noted part of British progressive rock history with his brief participation in the legendary prog/jazz fusion ensemble Soft Machine. The elder Ayers released an array of solo records where his troubadour soul weaved and bobbed between prog's complexity and an eccentric sophistication that tickled the meninges of fans damaged by Syd Barrett's withdrawal from the public. She's one-half of the female pop duo Siskin, and released a solo album, Monument, last year.
However, the deconstruction of Ayers and Simonon's histories doesn't really prepare you for Can We Do Tomorrow Another Day? their recently released collaboration made under pandemic lockdown in Spain. The 10 tracks here don't take any side in any seemingly eternal punk vs. prog culture war. Instead, Ayers and Simonon slung acoustic guitars to create songs that have more in common with Nancy Sinatra and Lee Hazelwood, Johnny and June Carter Cash, and Francoise Hardy. The duo's output conjures hints of the late Julee Cruise teaming with David Lynch, or perhaps Jean Seberg and Jean-Paul Belmondo on the set of Jean-Luc Godard's Breathless.
While the duo are aided and abetted with an impressive roll call including Damon Albarn, Simon Tong (the Verve), Dan Donovan (Big Audio Dynamite), Seb Rochford (Polar Bear, Room of Katinas), and longtime David Bowie producer Tony Visconti, the real charm here is Simonon and Ayers' chemistry. Ayers' passport (born in France, raised in Spain) is on display with her flawless Spanish delivery ("Mi Camino," "Hacia Arriba," No Es Necesario"). "Room at the Top" has a vibe somewhere between Tex-Mex and a lost Stiff Records single by Nick Lowe. And don't fight the urge to smile wide at the jaunty "Never Had a Good Time in Paris," where they play a slightly prickly couple vacationing somewhere they can't stand — for different reasons.
Of course, punks with a certain length of tooth may be expec… uh, demanding "Guns of Brixton 2023." Plus, Ayers' widescreen and cosmopolitan Monument produces no evidence of the genesis of Another Day. The first single, the gentrification lament "Lonely Town," comes off closer to a product of the legendary Sun Studios, and not Britain's punk birthplace, the 100 Club. But considering how punk and post-punk opened up minds in the '80s the same way progressive rock did in the early '60s, Ayers and Simonon could very well steer new generations of listeners toward everything from French ye'-ye' pop to the post-punk samba of Weekend. If that sense of discovery drives up the price of vinyl sides by Serge Gainsbourg and Jacques Dutronc at the used record store, who cares? No one needs your stinking gatekeeping.
For our interview, the duo convened at Simonon's London home, sharing a couch, building upon each other's commentaries, and sometimes finishing each other's sentences. Simonon seems a little guarded, seemingly downplaying his musical and cultural accomplishments both in the past and present. This is not to insinuate he's standoffish: when asked about the story behind the record's most somber song, "The Lighthouse Keeper," he reveals, "It's really just the emotional moments where you question your stability and you're waiting for rescue." He pauses to add, "I can't really say much more, otherwise I'll burst into tears." He looks at Ayers as if to say "get me out of here," and she responds with enthusiasm about the song in question, from the final arrangement they settled upon to her brother's enthusiastic obsession with the finished product. It's not a scenario you'd place a tough punk into, but the juxtaposition is fascinating — as is their album.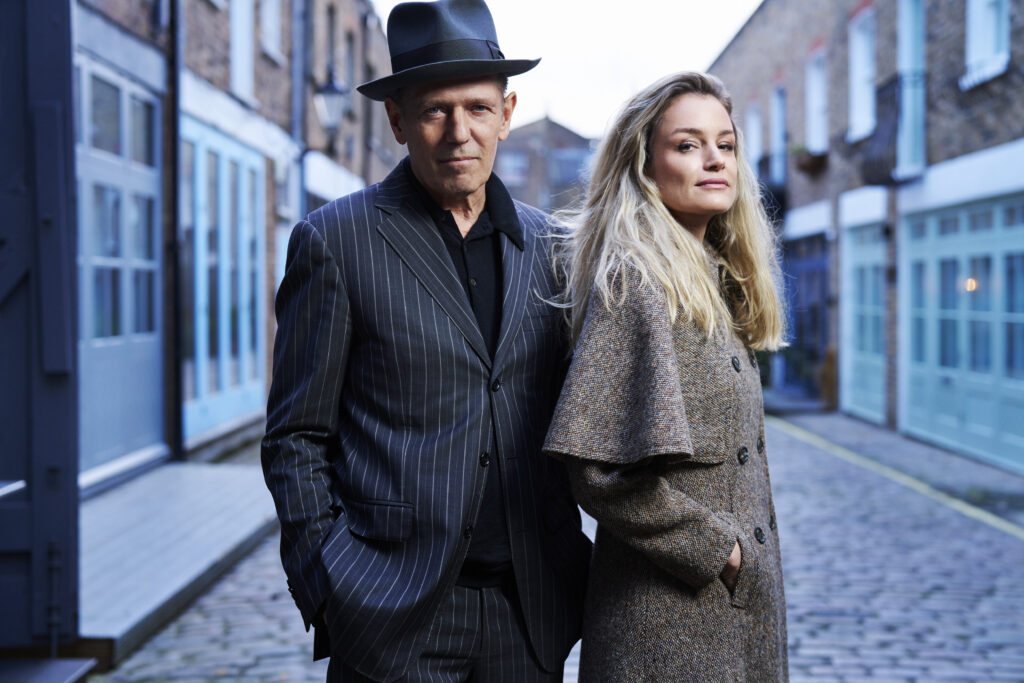 SPIN: Can We Do Tomorrow Another Day feels like the best record of 1965. You two went to make a record and you built a time machine instead. I'm definitely not saying that in a pejorative way. It reminds me of a lot of classic things: June and Johnny, Lee and Nancy — these kinds of music archetypes.
Galen Ayers: There's definitely a trend of people going back. But somebody said to me, "It's so funny because everybody's going back to the '90s and you guys are going all the way back to the '60s."
There are these wonderful cultural intersections. "I've Never Had a Good Time in Paris" is great. I feel like I'm on vacation with you two. Did you do a couple of takes of that with a different conversation? Because it doesn't sound like anything you wrote a script off of.
Paul Simonon: It's all off the cuff.
Ayers: The actual song was written just hanging out and just making each other laugh. And then the last bit, the banter, is just the one take of us going in the studio and being silly.
I was hoping you would say that. Ultimately, the thing here is it's all about the vibe. It doesn't really owe to anything you two have previously done. I was just listening to Galen's Monument album before we got on the phone. It doesn't sound like that and it certainly doesn't sound like anything that Paul has done before in any type of strict form.
Ayers: That's nice of you to say, because that was one of our parameters. You could say, "Why revisit the past" because we're all obviously museums. But it was the idea of staying open in the present to create something different, which is why it was fun to have the Spanish element and the different styles.
Simonon: Yeah. Some of the sound is sort of from another time, but then there are elements that are relatively new and some of the lyrics are current to present-day situations, like you mentioned about "I've Never Had a Good Time in Paris." It does allude to the idea of last year, Liverpool fans were tear-gassed in Paris because [law enforcement] assumed that they were causing a problem — and they weren't. So there's elements like that, and "Lonely Town" is about that sort of gentrification that has taken place all over the world. It certainly has in Spain and Great Britain and London, you know.
I have to say that if it wasn't for the combined forces of prog and punk rock, I wouldn't have learned anything about music, because all that horrible American corporate rock I endured in my youth said nothing to me. But through punk and prog, I learned about everything from reggae and tango and Algerian rai and all sorts of wild genres I love to this day.
Simonon: It's about having an open mind and a worldview rather than being constricted by where you grew up. It's open-minded. I listen to all types of music from Indian to you name it — just maybe not heavy metal. I have a problem with that, because I can't dance to it. I don't know how you would do it.
Ayers: I think that's one of the elements that allowed [the album] to work. I mean, it's only been a year for the whole project, which is a short time for something to happen.
Simonon: One of the things that is really key to this conversation is the fact that the songs were written with an acoustic guitar in a traditional way. There's no technology other than modern-day equipment. It's not like we're trying to compete with, like, having our voices changed or machines. It's just human voices and guitars and drums in a live room, really.
Ayers: And jokes aside, when you grab a Syd Barrett song or play The Clash on an acoustic, there's great songs behind them, right? Songwriting is the element that we both love. We definitely had that. Paul and I love just playing the guitar and singing together. And if it works that way, we know everything else is great decoration or enhancing parts, you know?
I really think this record is in the spirit of punk in that it's in the discovery. What should listeners take away from the project? I don't think there's anything like this record currently that has any kind of great presence that sticks out. There are a lot of singer/songwriter records, but they all sound like a Wednesday open-mic night. Admittedly, that might be me being cynical…
Ayers: Just so I understand: when you said the idea of discovery and that being a punk sentiment, I would argue/add that I think if you want to talk in terms of discovery, I would say progressive rock as a whole was more of an inward discovery. And punk perhaps was more of the objective [addressing] what was around. We found that in our songwriting, actually. We commented on that, that I tend to be much more inward. I believe in emotional revelations. I'm not saying that you can't; it's not binary, obviously, because we experience subjective and objective. But because Paul's lyrics [to Simonon], as you say, you tend to look at what's around you. I tend to kind of feel my way through things and see what it means to me and play around with those ideas. That notion in society is very much a tangle of ideas. Is that fair to say that? I think in progressive rock, we listen to Pink Floyd lyrics, you know, "Wish You Were Here" or whatever, there is kind of a more…. what's the word I'm looking for? Introverted.
I have arty prog-rock friends and old-school punk-rock ones. One of the punk-rock guys was completely incensed by the first single, "Lonely Town." His response to it was, "What the hell is this, Chris Isaak?" I'm thinking that if the record really upsets somebody from the old-punk guard like that, maybe that has the propensity to turn people onto other things.
Simonon: It's healthy. It's challenging…
Ayers: It's a life well-lived. [Music is] a life where you live many lives…
Simonon: And it's boring to repeat one's self.
Absolutely. Because knowing the type of person that you are through your body of work, the last thing you're going to do is "Guns of Brixton 2023." It's simply not going to happen. I think a lot of people, for all of their talk about being into new ideas and different things, should probably just get a pint of STFU and sit in the corner and sip it quietly.
Simonon: It's down to the younger generation to write about what affects them in this time now. I'm not that age anymore. I have a different life experience. But that said, we have one song that's called "It's Another Night" and it mentions homelessness. There's people sleeping on the street. That's the nature of writing. You can say, "Oh, we're on the bus and maybe going here, we can have a great night." But at the same time, "There's homeless people that sleep on the street on the cardboard sheet." Rather than just talking about homeless people, it's also giving you a little mention about how this is reality.
The content sounds classic but the sentiments are contemporary. Let's pretend Paul's not on the call. The thing I find absolutely fascinating about Paul is that I don't think there's ever been a moment where he's interested in going backwards. When it came to reuniting his old band for the Rock Hall or doing something sonically similar to Havana 3am, he doesn't do it. Instead, he's making thoroughly modern records with Damon Albarn. He's the kind of guy who gets in a car and breaks off the rearview mirror because he's not going to use it. And I think this album is another level to that.
Ayers: It's strange because I just got given this book, which I really like, My Week Beats Your Year by Lou Reed. Most of the book is him complaining that people go to his shows to see if he's going to die. And they were like, "Well, your best song is the song 'Heroin.' So what are you doing? Get offstage." And actually, the whole book is about, "Well, fuck you. Here I am. And I'm still on my best song." You know, it works. Paul definitely has that…
Simonon: Yeah, well, to be honest, the only way to go forward is to do things on your own terms. Then you can't complain about anything if you did it your way, right? And not rely on any financial cushion. Surely, to be creative is to explore.
Ayers: [to SPIN] You're right. I think a lot of people would lean back on what they'd done before. But Paul doesn't seem to have that need.
I am reminded of that quote from the political drama film, The Contender: "Principles only mean something when you stick to them when it's inconvenient." Have you ever been in this situation where you could really benefit from a project, but it pisses you off so much, you simply won't do it?
Simonon: I have an internal thermometer that either goes high or low. I'm just over being in teenage magazines, flexing my arms or whatever. I think I just know instinctively, "I don't want to do that. I want to do that." I don't want to waste my time or anybody else's.
Ayers: Integrity is based on the decisions you make when no one's watching. If you're making a decision to get glory or to manipulate the way people see [things] that's not necessarily integrity. Integrity is the decisions you make — the little ones when no one's watching.
Fair enough. Is there anything that you wanted to get across about the collaboration or any wisdom you'd like to impart to the cross-section of listeners reading this?
Simonon: I'd say whatever situation you're in, if you can express yourself creatively, it's the one that's going to help you to sort it out, if you're feeling down. Write it down or try and get a guitar just to learn a way to communicate — even just putting pen to paper about your feelings.
Ayers: And I would add: remember, it's your own life.