Over the past decade, criminal justice reform has become a hotbed issue. Those in favor say it disproportionally impacts minorities. Not one who is afraid to speak his mind, indie singer-songwriter Bartees Strange has used his social media platforms to highlight the issues that are important to him.
With regards to criminal justice, Strange draws from a personal experience to highlight why reform is urgently needed.
"My brother was in prison for a long time. I know the impact that has on a person and on a family — the ripple of it," Strange told SPIN editorial director Daniel Kohn. "When I think about America and its struggles with racism, it's painful to truly recognize how many millions of lives have been impacted by imprisonment that is over the line."
More specifically, he points to how minorities have faced harsh sentences for minor crimes that he says are fueled by racism.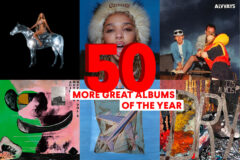 "Right now we're seeing the long-term impacts of that," he says. "You have entire races of people who have trouble getting ahead in so many ways, and then you have this government-funded organization that pushes you into the ground at every turn."
As for the first steps on how to fix things, Strange has a simple solution.
"There are countries that don't have people going to prison for tens of years for minor offenses. I would say that's the first thing I want to see changed."
Watch more of our interview with Bartees Strange below.
Subscribe to SPIN on YouTube and check out more videos from our SPIN IMPACT series in the playlist below: