When the mist started to sprinkle and the audience began spilling out of the second of two Willie Nelson 90th birthday concerts last night (April 30) at Los Angeles' Hollywood Bowl, the music icon still had one last surprise in store, in the form of Rolling Stones guitarist Keith Richards.
By the time the pair finished duets on Donnie Fritts' "We Had It All" and Billy Joe Shaver's "Live Forever" with support from Nelson's son Lukas, fans in the venue were left marveling at another standout moment in a career chock full of them. After all, Nelson is just about the only person who could serve as the link between Richards and night one set closer Snoop Dogg.
And as evidenced by testimonials given throughout the weekend by musicians and celebrities such as Chelsea Handler, Woody Harrelson, Dame Helen Mirren and Ethan Hawke, Nelson remains a revered pop culture figure. Beck shared the tale of how Nelson made a cameo in his "Jack-Ass" video and why it remains a career highlight for him, and before he sang "Funny How Time Slips Away," Dave Matthews joked about how Nelson once got him so stoned before a show that he could barely move (to add to the hilarity, Matthews' mom has a photo from that night framed in her home).
As with the first installment of the show the previous night, there were pairings that may never happen again. Norah Jones and Kris Kristofferson teamed for "Help Me Through the Night," while Bob Weir enlisted Billy Strings and Margo Price for "Stay All Night." The evening's non-Willie highlight was when the children of country supergroup the Highwaymen joined forces for their fathers' late-career song of the same name. Shooter Jennings, Rosanne Cash, Lukas and Micah Nelson elicited the night's loudest, non-Richards cheers.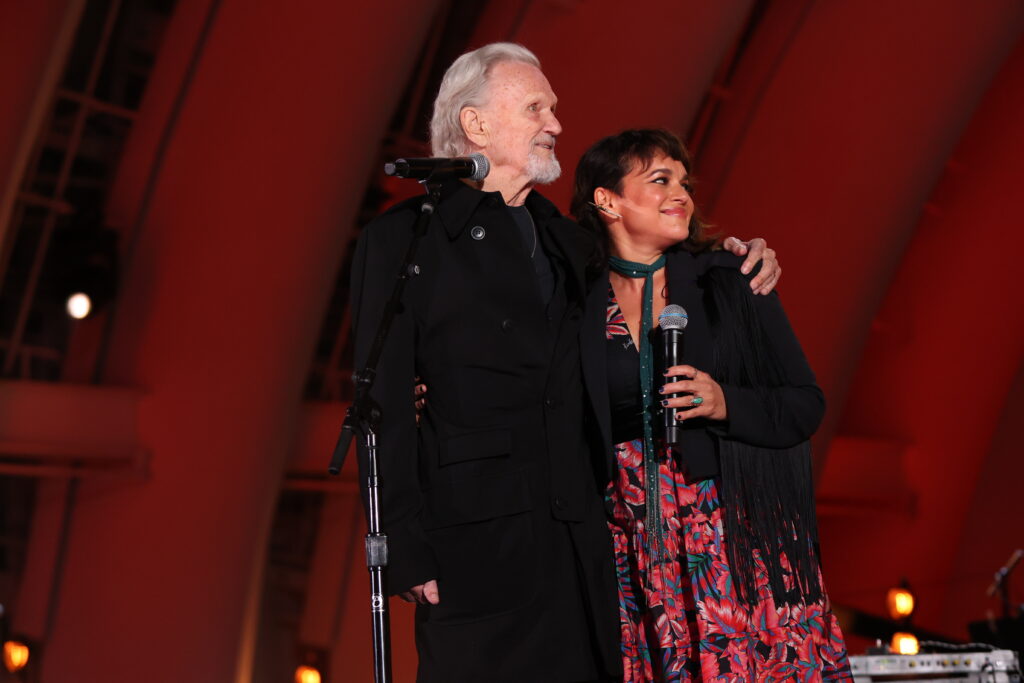 Other highlights included Emmylou Harris duetting with Rodney Crowell and Daniel Lanois, respectively, Orville Peck's performance of "Cowboys Are Secretly in Love With Each Other" and the Avett Brothers taking on "Pick Up the Tempo" and "Heaven and Hell." Keeping with the theme of sharing Nelson-related marijuana stories, Sheryl Crow told the crowd before she performed "Crazy" that Nelson was the only person to offer her father a joint.
Once again, though, Nelson was the night's main event. During his eight-song set, Nelson teamed with Crow for a stirring version of "Far Away Pieces," the newly released "California Sober" with Billy Strings, and "Stardust" with Booker T. Jones. Despite myriad sound problems, Nelson was relaxed and cheerful on stage, and really, what else would you expect? With new material on the way with longtime producer Buddy Cannon, Nelson clearly has no intentions of slowing down.