Welcome to Band Jury, a SPIN series in which artists defend black sheep albums they feel deserve another listen. These are projects that, for whatever reason (middling sales, negative reviews, a misunderstood stylistic shift), have fallen slightly out of fashion — or perhaps never reached it to begin with.
The Defender: Conrad Keely

Qualifications: Singer, songwriter, producer, multi-instrumentalist of long-running art-rock band …And You Will Know Us By the Trail of Dead, who released their most recent album, XI: Bleed Here Now, in 2022; solo musician; visual artist; human who enjoys music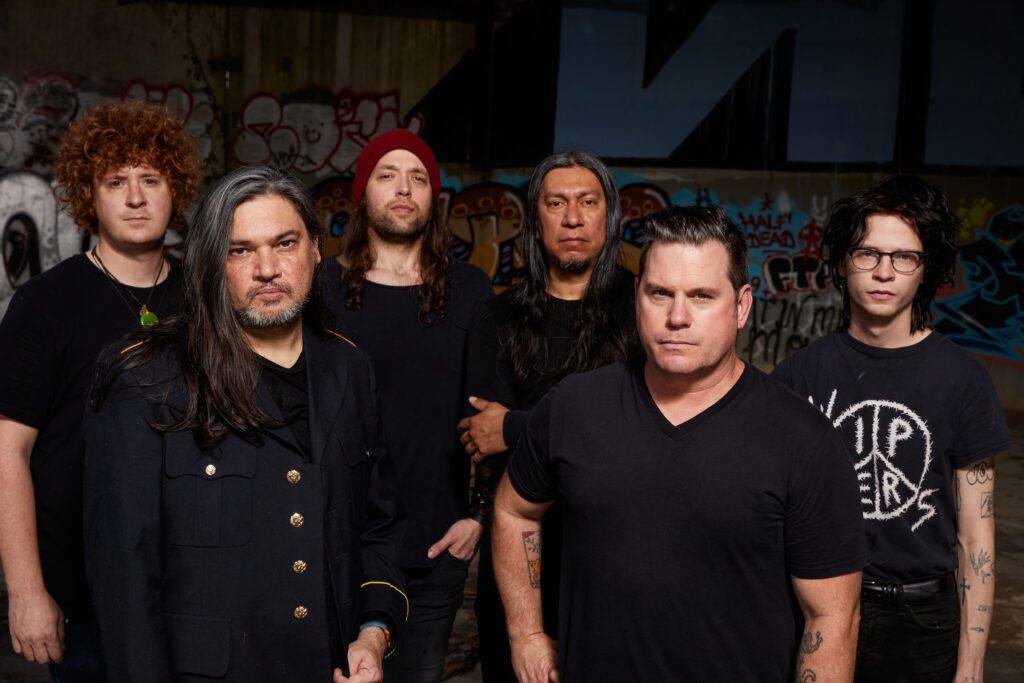 The Defended: Talking Heads' 1988 album, Naked

Overview: Warm critical reception has mellowed over the years; reached No. 19 on the Billboard 200; spawned two modestly charting singles, "Blind" (No. 39 on rock chart) and "(Nothing) But Flowers" (No. 5 on rock chart); worst score on fan-review site RateYourMusic
Conrad Keely used to hate Talking Heads.
"[They] built this career out of such shitty fucking records," he tells SPIN. "They've got a few good songs or whatever, but 'Psycho Killer' is the one that's always synced onto film and stuff. It's a fucking stupid song. It's about absolutely nothing. You've got Remain in Light and Fear of Music and all that — they're all these extended, obnoxious-sounding jams."
But Keely, co-leader of …And You Will Know Us By the Trail of Dead, was immediately captivated by Naked, Talking Heads' eighth and final LP. This was back in 1991, a few years after release, when the music landscape was dominated by, in his words, "all that horrible Soundgarden shit" — and Naked's "futuristic" arrangements and clever, "post-apocalyptic" imagery stood out.
Naked revisited the band's blend of funk-rock, worldbeat, and densely layered art-pop after a pair of more conventional, New Wave-y projects, 1985's Little Creatures and 1986's True Stories. And while it earned widely positive reviews upon its initial release — even reaching No. 24 on The Village Voice's annual critics poll, Pazz & Jop — its reputation has cooled a bit over time.
For example, while Rolling Stone originally awarded the LP four out of five stars, the 2004 Rolling Stone Album Guide later doled out a two-star assessment, claiming "the Heads' theoretical approach to polyrhythms [sounded] smug and fussy." In 1990, Chicago Tribune's Greg Kot described the record as "lively but unfocused." Most notably, Robert Christgau, reviewing a 2003 box set, wrote in his Consumer Guide, "Third disc loaded with True Stories and Naked, which I once thought overrated. I was wrong. They sucked." Without a signature single, the album also fell short of the multi-platinum sales Talking Heads enjoyed in the early to mid-'80s.
Most crucially, there's the fan reception. As of this writing, Naked has the band's lowest score, a middling 2.93/5.0, on RateYourMusic. (By comparison, their first five LPs hover around a 4.0 — 1980's Remain in Light has a 4.26.) Some of the most aggressive critiques include "a sad end to a long, creative career" and "what before sounded esoteric and visionary now sounds arrogant and ignorant."
Keely couldn't disagree more with the "fucking stupid" listening public.
"This band, who have made a huge career out of an extremely mediocre body of work," he says, "suddenly put out a record that has real poignancy."
SPIN: This album is the band's lowest-ranked on RYM. But it clearly resonates with you. When did you first hear it?

Conrad Keely: I was 19 years old. It was 1991. We were in the Northwest, and we were in the middle of the grunge era when all that horrible Soundgarden shit was coming out. Then we got into Talking Heads' Naked, which had come out a few years before that. It's one of those albums where you don't like it at first or you think it's weird. You don't know how to wrap your head around it.
Were you already a Talking Heads fan at that point?
The [playing] is great. Tina Weymouth is a fucking amazing bass player. But as a lyricist and a singer, it's like…this is not brilliant music. Then you've got an album like Naked where the Talking Heads finally get around to saying something. When you listen to it these days, it's amazing how prophetic some of these songs are. You've got [sings] "It once was a parking lot / Now it's a field of flowers." [Conrad was basically combining a few lyrics from "(Nothing But) Flowers."] It's projecting this kind of dystopian, post-apocalyptic thing. Like the song ["The Facts of Life"], about human nature and stuff.
Nonetheless, it's never received the same accolades as, say, Remain in Light or More Songs About Buildings and Food or Fear of Music…
It's ironic to me, [given] how fucking stupid the listening public of this planet is, that when this band, who have made a huge career out of an extremely mediocre body of work, suddenly put out a record that has real poignancy… It has political songs: "The Facts of Life," "The Democratic Circus…" It opens up with "Blind," which is such a powerful thing about people being blind. It wasn't called a concept record — they didn't say it was. But when you listen to it as a whole, it has that cohesiveness. The songs are punchy. The production is probably them at their best. But it's their lowest-ranked record on RateYourMusic.
Stop Making Sense, Speaking in Tongues — for a long time, David Byrne's lyrics were ambiguous, built on sound and vibe more than meaning. But this album, like it or not, was definitely more overt and pointed.
It's when he started to make sense. Stop Making Sense was literal — "I've got a girlfriend who's better than that"? It doesn't make any sense. [Naked] is when he was like, "I'm going to start putting some depth into the music." Maybe it was the lack of response, but they never really followed up with anything, and after that it was almost like they fizzled out as a band.
What do you think of the album sonically? It's very organic and loaded with instrumentation: horns and African percussion and pedal-steel. Johnny Marr even plays on four tracks.
It has a futuristic sound. I can listen to it now, and it sounds like it could have been released a couple years ago. It has a really timeless quality about it. But I think, lyrically speaking, he was at his peak. He was writing about topical things that were almost predicting things that were happening, things that were to come. Kind of getting into the essence of human nature, which is one of my favorite [lyrical] topics.
"Naked" is referring to the naked state of primates. There's a monkey on the album cover, and one of the things I've always believed is that, if we were to analyze ourselves and all our social-political motivations on a primate level, it makes things so much easier to understand. You look at conflict these days — you look at a photograph of Putin with his obsequious gang of people around him. I don't see some fucking world leader or genius. He's an ape. And all these people are exhibiting primate behavior, and he's exhibiting his own primate behavior. When it all comes down it, we're all just a bunch of fucking monkeys. We've never outgrown that core part of ourselves. We never will unless we transcend our bodies. We're primates.
The lyrics clearly resonate with you. Do you have any favorite passages?
This is a beautiful image: "Years ago, I was an angry young man / I'd pretend I was a billboard, standing tall by the side of the road / I fell in love with the beautiful highway" — that is some real beautiful poetry and imagery, and it evokes something about Americana. At least back then, billboards on the side of the highway were an American thing. You don't really get that in the U.K. or Germany so much. When you say that, it evokes America in such a beautiful way.
That's something I've always felt is really important — even with our latest album [XI: Bleed Here Now], I wanted to evoke where it was made: "This is an American band in America right now. Not some band trying to be fucking British or European or whatever." This is something they really succeeded at with this album: It's not patriotic, but it paints a picture of America — "The Democratic circus," the Dairy Queens. These things are so uniquely American. Not in a pretty way, obviously. Strip malls and highways, there's nothing beautiful about them. But if you try to evoke the land you live in and observe, the beauty comes out of that.
Did Naked inspire any …Trail of Dead songs?
"The Facts of Life" directly inspired the song "Life" from our album So Divided. It has that really plodding feel. I remember when we finished mixing our record, I just walked around the New York subway listening to it, and it was that intense song with that feel inspired by that Talking Heads track.
Do you think people just romanticize bands' early work?
People are so stuck on this nostalgia thing. Maybe if we were more of a nostalgia band, people would have found us easier, thinking we could just rewrite Source Tags & Codes 100 million times. With an album like Naked that does have a futuristic sound, it defies the people who want to listen to Talking Heads and be reminded of the cozy days of the early '80s. That's why people always use "Psycho Killer" instead of something that's a lot more broad and intellectually stimulating.