Every year, social media starts to fill up with summer festival posters boasting dozens of bands, DJs and rappers, from household names to regional obscurities, and music fans start budgeting for tickets and travel. Festivals where you could see more than a handful of popular acts were a rare novelty when rock counterculture first exploded in the 1960s, but now it's possible to see an incredible amount of live music in one place.
Even after the success of the original Woodstock, truly huge festivals only seemed to come along every few years. In the 1990s, traveling festivals like Lollapalooza, H.O.R.D.E. and The Warped Tour redefined how many bands could go on the road together. In the new millennium, though, music fans began flocking to destination festivals like Coachella in California or Bonnaroo in Tennessee, relishing the chance to spend a weekend or two seeing dozens of favorite artists. But what are the greatest musical festival lineups of all time? Let's pour a glass of smooth Bourbon and take a look back at ten festivals that pulled together a truly incredible collection of talent, presented in partnership with Larceny Bourbon.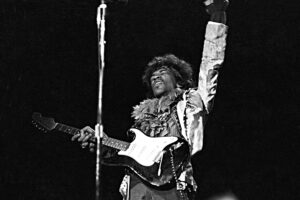 The Monterey International Pop Festival (1967)
The Monterey International Pop Festival was a watershed moment for the "Summer of Love" that flowered in California in 1967. Organized by producer Lou Adler and British journalist Derek Taylor, Monterey Pop was eagerly anticipated for the first major concert appearances on U.S. soil for The Who and the Jimi Hendrix Experience. Hendrix played his guitar with his teeth, and ended his set by lighting his instrument on fire. Big Brother and the Holding Company's explosive performance of "Ball and Chain" was widely credited with turning Janis Joplin into a major star, and Monterey was considered one of Otis Redding's greatest performances, less than six months before his untimely death.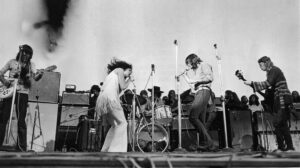 Woodstock (1969)
Several performers from Monterey Pop convened on Max Yasgur's farm in Bethel, New York for another festival two summers later, including Hendrix and The Who. Woodstock became an even bigger moment for '60s rock, however, bringing together defining acts of the era including Creedence Clearwater Revival, Sly and the Family Stone, Santana, The Grateful Dead, and Jefferson Airplane. The supergroup Crosby, Stills & Nash played one of its first performances expanded to a quartet with Neil Young, and later CSNY recorded a hit rendition of "Woodstock," a song Joni Mitchell wrote after missing the festival.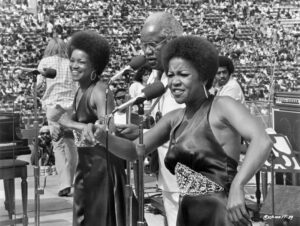 Wattstax (1972)
Woodstock was a clear inspiration when pioneering Memphis soul label Stax Records decided to name its Wattstax festival, held in Watts in southern Los Angeles on the seventh anniversary of the 1965 Watts Rebellion. Wattstax was a legendary summit for Black pop in its own right, spawning a live album and concert film. Stax artists Isaac Hayes, The Staple Singers, Rufus Thomas, The Bar-Kays, and Eddie Floyd all performed, and the Reverend Jesse Jackson was the emcee for the marathon day of performances at the Los Angeles Memorial Coliseum.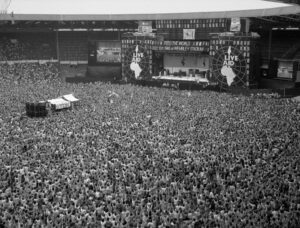 Live Aid (1985)
After Boomtown Rats frontman Bob Geldof organized the 1984 charity single "Do They Know It's Christmas?" to raise funds to combat famine in Ethiopia, he decided to up the ante with a massive international concert to benefit the same cause. Held simultaneously in London and Philadelphia on July 13, 1985, Live Aid was a transatlantic event featuring Elton John, David Bowie, a reunited Led Zeppelin, and Phil Collins, who took a Concorde jet in order to perform at both concerts. Bono jumped into the audience for a performance that turned U2 into international stars, and Queen rose to the occasion with one of the most legendary festival sets of all time.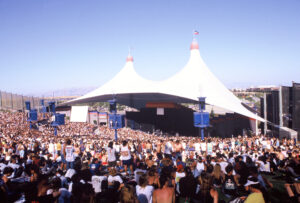 Lollapalooza (1992)
Perry Farrell founded Lollapalooza in 1991 as a sendoff for his band Jane's Addiction before their breakup. Turning the idea of an alternative rock festival tour into an annual summer tradition, however, Lollapalooza truly became a cultural force in its second year with headliners including Red Hot Chili Peppers, Ice Cube, Ministry, and Jesus And Mary Chain, and side stage upstarts like Tool and Rage Against the Machine. The rapidly exploding Seattle bands Pearl Jam and Soundgarden became the star attractions of the second Lollapalooza, however, with some rare performances by the supergroup featuring members of both bands, Temple of the Dog.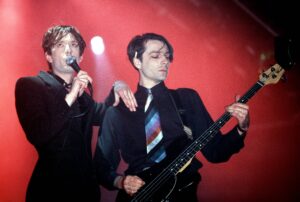 Glastonbury (1995)
Pilton, Somerset had been the site of one of England's most beloved annual rock festivals since 1970. Glastonbury's most legendary year was 1995, at the height of the Britpop movement, when so many fans without tickets jumped the security fence that attendance is believed to have doubled from the previous year. Oasis, Elastica, The Cure, Jeff Buckley, and PJ Harvey all performed. But when The Stone Roses had to cancel at the last minute, the far lesser known Pulp were selected to take their slot, and a climactic performance of their just-released hit "Common People" helped the band become champions of the Britpop era.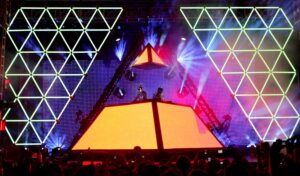 Coachella (2006)
Founded in 1999, the Coachella Valley Music and Arts Festival reshaped the American concert industry in the early 2000s, with a move towards star-studded destination festivals in places like the Colorado Desert. Alternative rock veterans Depeche Mode and Tool headlined the 2006 edition of Coachella alongside indie rock's top young bands like Bloc Party and The Yeah Yeah Yeahs. It was Daft Punk's legendary set, debuting a massive pyramid-shaped stage set, that made Coachella memorable that year, pointing the way towards how dance music would become a crucial part of most rock festivals in the years ahead.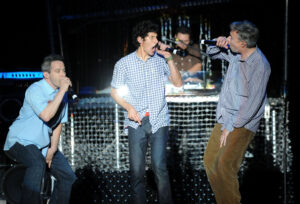 Bonnaroo (2009)
The Bonnaroo Music and Arts Festival began in Manchester, Tennessee in 2002. Leaning more towards jam bands and roots rock than counterparts like Coachella, Bonnaroo has frequently hosted Phish, Widespread Panic, and performances by members of The Grateful Dead. Bonnaroo gradually diversified over the years, though, and in 2009 Phish headlined alongside Bruce Springsteen & The E Street Band, who played a 3-hour set that thrilled from "Badlands" to "Dancing In The Dark." Beastie Boys fans didn't know it at the time, but the trio's Bonnaroo set would be their final live performance before Adam Yauch's death three years later.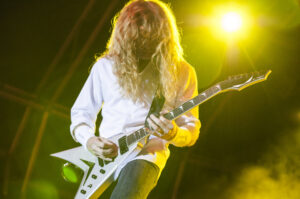 The Sonisphere Festival (2010)
When American heavy metal became faster and more intricate in the 1980s, a few bands emerged as the "big four" that defined the popular new subgenre of thrash: Metallica, Slayer, and Megadeth from California, and Anthrax from New York. Given that Megadeth frontman Dave Mustaine had been kicked out of Metallica and the bands had feuded on and off for years, it seemed unlikely that thrash fans would ever see the big four all on the same bill. Decades after those bands changed the course of heavy music, however, it finally happened at The Sonisphere Festival in Warsaw, Poland. The event, which fans also watched live in hundreds of movie theaters across America and Europe, featured members of all four bands jamming together on a cover of "Am I Evil?" by the influential British band Diamond Head.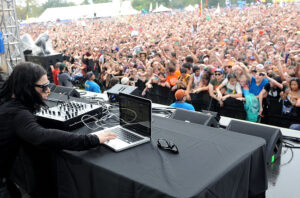 Austin City Limits Music Festival (2011)
PBS began airing the live music series Austin City Limits in 1974, helping burnish the Texas town's reputation as "the live music capital of the world." It didn't become a full-scale annual festival until 2002, however. The festival's 10th year was its most impressively star-studded to date, with an intergenerational lineup including Stevie Wonder, Coldplay, Kanye West, Arcade Fire, Nas, Alison Krauss, and My Morning Jacket. 

John E. Fitzgerald Larceny®. Bardstown, KY 46% Alc./Vol. © 2023