Printed simply on the back cover of the new Foo Fighters album But Here We Are are four words that pretty much say all one needs to know about its reason for existence: "For Virginia and Taylor."
Taylor, of course, is drummer Taylor Hawkins, whose sudden death in Colombia in March 2022 rocked the band to its foundation. Virginia is Dave Grohl's ever-supportive, rock'n'roll-loving mom, who also died last summer at the age of 84. Although there's been no official word from Grohl or his representatives about it, her inclusion in this fashion would seem to confirm it as true.
The notion that the Foos would find themselves paying simultaneous tribute to not one but two pillars of their very essence is eerily evocative of the circumstances that created the band in the first place nearly 29 years ago. At the time, Grohl was still just the lanky, long-haired former drummer of Nirvana with a solitary b-side songwriting credit to his name. Most fans had no idea he knew how to play guitar, let alone sing in a way that would later fill stadiums and dominate rock radio airwaves.
Hunkering down alone in a Seattle studio following Kurt Cobain's April 1994 suicide, he summoned equal parts rage and beauty on a no-nonsense album he planned to release anonymously as Foo Fighters through a tiny run of vinyl and cassettes. The music industry had other ideas, and ever since that self-titled project's 1995 arrival, the Foos have been one of the most reliable, commercially successful live rock bands in the world, even if their recorded output has been uneven over the past decade.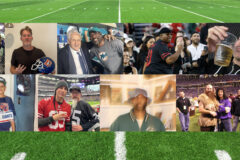 In that respect, it's somewhat pointless to compare the Greg Kurstin-produced But Here We Are to any other Foos album besides the debut, since both were written in the shadows of profound, unthinkable loss. And while filtering every turn of phrase here through that prism may render the album an impossibly heavy listen (especially for hardcore fans), Grohl (back on drums for the first time on a Foos record since 2005's In Your Honor), bassist Nate Mendel, guitarists Chris Shiflett and Pat Smear, and keyboardist Rami Jaffee have imbued But Here We Are with new levels of depth, maturity, songcraft, and storytelling, ensuring it is far more than just an album about grief.
That said, if you don't have a big, fat lump in your throat or head-to-toe goosebumps all over your body while listening to But Here We Are, you may not have a pulse. But don't get distracted by wondering whether each lyric is meant to be taken literally. Instead, give in and follow the 10 songs as they trace the peaks and valleys of life and love in these modern times until you reach their beating heart, the 10-minute epic "The Teacher."
Initially balancing one of the Foos' most wicked, detuned guitar lines against a poppier, uplifting chorus, the song builds mightily in intensity as it progresses, as if Grohl is mentally psyching himself up to finally be able to scream "goodbyeeeeeeeeeee" atop an absolutely massive, cathartic riff which explodes into a vortex of bit-crushed digital noise.
"I can feel what others do / can't stop this if I wanted to," he sings, inviting multiple interpretations as to the identity of the track's narrator(s). Could it be Grohl himself, acknowledging his own inability to save his bandmate and mother? Could it be an otherworldly spirit simply charged with transporting souls to the afterlife? Or could it be Hawkins and Virginia (who was a high school English teacher for 35 years), looking down from above to playfully ask those they've left behind, "Hey, kid / what's the plan for tomorrow? / where will I wake up?"
And although most songs here don't stray appreciably far from the Foos' hearty, meat-and-potatoes rock offerings, a couple of experiments are revelatory. One is "Show Me How," which reimagines Grohl and company as a reverb-drenched dream pop band beamed into their L.A. studio from 1986. As with "The Teacher," the lyrics at first read like specific farewells, but as Grohl harmonizes low and high with his teenage daughter Violet, a resigned but hopeful path forward from despair emerges: "You need not say anything to me / I hear you loud and clear / I'll take care of everything, from now on."
Elsewhere, "Under You" has the goofy, gum-chewing charm and phased-out guitar tone of vintage tracks such as "Generator" and "Breakout," while the distortion-heavy title track finds Grohl elongating his syllables to a throat-shredding degree before a fusillade of pure rock thunder drowns him out. "Hear Voices" is another beneficiary of the newfound variety in song arrangement, from a sturdy acoustic guitar melody and Mendel's funky, vaguely mysterious bass line to Grohl's uncharacteristically new wave-ish enunciations during the chorus: "No one cries like you / no one lies like you."
The lighter- and roof-raising rockers are here too, such as opener and future live staple "Rescued," the "I'll Stick Around"-adjacent "Nothing At All," and "Beyond Me," a righteous, "Can't Fight This Feeling Anymore"-style power ballad which may make you reach for your nearest loved one and never let go. It's the kind of irony-free touch Hawkins would have positively loved, and just about the best way possible to honor the omnivorous taste in music he frequently indulged in side projects and impromptu cover bands. After all, this is a guy who wouldn't even take a night off from drumming while attending one of his own bandmates' weddings, and instead jumped onstage with the evening's entertainment.
Following nine songs woven through with references to ripping cigs and blaring songs, passing storms (real or imagined), and reluctantly releasing what we hold dear, But Here We Are ultimately ends where it had begun 45 minutes earlier: reckoning with the conundrums of human existence through the sheer power of music. Grohl strums an acoustic guitar as the subject of album closer "Rest" is about to be buried in his or her specially chosen "favorite clothes," until the full band emerges with a wall of sound mighty enough to pierce the most jaded heart.
If you possess a strong constitution, close your eyes and you can clearly picture Hawkins on the stage of a sold-out arena — his dirty blonde hair flying, his arms pounding the cover off of his snare drum, his original Synchronicity tour tank top stuck to his sweat-drenched chest — only stopping to let Grohl have the last word, at least for now: "waking up / I had another dream of us / in the warm Virginia sun / there I will meet you."
In this way, But Here We Are is less of a send-off than a see-you-next-time — 10 songs brought to life by the promise of something greater, beyond this proverbial mortal coil. Whatever or wherever that is, we may never learn. Until then, it warms the soul to know that Foo Fighters are still … here.